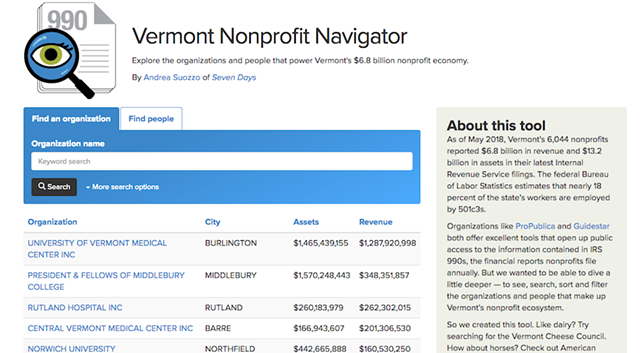 Vermont has eight times as many nonprofits as it has dairy farms — and unlike the milk industry, the state's charitable sector just keeps growing.
For the past two weeks,
Seven Days
, Vermont's free, independent newsweekly, has been shining a spotlight on Vermont's 6,044 nonprofits, examining what these mostly tax-exempt organizations have in common, and what their proliferation means for Vermont, in a series called
"Give and Take: Examining Vermont's Nonprofit Economy."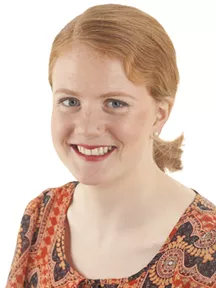 Matthew Thorsen
Andrea Suozzo
To report this series,
Seven Days
' news team relied on publicly accessible nonprofit tax filings, known as IRS Form 990s. Digital editor Andrea Suozzo turned those thousands of filings into a database, called the
Vermont Nonprofit Navigator
.
Seven Days
reporters and editors have been mining it in search of stories; now readers can, too.
Seven Days
has made the Vermont Nonprofit Navigator available to the public, for free, at
nonprofits.sevendaysvt.com
.
The database is a valuable resource that allows users to:
Search organizations by name, location, assets and annual revenue

Look up categories of nonprofits, such as those dedicated to the environment, arts and animal welfare

Identify board members

Search for top salaries

The database doesn't include all nonprofit organizations. Some of them — including churches, semi-governmental entities and those with annual revenue of $50,000 or less — report more limited information. And a word of caution: As with any tax filings, the Form 990s may contain errors.
Still, the Vermont Nonprofit Navigator will be of use to anyone interested in learning more about these important entities, and the role they play in Vermont.
"The nonprofit sector is a huge part of Vermont's economy that, generally speaking, gets very little scrutiny," says publisher and co-editor Paula Routly. "In some ways it seems almost sacred. Nobody really reports on it."
Seven Days
set out to change that. "Having the 990s digitized gave us a chance to look at the industry in a more analytical way."
Seven Days
digital editor Andrea Suozzo, who built the Navigator, was motivated by a desire to make publicly accessible data easier to find and understand. "I set out to build a tool that would help our reporters understand what was in more than 13,000 public filings," she says, "but I'm so excited that we're able to put those same search tools at the fingertips of anyone who's curious!"
A New York City native, Suozzo came to Vermont to attend Middlebury College, graduating with a degree in English literature in 2009. She worked as a reporter and the online editor for the
Addison Independent
before becoming
Seven Days
' digital editor in 2014. A self-taught Python and JavaScript programmer, Suozzo conducted a workshop in using Python for data analysis at the National Institute for Computer Assisted Reporting annual conference in Chicago in March.
Find the Vermont Nonprofit Navigator at
nonprofits.sevendaysvt.com
, and
check out all the stories in the Give and Take series
.