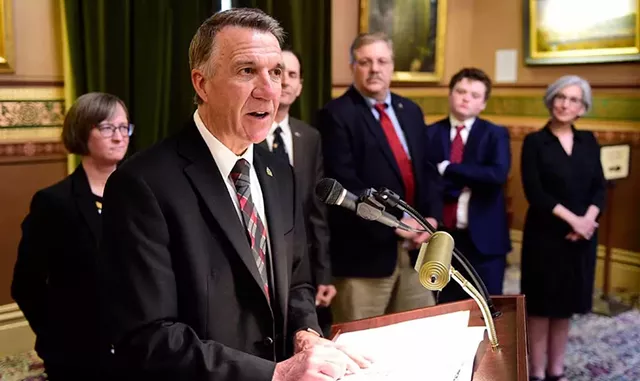 Jeb Wallace-Brodeur
Governor Phil Scott speaking at the Good Citizen launch press conference, with Seven Days deputy publisher Cathy Resmer; Lt. Governor David Zuckerman; Secretary of State Jim Condos; Ethan Sonneborn, candidate for governor; and Liz Gamache, Vice President for Grants and Community Investments at the Vermont Community Foundation
In 2018, we the people of the United States are deeply divided — by race, gender, socio-economic status and political affiliation. That's true even here in Vermont, where by some accounts the recently concluded legislative session was one of the most divisive in recent memory.
What better time to focus on the democratic values that unite us?

This summer, Vermont's elementary, middle and high school students can learn about our shared civic heritage by embarking on the
Good Citizen Challenge
. The self-guided Challenge encourages young Vermonters to explore historic sites, engage in conversations with neighbors and elected officials, develop media literacy skills and learn about the rights and duties of U.S. citizenship. Geared toward kids ages 9 to 14, the Challenge is open to all Vermont K-12 students. Activities include visiting the Calvin Coolidge Homestead, attending a city council or selectboard meeting, reading a community newspaper and drawing a cartoon explaining how the three branches of government work.
Participants earn points by completing each activity. When they reach 251 points — the number of towns in Vermont — they send in their
scorecard
and evidence of their work to receive a Good Citizen medal and T-shirt. Additionally, youth who complete the challenge will be invited to a reception at the Vermont Statehouse where elected officials from across the political spectrum will recognize these "Good Citizens" for their accomplishments. The deadline to complete the Challenge is October 9, 2018.
The Challenge was developed by locally owned newsweekly
Seven Days
and its free, monthly parenting magazine,
Kids VT
, with underwriting support from the
Vermont Community Foundation
.
At a Statehouse press conference announcing the initiative,
Seven Days
deputy publisher Cathy Resmer said it's modeled after the 10-year-old
Venture Vermont Outdoor Challenge
organized by the Vermont State Parks. "My family loves Venture Vermont. It gives a little structure to our summer adventures, and inspires us to try new activities," said Resmer, who is also executive editor of
Kids VT
. "We hope the Good Citizen Challenge will do the same thing, but for civics."
Governor Phil Scott, a Republican, was one of three state officials who spoke at the event; Lieutenant Governor David Zuckerman, a Progressive/Democrat, and Secretary of State Jim Condos, a Democrat, all offered their support, as did Democratic candidate for governor Ethan Sonneborn, 14, of Bristol. Said Governor Scott: "I'm very pleased to help celebrate the launch of this program, which I hope will encourage young Vermonters to learn more about our state, their communities, government and our civic responsibilities."
"How can Americans participate in their democracy — or defend it — if they don't understand the principles on which it rests?" asked Resmer. "As former Supreme Court Justice Sandra Day O'Connor said, 'Civic knowledge can't be handed down the gene pool. It has to be learned.'"
Not all Vermont kids have the same access to civics-related learning opportunities, especially during summer vacation. The Challenge is a way to address that opportunity gap.
"The Vermont Community Foundation takes it as an organizing principle that there is no greater challenge to our communities than the opportunity gap," said Foundation CEO and President Dan Smith. "Closing that gap is necessary because rebuilding the community bonds that come from common experience is the best hope for a stronger civic, social, and economic future. The Good Citizen Challenge is an activity in which everyone can participate that reminds us of our common civic legacy, and hopefully brings the next generation of Vermonters closer together."
The Challenge will also point kids and families toward existing community-minded resources and organizations: Partners in the Challenge include the
Vermont State Parks,
the
Vermont State Historic Sites
,
Front Porch Forum,
the
Young Writers Project
, the
Winooski Peace Initiative
,
Phoenix Books
and Burlington-based
GameTheory.
Find scorecards with the rules and a complete list of activities in the May 23 issue of
Seven Days
, in the June, July, August and September issues of
Kids VT
and at
goodcitizenvt.com
.
About the Vermont Community Foundation
The Vermont Community Foundation is a family of hundreds of funds and foundations established by Vermonters to serve their charitable goals. It provides the advice, investment vehicles, and back-office expertise to make giving easy and effective. The Foundation also provides leadership in giving by responding to community needs, mobilizing and connecting philanthropists to multiply their impact, and by keeping Vermont's nonprofit sector vital with grants and other investments in the community. Visit
vermontcf.org
or call 802-388-3355 for more information.
About Seven Days and Kids VT
Da Capo Publishing Inc., dba
Seven Days
, was founded by Pamela Polston and Paula Routly in 1995, and is now owned by Polston and Routly, as well as deputy publisher Cathy Resmer and associate publishers Don Eggert and Colby Roberts. In addition to its seven free publications — including
Kids VT
— the Burlington-based company also produces several annual events, the Stuck in Vermont video series and hosts a ticketing website, job board and dating service. Its award-winning staff has been recognized by the Association of Alternative Newsmedia, the Parenting Media Association, the New England Newspaper and Press Association and the Vermont Press Association.