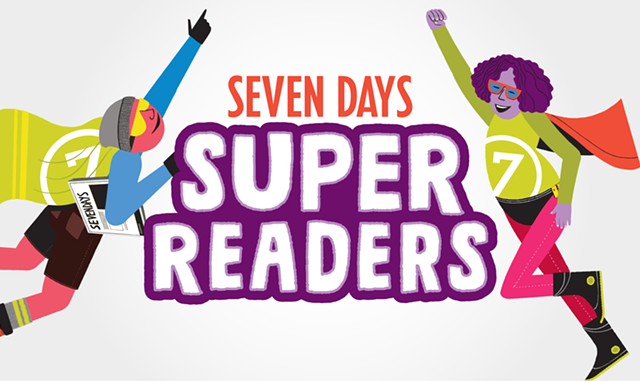 Illustrations: Sean Metcalf
B
oston. New York. Philadelphia. Baltimore.
All of them once had powerful and provocative weekly newspapers that have ceased publication in recent years.
Vermont's
Seven Days
continues to thrive, but many of our readers have asked what they can do to assure our locally owned media outfit stays strong into the future.
It's a tough question for a for-profit company. Since 1995,
Seven Days
has been a community resource, with cultural criticism and in-depth news, event listings, personal ads and original artwork.
Another unique feature:
Seven Days
is free, in print and online. Advertising, almost all of which is local, covers the cost of creating, printing and distributing 36,000 copies each week. That includes employing more than 60 talented people.
Our business model has worked because Vermont is an unusual place: The digital trends that have put locally owned shops out of business in other parts of the country haven't disrupted commerce as thoroughly here. Vermont merchants are crucial to our communities — they employ workers, sponsor events and attract both locals and tourists to our towns. Many independent stores, restaurants, service providers and other businesses advertise in
Seven Days
and, in return, we ask our readers to patronize them. That symbiotic relationship helps us all.
But we recognize that sustaining our enterprise might call for something more in the age of Amazon, Google and Facebook. We've already diversified our operations, adding publications, events, and services such as ticketing and obituaries. Giving satisfied readers a way to show their appreciation for
Seven Days
is a logical next step. So, to those of you who understand the essential role of local media and want to help, our response is: Thanks, we'll take it!
If you like what we're doing, become a Seven Days Super Reader for as little as $7 a month.
That's $1.75 a week, which is less than what it actually costs us to produce a single copy of the print paper — think of it as a voluntary subscription. Along with a guilt-free read, you'll get our undying appreciation, a monthly email newsletter, swell swag, and invitations to events and discussions.
With your support,
Seven Days
will continue to flourish. We'll keep Vermont journalism free and independent, our communities connected and you, our valued readers, in the know.