Been reading about Facebook's
News Feed changes
? Yeah, so have we. And, honestly, your guess is as good as ours on how they're going to affect what you see when you log in and start scrolling.
What we
do
know is that we can't rely on Facebook to show you the stories we post going forward. We think you'll still see some of them, but maybe not as often, and maybe not the ones you'd really like to see.
Luckily, there are lots of other ways to keep up with
Seven Days
, starting with picking up a copy of the newspaper. A new issue hits the streets every Wednesday, available at 1,100 locations in northern and central Vermont and Plattsburgh, N.Y.
Here are seven ways to find the latest from
Seven Days
online.
1. See Seven Days posts first on Facebook
If you still want to find our stuff on Facebook, here's one way to keep us in your News Feed. First, make sure you've
liked and followed our page
.
Then, under the "Following" tab, hit "See First" to see more of our stories. You can also turn on notifications for our page, so you get notified when we post something, start a live video, add an event — or all three!
2. Sign up for one (or more!) of our newsletters
Seven Days'
newsletters deliver to your inbox the top Vermont news stories, the latest local restaurant openings, the best weekend events, the buzzworthy cannabis coverage and so much more. And you can sign up for the Know It All to get an early morning email with every single thing we've published in the past 24 hours.
Head over to the sign-up page
to check out examples, or sign up below.
Once you've signed up, add yourfriends@sevendaysvt.com to your email contacts so you can be sure these nifty newsletters go to the right place.
3. Check out our Messenger bot for story notifications
Do you use Facebook Messenger? We're trying out a new thing over there. If you send us a message, you'll get an automated response asking you to indicate what kind of stories you like to read. Once it knows your preferences, it will send you alerts when we publish stories and videos you might like. Try it out — you can opt out at any time.
If you have the Messenger app on your phone, you can get notifications from us right on your home screen. If you don't, you'll still see messages when you log into Facebook.
This bot is still in beta, so if you run into any issues or have feedback, drop a line to
andrea@sevendaysvt.com
. A real human being (that's me!) will read and respond.
4. Find Seven Days on Apple News
Got an iPhone or iPad? You probably have the News app on your device. Pop that puppy open and do a search for "Seven Days." Our channel should appear.
Mash that heart button, and you should start seeing new
Seven Days
stories in the main Apple News feed.
5. Add Seven Days as a preferred source on Google News
You might already see our articles pop up when searching for Vermont-specific headlines on Google News, but to make sure you're seeing important stories from us, you can tell Google News to show you more.
Head to the settings panel and select "Sources," then search for
Seven Days
. Make sure you pick the one that has our URL right below the publication name (that's sevendaysvt.com, if you haven't been paying attention 😉).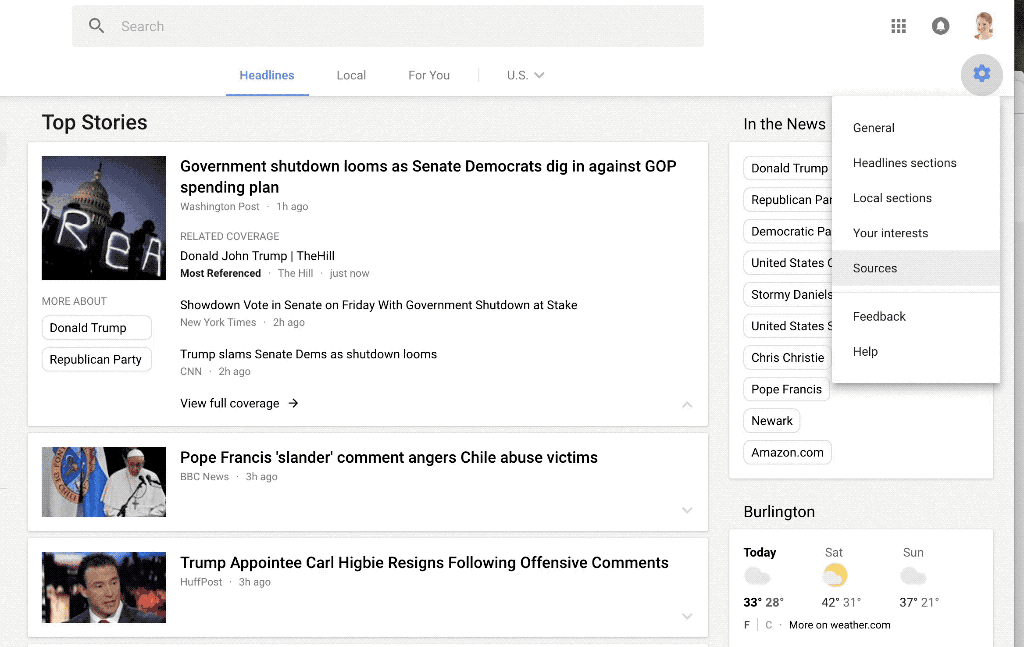 6. Subscribe to Seven Days' YouTube channels
We also make lots of videos! YouTube subscribers get alerts when we publish a new episode of one of our regular shows. Just head to the show page and hit "Subscribe" to opt in.
Stuck in Vermont
: It's hard to believe, but Eva Sollberger has been exploring Vermont and profiling the fun, quirky people who live here in her weekly video series for
more than 10 years
. (You can also
subscribe to her weekly newsletter
.)
Seriously Seven Days
: Bryan Parmelee,
Seven Days'
digital production specialist, hosts this humorous take on the week's news.
7. Download our app to flip through the paper every week
Want to read
Seven Days
on your digital device, but miss the print experience? There's an app for that! Flip through the print edition each week using the
Seven Days
app, available in the
Apple App Store
and in the
Google Play Store
.


---
Got another way you'd like to find our stories? Let us know in the comments below!