Matthew Thorsen
First place photo in the "General News" category
Seven Days
picked up 30 journalism awards, including 13 first-place prizes, at the
Vermont Press Association's
annual meeting Thursday in Montpelier.
VPA officials handed out awards for two separate contests — one covering July 2015 through June 2016 and one covering July 2016 through June 2017 — at the gathering, held at the Capitol Plaza Hotel and Conference Center. The VPA includes 11 daily newspapers and four dozen non-dailies.
Seven Days
, Vermont's free, independent newsweekly, won recognition in categories ranging from news to arts to photography, competing in the non-daily division. It earned the top prize, "Best of Vermont, General Excellence," in the 2016-2017 contest.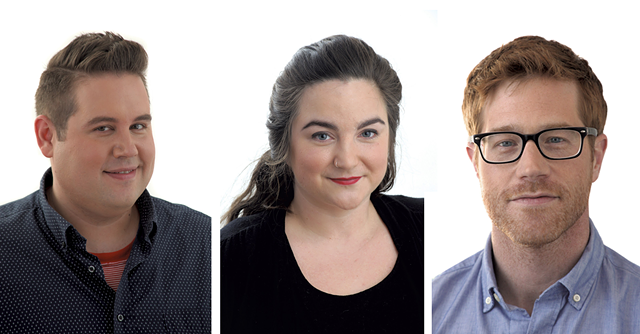 Matthew Thorsen
Left to right: Jordan Adams, Rachel Elizabeth Jones, Dan Bolles
The paper's arts staff — including assistant editor
Dan Bolles
, music editor
Jordan Adams
, staff writer
Rachel Elizabeth Jones
and contributing writer
Alex Brown
— swept the "John D. Donoghue Award for Arts Criticism," winning first, second and third place in both contest years. Adams was also named "Rookie of the Year" for 2016-2017.
Matthew Thorsen
Left to right: Alicia Freese, Paul Heintz, Molly Walsh
Seven Days'
news team won top honors for "Best State Story" (political editor
Paul Heintz
) and "Best Local Story" (staff writer
Molly Walsh
). The VPA handed staff writer
Alicia Freese
its 2016-2017 "Mavis Doyle Award," which recognizes a reporter's "aggressiveness, determination, compassion, commitment to journalism, dedication to social justice, and unwavering belief that journalism should be the watchdog of the government and the voice of the people." (Staff writer
Katie Jickling
won "Best Local Story" in the 2015-2016 contest for work she did at the
Herald of Randolph
.)
Seven Days
also picked up three first-place awards in the columnist categories: Heintz for "Political/ Hard News" and Bolles and staff writer
Ken Picard
for "Features/ Lifestyle/ Humor."
Jordan Silverman (far left); Matthew Thorsen
Left to right: Ken Picard, James Buck, Matthew Thorsen
Staff photographer Matthew Thorsen won first-place in the "General News Photo" category, while multimedia journalist James Buck won first for "Sports Photo."
"We're honored that the judges recognized
Seven Days
for both news and arts writing, and for distinctive photography," said publisher Paula Routly.
"And we're grateful to our readers and advertisers for supporting a locally owned media company. If you enjoy
Seven Days'
high-quality local journalism, thank our advertisers for making it possible. Most of them are small, locally owned businesses just like us."
"Lastly, we're proud to be part of the VPA, whose members work tirelessly to provide essential coverage to their communities," said Routly. "Vermonters are very fortunate to have so many great local newspapers."
The full list of Seven Days' VPA awards
Best of Vermont, General Excellence (non-daily):
2015-2016:
2nd place:
Seven Days
2016-2017:
1st place:
Seven Days
Outstanding Website (non-daily):
2016-2017:
1st place:
Seven Days
Mavis Doyle Award (all newspapers):
2015-2016:
2016-2017:
Rookie of the Year (all newspapers):
2015-2016:
2016-2017:
Best State Story (non-daily):
2015-2016:
2016-2017:
Best Local Story (non-daily):
2015-2016:
2016-2017:
John Donoghue Award for Arts Criticism (all newspapers):
2015-2016:
2016-2017:
Column Writing — Features/Lifestyle/Humor (non-daily):
2015-2016:
2016-2017:
1st place: Ken Picard

3rd place: Dan Bolles
Column Writing — Political/Hard News (non-daily):
2016-2017:
1st place: Paul Heintz

2nd place: John Walters

3rd place: Paul Heintz
General News Photo (non-daily):
2015-2016:
Feature Photo (non-daily):
2015-2016:
Sports Photo (non-daily):
2015-2016: