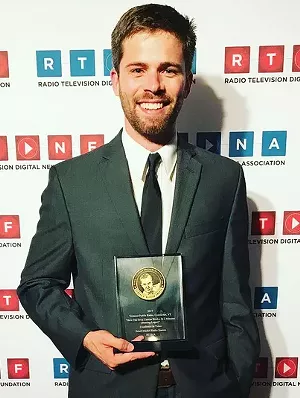 Award-winning journalist
Taylor Dobbs
is joining the news team at Vermont's independent newsweekly,
Seven Days.
Since September 2013, he's been a digital reporter at Vermont Public Radio, where he has distinguished himself online and on-air.
Dobbs, 27, has won regional
Edward R. Murrow Awards
for his coverage of the opiate crisis, a quadruple homicide and Green Mountain Power's failure to document expenses. Earlier this month, he won a national Murrow Award for a video illustrating how the Iowa Democratic caucus works — using Legos.
At
Seven Days
, Dobbs will serve as an investigative reporter and will cover Vermont state government and politics. He'll start December 6.
Prior to joining VPR, Dobbs wrote several freelance pieces for
Seven Days
and interned for VTDigger.org. He earned a bachelor's in journalism from Northeastern University in 2013. Shortly before graduating, Dobbs got some very real-world reporting experience: In the immediate aftermath of the Boston Marathon bombings, he joined the manhunt for the men responsible and covered it all on Twitter. His on-the-scene reporting and photography were picked up by news outlets around the world.
"Taylor's not going to sit around in a newsroom," said
Seven Days
publisher and coeditor Paula Routly. "He's eager, ambitious, inventive and plugged in."
Dobbs grew up in Montpelier — less than a mile from the Statehouse.