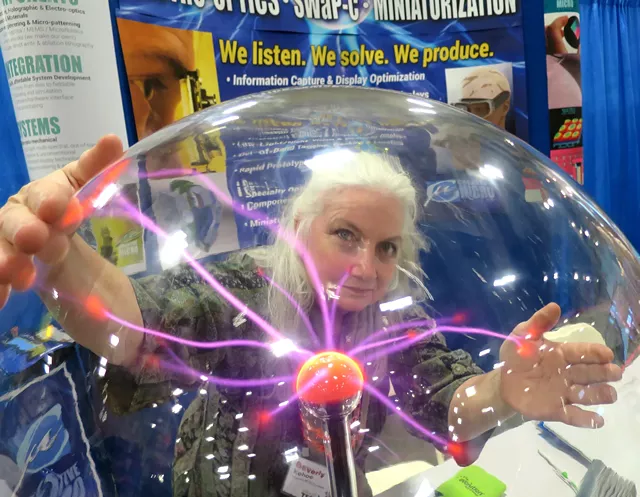 The state's top tech firms will be hiring at
Seven Days
'
Vermont Tech Jam
, a free event which takes place Friday and Saturday, October 20 and 21, 2017, at the
Champlain Valley Expo
in Essex Junction.
The expo floor will host more than 60 companies, colleges and tech organizations. But this year's Jam is much more than just a job fair: The
schedule
includes a dozen presentations organized into three tracks: one for small business owners and decision makers, one for job seekers, and another for anyone curious about emerging opportunities in the local tech scene. This year's speakers represent companies including Tesla, Facebook, IBM, Burton Snowboards and the new
Burlington Code Academy.
The 11th Vermont Tech Jam is presented by
NorthCountry Federal Credit Union
and sponsored by
Cox Automotive
,
Green Mountain Power
,
LORD Sensing MicroStrain
,
Vermont Information Processing
,
Champlain College,
Logic Supply
,
Data Innovations
, the
Vermont Technology Council
and the
Vermont Agency of Commerce and Community Development
, as well as the
Vermont Department of Labor.




"We are pleased to support such an important sector of the Vermont economy," states Bob Morgan, CEO of NorthCountry Federal Credit Union.
The 11th Vermont Tech Jam offers:
Dozens of exhibitors, including all of the sponsors, plus companies such as Pwnie Express, GlobalFoundries, Galen Healthcare Solutions, AllEarth Renewables, Inntopia and Social Sentinel.

"#WhatTheHack!?": The Office of the Vermont Attorney General organized this workshop to help small local businesses prevent security breaches and privacy mishaps. It features experts from the Department of Financial Regulation, the Leahy Center for Digital Investigations at Champlain College, and the privacy team at Facebook. Attorney General TJ Donovan will moderate the discussion.

"Coffee & Confidence": Hosted by Change the Story VT, this workshop is open to women and nonbinary individuals of all ages. Participants will get tools and takeaways to help them pursue the tech field, interview for their next job, find a career that fits and negotiate salaries. Following a brief panel discussion, attendees may attend two mini sessions.

"Using Data to Weather the Storm": New Hampshire-based Weather Analytics has been very busy during the turbulent 2017 hurricane season. In this presentation organized by the Burlington Data Scientists group, Chief Technology Officer Tom Cecere explains how his company crunches weather data to provide storm-related predictive analytics. And he offers tips on how business owners and CEOs can find and hire data scientists to tackle industry-specific problems.

"Batteries Included: Tesla Comes to Vermont": Margaret Hodes, senior product manager of grid services at Tesla Energy, explains how the company's energy division works, and provides behind-the-scenes insights into the future of energy-storage technology. Josh Castonguay and Betsy Bloomer of Green Mountain Power share the latest developments in the utility's Tesla Powerwall program.

"The Next Disruption: Industry 4.0": Panelists from IBM, GlobalFoundries, Pwnie Express and the University of Vermont discuss how companies will need to adjust to what is being called the Fourth Industrial Revolution: robotics working with computers, devices and algorithms to achieve higher productivity.

The Tech Jam Awards: On Friday afternoon, BTV Ignite, the Vermont Technology Alliance and Seven Days present the four Tech Jam Awards, for the leading local innovator, tech ambassador, newcomer and startup. The first round of voting ends on October 18. Vote at techjamvt.com/awards.

The Tech Jam "After Hours" celebration: On Friday night, Tech Jam exhibitors and local tech professionals eat, drink and play virtual reality games at the Tech Jam After Hours party.

"The Feminist Hackerspace": On Saturday, women and nonbinary individuals are welcome to stop by the first-ever Feminist Hackerspace at the Vermont Tech Jam. Volunteers from free professional development groups will be there to answer questions and work on coding projects. Visitors can also find out how to connect with local groups, and how to support Vermont's women in tech.

Panel discussions that explore emerging local opportunities in tech — in cannabusiness, social responsibility, outdoor recreation and robotics — with speakers from GameTheory, Burton Snowboards, Inntopia, AllEarth Renewables and Orvis.

A Vintage Tech Showcase: Home computer enthusiasts of all ages will enjoy seeing vintage machines from the 1980s, including a Commodore PET and TRS-80, courtesy of ReSOURCE in Burlington. Operational models include an Apple IIe, an IBM PC XT 5160, a Macintosh SE FDHD and a Commodore 64 — loaded with games and ready to play, just like back in the old days.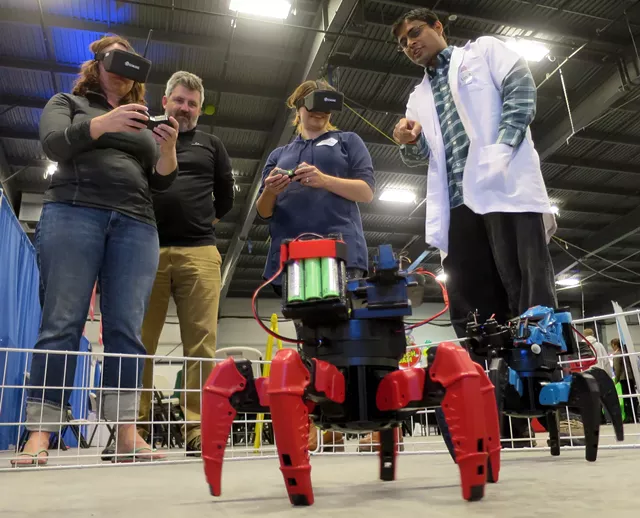 For the full list and to register for select sessions, visit
techjamvt.com.
The Vermont Tech Jam was conceived in 2008 by
Seven Days
, the
Vermont Technology Alliance
and a coalition of public and private sector partners who sought to increase the visibility of the state's vibrant, and growing, technology sector. It's produced by
Seven Days,
with organizational support from the Vermont Technology Alliance.
For more information, a complete schedule and a list of
exhibitors
, visit
techjamvt.com.