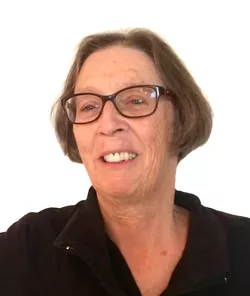 Vermont journalist Candace Page has been inducted into the New England Newspaper Hall of Fame. Formerly of the
Burlington Free Press
, the
Seven Days
editor was recognized at the annual convention of the New England Newspaper and Press Association. "I can't think of another living Vermont journalist who is more deserving of the honor," said
Seven Days
publisher and coeditor Paula Routly, who nominated Page for the distinction and spoke on her behalf at the hall-of-fame dinner last Friday night in Boston.
Vermont-born, Brown-educated Page came to work at the
Burlington Free Press
in 1981, after stints at the
Providence Journal
and the United Press International. At the
Free Press
, she rose through the ranks from city hall reporter to features editor, editorial writer, editorial page editor, Statehouse bureau chief, assistant managing editor and managing editor. After mastering almost every job in the newsroom, she went back to reporting. For eight years, Page tackled long-form environmental stories on topics that ranged from local endangered species and the science of algae blooms to the aftermath of Tropical Storm Irene.
"Her deeply informed reporting on the natural world guided civic debate about protecting Vermont's heritage of land and water, especially Lake Champlain," wrote Christine Chinlund, now a managing editor at the
Boston Globe
, in her nomination letter for Candy, her former colleague at UPI. "Her work gave readers fresh insight into the value of, and risks to, the natural resources so important to the state. That contribution will be felt for decades."
Four others supported Page's nomination:
Addison County Independent
publisher Angelo Lynn,
Seven Days
Statehouse reporter Terri Hallenbeck, former Lake Champlain Basin Program director Bill Howland, and Mike Kilian, a former
Burlington Free Press
editor who is now the news director at the
Cincinnati Enquirer
.
"If you want to understand fully the people, unique places and natural environment of Vermont, you want to immerse yourself in the body of insightful work produced by Candace Page as a journalist over the last several decades," Kilian wrote in his nomination letter. "No observer went further, dug deeper or reached greater heights." Kilian also attended the Boston induction ceremony.
Page "retired" from the
Free Press
in 2013, but she continued to write food and features stories for the Gannett-owned daily. Last year, she started editing news stories on a freelance basis for
Seven Days
. That gig has grown. In addition to coaching young writers, Page now co-directs the independent weekly's legislative coverage with political editor Paul Heintz. She brings good judgment and a vast institutional memory to
Seven Days.

Other Vermont journalists in the New England Newspaper Hall of Fame include: Chris Braithwaite, Kevin Crosbie and Lucy B. Crosbie (
The Chronicle
, Barton); Phillip C. Camp Sr. (
The Vermont Standard
, Woodstock), J. Warren McClure, John Donoghue and Michael Donoghue (
Burlington Free Press
), John Drysdale and M. Dickey Drysdale (
The Herald of Randolph
), Suzanne Gillis (
Vermont Woman
), Emerson Lynn (
St. Albans Messenger
), Angelo Lynn and William J. Slator (
Addison County Independent
), Tom Kearney (
Stowe Reporter
), Ross Connelly and David Morse (
Hardwick Gazette
), H. Gordon Smith (
Caledonian Record
), R. John Mitchell (
The Times Argus
) Robert Mitchell (
The Rutland Herald
), Pamela Polston and Paula Routly (
Seven Days
).