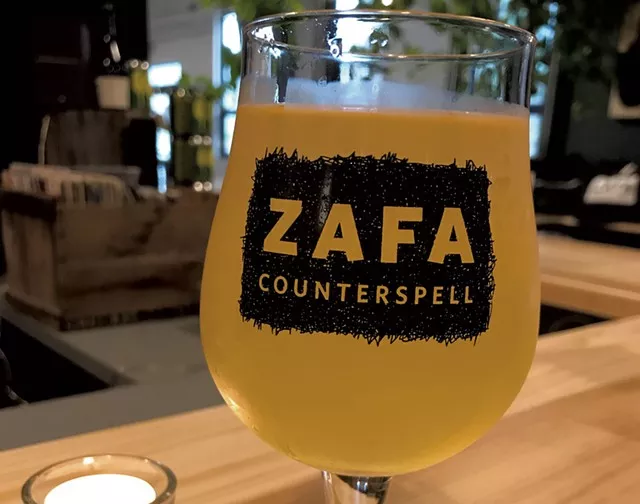 Sally Pollak/FIle ©️ Seven Days
A glass of natural wine at CO Cellars
The
Vermont Division of Liquor Control
executed two search warrants last Friday during a licensing investigation of
CO Cellars
, a Burlington fermentory and tasting room, and
ZAFA Wines
, a winery that shares CO Cellars' location in the Soda Plant building in the South End.
CO Cellars is a collaboration of ZAFA Wines and
Shacksbury Cider
, a cidery based in Vergennes. The Burlington business, which opened two years ago, produces ciders, wines and co-ferments. It operates a small tasting room that's been closed during the pandemic.
The state is collecting evidence and interviewing witnesses in its ongoing investigation that "vinous products were produced without a license from 2018 and onward," Skyler Genest, the director of compliance and enforcement for the division, said. A second location, on Dorset Street in South Burlington, is part of the investigation, according to Genest.
Both CO Cellars and ZAFA Wines are listed as having
"pending applications" on the DLC's website
. Three license applications from August 2020 are pending for CO Cellars: manufacturing, direct shipment and a tasting room. The ZAFA applications, from May 2020, are for manufacturing and a tasting room.
The DLC on Friday issued a cease-and-desist letter for CO Cellars and ZAFA to stop the manufacture, sale and distribution of alcoholic beverages, Genest said. The order is in effect until the proper licenses are issued by the department, he said.
Colin Davis, co-owner of Shacksbury Cider and a partner in CO Cellars, said CO Cellars has been attempting to renew its licenses since the spring.
"In the midst of COVID, we furloughed our workers and basically shut down," Davis told
Seven Days
. "When things came back online we tried to apply for our permits, and they've basically been held up by the [DLC]. We're not really sure what the issue is."
Krista Scruggs, owner of ZAFA Wines, declined to comment for this story.
Typically, the department's licensing office will issue licenses on behalf of the Vermont Board of Liquor and Lottery, Genest said. But in "cases of unusual circumstances, with license applications outside the norm, the cases can and are heard by the full board."
The board meets monthly, he said. The matter is not yet scheduled.
CO Cellars and ZAFA Wines have earned national recognition for their beverages. Last year,
Time
named CO Cellars
one of the 100 greatest places in the world to eat and drink
.
This summer, ZAFA planted a vineyard on a 56-acre farm in Isle La Motte on land purchased by the
Vermont Land Trust
. The winery is renting the land from the VLT with a plan to purchase it, according to a
VLT press release
.
The tasting room on Pine Street was locked and dark late on Monday afternoon. As of Saturday night, Gov. Phil Scott ordered all bars to stop operating due to the surge in Vermont's coronavirus cases.
During the pandemic, CO Cellars has offered curbside sales. A notice on its
Instagram account
, posted three days ago, reads: "Takin' a lil break from curbside. Back at it soon!"