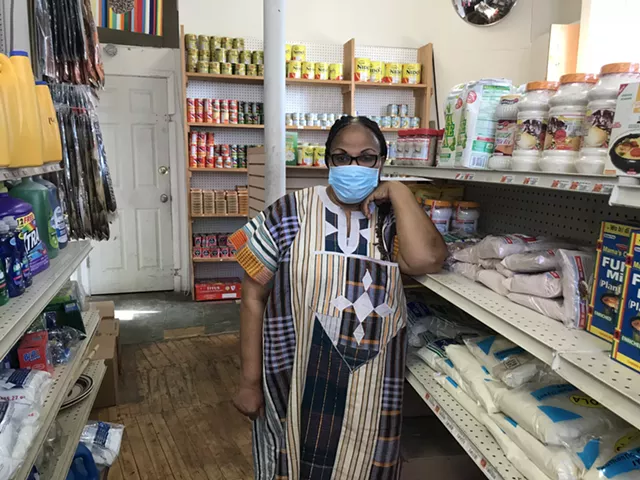 Sally Pollak ©️ Seven Days
Pat Bannerman
After 13 years operating
Mawuhi Africa
n Market
in a corner building in the Old North End, Pat Bannerman will leave the space at the end of the year, she said.
Jason Lin of Burlington purchased the building at 160 North Winooski Ave. a year ago. He told
Seven Days
on Tuesday that he plans to renovate and upgrade the structure, and perhaps open his own business at the site of the market.
"The first thing [is] to upgrade" Lin said.
Bannerman doesn't have a lease, according to both parties. She was renting the space on a monthly basis and, in mid-October, received a notice of non-renewal, according to Will Clavelle of the Community Economic Development Office in Burlington.
"She's been there for 13 years," Clavelle said. "It's a pandemic. It would've been great if they gave her a little more time, a little more notice. She's a great tenant and a valuable part of the community. Giving them six weeks, that seems unfair."
The six-week time frame Clavelle referred to was the original date Lin gave Bannerman to vacate: November 30. On Monday, Lin extended African Market's stay in the building until December 31, according to Bannerman and Lin.
"If he wants it, I'll let him have his building," she said. "I'm a peaceful person."
Clavelle, a business project and policy specialist at CEDO, is assisting Bannerman in her effort to find and lease a new location for African Market. She's interested in a site on the ground floor of North End Studios at 294 North Winooski Ave. , and said she likes the location for its proximity to her current shop.
"I build my clientele around it," Bannerman said. "The transition would be easier."
That space is bigger than Bannerman's current shop, with ample parking and three big windows, Clavelle said. He said he's hopeful an agreement will be finalized soon.
Sally Pollak ©️ Seven Days
Mawuhi African Market
Bannerman, 63, is originally from Ghana and has lived in Burlington for 27 years. Her market specializes in African and Caribbean food including African yams, sweet potato leaves, cassava leaves and jerk seasonings, as well as cosmetics and hair products. The store also offers MoneyGram, a service through which customers can send and receive money.
"We have all walks of life here," Bannerman said Wednesday in her store. "People need my market. They need my services."
Owning African Market has "really opened my eyes and my mind, and I've learned a lot," she said. "I listen to customers when they come [in]. If they want something, I write it down."
Mellisa Cain, a neighborhood resident and community organizer, launched a
GoFundMe campaign
Monday to raise money to help offset Bannerman's moving costs and the expenses associated with setting up a new store. The campaign had raised more than $16,000 of its $25,000 goal by Wednesday evening.
"My angle [as an organizer] is always meet the immediate needs of whomever," Cain said. "And so I thought,
Let's get her money because it's going to be really expensive to move, to keep the business going
. A lot of renters who have been [in the Old North End] for years have lower rents, and when you move your rent goes up."
Bannerman expressed appreciation to neighbors and community members for their support.
"Thank you to the whole neighborhood," she said. "The way the neighborhood people support [me] and show kindness, it's overwhelming."
She wants the transition to a new location to be a "peaceful" one.
"I personally believe in God, and I know God is with me," Bannerman said. "He put love in all these people I don't even know, and I know God is with me. So I'm not worried."