Jordan Barry ©️ Seven Days
Tim Williams (left) and Jace Jamason, co-owners of Lion Turtle Tea
After nearly two years of popping up around Burlington,
Lion Turtle Tea
has a permanent home at 135 Pearl Street. The teahouse opened on September 1 in the space that most recently housed Papa John's Pizza.
Co-owners Jace Jamason and Tim Williams found the spot half a block from the top of the Church Street Marketplace this spring, after a
previous location
didn't work out.
"Our timing was super unintentional," Jamason told
Seven Days
. "We were able to get in here in May, so we knew the pandemic was already happening. But we've been working on opening for about two years, so we were like, 'OK, let's do this.'"
Lion Turtle Tea specializes in loose-leaf tea and seasonal, "Vermont-focused" interpretations of East Asian dim sum dishes made with ingredients sourced from local farms.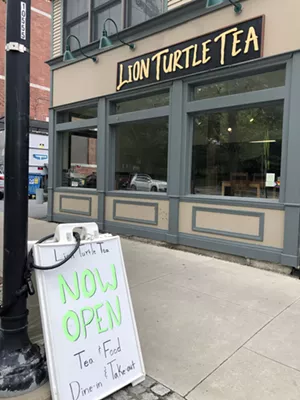 Jordan Barry ©️ Seven Days
Lion Turtle Tea on Pearl St. in Burlington
The name of the teahouse is a nod to the Chinese mythological creature Lóngguī — or Dragon Turtle.
"Westerners tend to think of the Dragon Turtle as more of a lion, because the art style the dragon is created in looks more like a lion to us," Jamason explained.
Taking inspiration from the Western interpretation of the mythical creature is the co-owners' way of clarifying that they're interpreting what they're serving, rather than staking any claim to authenticity as white people serving East Asian cuisine.
"We're just learning and exploring the culture and sharing what we know," Jamason said. "We're both queer, so we know what it's like to feel marginalized; we don't want to make other people feel that way, but we also want to do something that we enjoy."
Jamason and Williams first met while drinking tea, and it's something both have enjoyed throughout their lives. Jamason grew up in California, studying Japanese language and culture; Williams' grandmother served Chinese tea with an English tea setting.
"We've always been aware of this mix of white and Asian culture within our lives," Jamason said.
Williams, a Vermont native, has explored a wide variety of cooking traditions while working with chef Richard Witting on the
Isole Dinner Club
and through Lion Turtle Tea's pop-ups over the past two years.
The opening food menu at Lion Turtle Tea's brick-and-mortar shop highlights flavors on the cusp of autumn, with dishes such as cucumber salad with mushrooms and tomatoes in a black-vinegar dressing ($6), miso soup ($5.25) and spring rolls with fresh vegetables ($6).
"We really want to stick with the Vermont farm season," Jamason said. "You'll see a lot of fresh vegetables throughout spring and summer, and then we'll start pickling in the fall and winter and bring out root vegetables and heavy stocks for soup."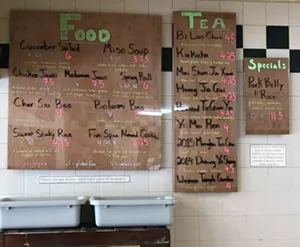 Jordan Barry ©️ Seven Days
The opening menu at Lion Turtle Tea
A variety of dumplings are on the menu, too, including thin-skinned jiaozi stuffed with chicken or mushrooms ($7.50 each) and thicker, fluffy bao filled with Cantonese barbecue pork or jackfruit and cabbage ($8 each).
"We started with dumplings, and we always say that pocket food is the best food of any culture," Jamason said with a laugh. "We always want to have pocket food on our menu, but the specific type of dumpling will depend on what we're feeling and what the ingredients bring us."
While the menu will change with the seasons, dishes will generally fit into one of three categories: bowl, plate and sweet. Sweet dishes currently include sticky rice flavored with coconut milk and topped with berries ($4.25) and five-spice almond cookies ($3.25). Many of the dishes are vegan, gluten-free, or both.
Jamason and Williams plan to highlight seasonality in their tea offerings, as well.
"Tea is actually a very seasonal product," Jamason said. "That hasn't come over to the West much yet, but you see it in the production process of the tea."
They'll focus on fresh green teas in the spring, oolong in the summer, black tea in the autumn and long-processed, fermented Pu'er in the winter. The tea is sourced from local importers, including Middlebury's
Stone Leaf Teahouse
and Burlington's
Little Tree Tea
.
Lion Turtle Tea is open for in-person dining and takeout Tuesday through Thursday, 11 a.m. to 9 p.m., and Friday and Saturday, 11 a.m. to 10 p.m.