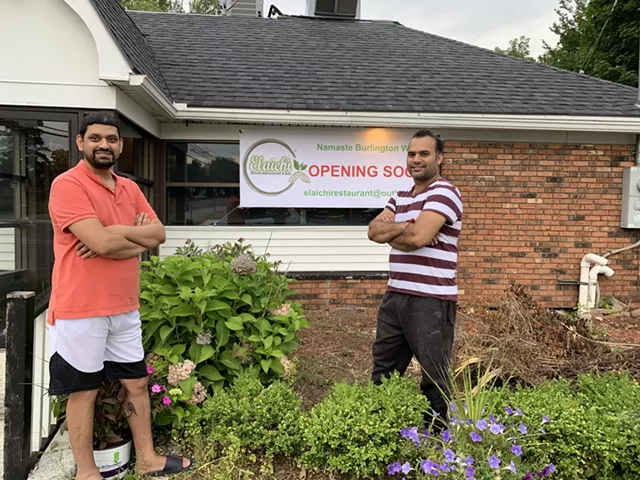 Melissa Pasanen ©️ Seven Days
Priyank Shah (left) and Sikander Badhan co-own Elaichi Indian Restaurant & Bar
A pair of New Yorkers will soon open an Indian restaurant at 207 Colchester Avenue in Burlington, where India House served up tandoori chicken and pakoras from the early 1980s until
closing in October 2019
.
Co-owners Priyank Shah and Sikander Badhan said they hope their Elaichi Indian Restaurant & Bar will be open for takeout, delivery and reduced-capacity indoor seating by the end of August, although they believe the liquor license will take a little longer.
Brothers-in-law Shah and Badhan, who will be moving from Long Island with their families, have worked together at Shah's New York-area Indian catering business for several years. That business provided food for large events at Jain and Hindu temples as well as Indian senior groups, Shah said.
"We are used to cooking for 300 to 400 people," he added, looking around the Burlington restaurant's dining room. "This will be different."
Shah, 34, earned a hospitality degree in his native state of Gujarat on the west coast of India. Badhan, 32, is from Punjab in the north.
Shah said the duo's decision to open a restaurant was not directly related to the pandemic. They had spent a year and a half looking for a business in a "less crowded" place outside New York when a friend in the Burlington area told them about the former India House space. Their first trip to see the restaurant was also their first time leaving their homes in four and a half months, they said.
Elaichi
means cardamom in Hindi. Shah said the restaurant's menu will include South Indian specialties such as dosa, crepe-like pancakes made from a fermented batter; curries and other dishes will be made as spicy as customers want.
"You will have authentic Indian food," he promised.