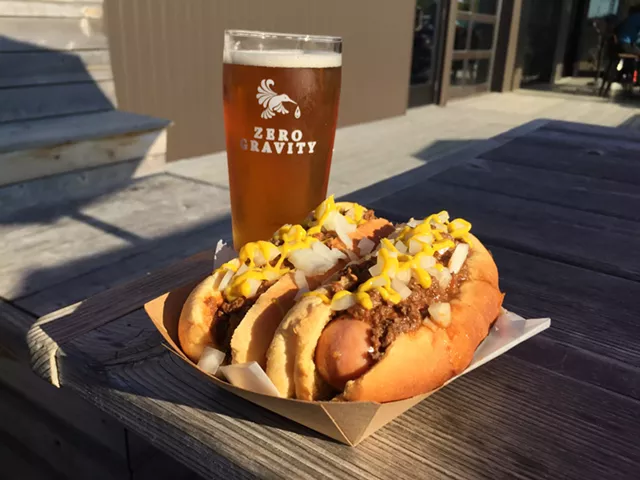 File: Sally Pollak ©️ Seven Days
Coney Island hot dogs and beer at Zero Gravity
Updated, July 20, 5 p.m.


Foam Brewers and Zero Gravity Craft Brewery, as well as their respective affiliated restaurants Deep City and the Great Northern, all of which shut down Thursday due to a staff member's possible exposure to the coronavirus, announced Monday on social media that COVID-19 tests have come back negative.
The breweries and restaurants were closed temporarily while awaiting the results of testing. Foam Brewers
announced on Facebook
that it will open Monday, July 20, at 5 p.m. Zero Gravity
announced on Facebook
that it will be back open Tuesday, July 21, with its "regularly scheduled programming."
The two Burlington breweries announced Thursday on social media that they were temporarily closing their taprooms and affiliated restaurants to test staff members for the coronavirus.
A staffer at each brewery —
Zero Gravity Craft Brewery
on Pine Street and
Foam Brewers
on Lake Street — had a potential exposure to the virus, according to the posts.
No one at any of the breweries or restaurants has symptoms of COVID-19 or a confirmed case of the infection, according to owners speaking on behalf of each business. The decision to close temporarily was made as a precautionary measure for the safety of the community, they emphasized.
"This is how we do business now," Frank Pace, chef/owner of Zero Gravity's partner restaurant,
the Great Northern
, told
Seven Days
on
Friday morning. "We have to be safe."
The chain of possible exposure at Zero Gravity comes from a staffer whose roommate's parent in Massachusetts tested positive for the virus, Pace said.
The staffer, who works in the taproom, called the brewery on Thursday afternoon to tell the company. "All our staff would do that," Pace said, "as good human beings."
The brewery and the Great Northern, both of which offer curbside pickup and outdoor seating, immediately closed and started to clean, Pace said.
He and more than half a dozen employees walked to a testing site at neighboring Champlain Elementary School to get tested for the virus. They're waiting for the results.
"That's how things are going now," Pace said. "We've been working as a team, waiting for this moment."
Running a business when a pandemic is surging across the nation — though not locally — is an "immense strain financially, spiritually," Pace said. "You know, like, we're freaking out."
File: Hannah Palmer Egan ©️ Seven Days
From left: Todd Haire, Dani Casey, Bobby Grim and Sam Keane of Foam Brewers
At Foam, an employee last weekend came in contact with an asymptomatic relative who subsequently tested positive for the coronavirus, co-owner Jon Farmer said. The brewery, taproom and affiliated restaurant,
Deep City
, closed on Thursday. The staffer has been tested for the virus and is awaiting the result, Farmer said.
"We're trying to be sure that we're being as responsible as possible," Farmer said, noting that health and safety are the top priorities. "And trying to maintain a business in a time that's really challenging."
Pace said staffers at Zero Gravity and the Great Northern will be cleaning with alcohol on Friday.
"If you want to keep your public safe, these are the actions we need to take as a community," Pace said, adding that the company is "very adamant" about masks and sanitation.
"This is another safety precaution. It's just like mopping the floor," he said of temporarily closing. "You hear about somebody getting sick, you gotta shut down and figure it out."