File: Jana Sleeman ©️ Seven Days
Sonny's Blue Benn Diner in April 2019
On July 11, after close to 50 years of ownership, the Monroe family listed Bennington's landmark Sonny's Blue Benn Diner for sale for just under $600,000.

Broker Paul Carroccio of TPW Real Estate's Manchester office said he already has a trio of solid prospects among many calls of interest.
The original 1940s-era Silk City Diner car has operated at 314 North Street since 1948. Along with classic fare such as hot turkey sandwiches and chocolate cream pie, Sonny Monroe broadened the menu over his tenure to include falafel burgers and legendary "crunchberry" pancakes.
Locals, tourists and college students alike appreciated the diner's affordable, generous portions; walls papered with specials; and counters worn from the weight of sturdy plateware.
It won the stamp of approval from Americana food experts Jane and Michael Stern of
Roadfood
fame as "a true-blue hash house."
Blue Benn was featured in
Seven Days
as one of seven enduring restaurants around the state in an April 2019
cover story
.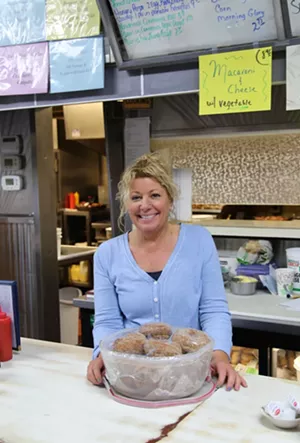 File: Jana Sleeman
Lisa LaFlamme's family is selling the diner they've owned since 1973
In that story, Lisa LaFlamme, the only child of Sonny and Marylou Monroe, recalled her parents buying the diner on Christmas Eve 1973. LaFlamme believed her family was the diner's third owner. Though they renamed it Sonny's Blue Benn Diner, everyone kept calling it Blue Benn.
LaFlamme described herself as the on-site owner-manager. Her father, who passed away in December 2019, had been retired for about a decade; her mother was still doing the books. LaFlamme noted that it was a lot of work to keep the diner going.