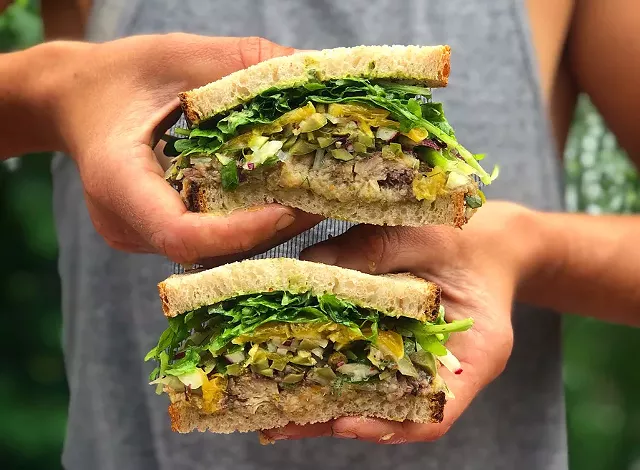 Courtesy of Abby Portman
The Meryl sandwich from Poppy Café & Market: marinated sardines with herb aioli, fennel, radicchio, olives, capers, arugula and a citrus salad
Consider it a preview of sandwiches to come:
Poppy Café & Market
will start offering weekly takeout this Thursday, though not yet from its eventual home at 88 Oak Street.
Sisters Abby and Emily Portman's breakfast and lunch café is one of two food businesses planned for the
former Chubby Muffin
spot in Burlington's Old North End, now operating as the
Oak Street Cooperative
.
They will share the space with Maria Lara-Bregatta's
Café Mamajuana
, operating at different times of the day and sharing a small market — allowing each business to have a presence while the other is open, the Portmans explained.
The co-op's founding members, including Emily Portman, Lara-Bregatta and Matt Cropp, co-executive director of the Vermont Employee Ownership Center, closed on the building about two weeks ago, Emily told
Seven Days
.
"We're still kind of figuring out and finalizing plans," she said. "We want to be doing some light renovations and changes to the space, so our goal is to be opening around early September."
Courtesy of Abby Portman
Emily (left) and Abby Portman
In the meantime, Poppy will offer sandwiches for takeout from the Portmans' home around the corner on Manhattan Drive. Each week will feature both a veggie and a meat option, with limited numbers available for pre-order
online
on Wednesday for pickup the next day.
"In terms of style, it's really kind of veg-forward, trying to utilize local, seasonal ingredients to the greatest extent possible," Emily said. "We just want to do creative flavor combinations, taking inspiration from different cuisines that Abby and I really like."

The first week's options include the Brocc Point — roasted broccoli, crispy tofu, peanut-miso sauce, chili aioli and a radish-cilantro slaw with peanuts, scallions, pickled broccoli stems and lime on a roll; and the Auntie Sue, with turkey, bacon, provolone, horseradish mayo, radicchio, arugula, parsley and scallions on sliced polenta bread.


"We want to use this to spread the type of food we want to cook when we're in the space," Abby said. "We'll probably be growing and expanding the types of food we're offering — things like salads and different snack options. But right now we're just going to stick with sandwiches and let people see the flavors we like to cook with."

While the pop-up is takeout only, the Portmans are encouraging customers to picnic in nearby
Roosevelt Park
. They hope to set up seating in an orchard across the street from their house at some point this summer, too.
Introducing themselves to the community with takeout is the sisters' way of "testing the waters," Emily explained. Due to the pandemic, they'll operate the business on their own without additional employees to start — allowing them to remain nimble and pivot if need be.
"[We're] very thankful for the sandwiches in this town that have kept us well fed and inspired," Abby said. "We are just excited to be in the mix."