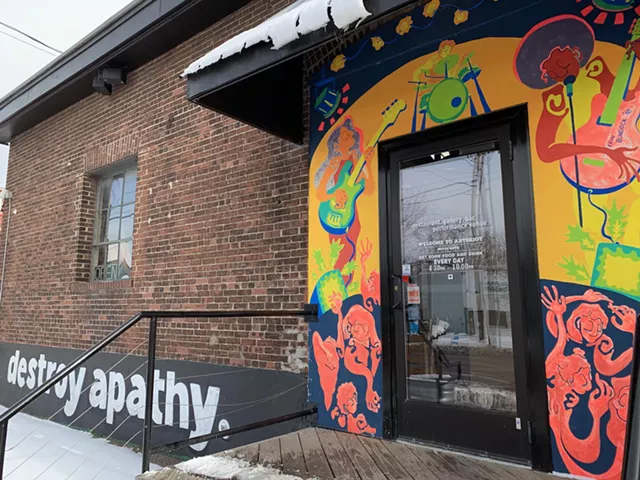 Melissa Pasanen
ArtsRiot
Alan Newman
has purchased the Burlington restaurant and live music venue ArtsRiot. Newman, ArtsRiot cofounders Felix Wai and PJ McHenry, as well as partner George Lambertson, announced the deal in a press release on Wednesday.
"We put everything we had into creating and growing ArtsRiot over the years, but our time has come to move on and we are excited to hand the reins over to Alan," Wai, McHenry and Lambertson wrote in the release.
ArtsRiot opened on Pine Street in 2013 and quickly became a cultural hub in the burgeoning South End Arts District as a popular restaurant and music venue. It attracted especially large crowds on Fridays during the summer months at its Truck Stop food truck event.
On March 12, following months of speculation and rumors,
an ownership group dubbed the "Riot Squad
,"composed of owners of several area bar, restaurant and food businesses, announced it was purchasing ArtsRiot. But the deal fell through amid uncertainty about the pandemic. The business has been closed since mid-March.
File: Matthew Thorsen
Alan Newman
Newman is a self-described "serial entrepreneur" whose Vermont business bona fides include cofounding Seventh Generation and serving as COO of Gardener's Supply. He is best known as a cofounder of Magic Hat Brewing, which he opened in 1994 with Bob Johnson. He is currently a co-owner of the South Burlington music venue Higher Ground.
Newman didn't divulge specifics of any plans he has for ArtsRiot or when it might reopen.
"I would love to tell the world what my plans are, but we will all have to watch together as we navigate these tumultuous times," he said in the press release. But, he continued, "I will be following the original mission of ArtsRiot — Destroying Apathy."
announced it was moving all Magic Hat production
to its Genesee facility in Rochester, N.Y.