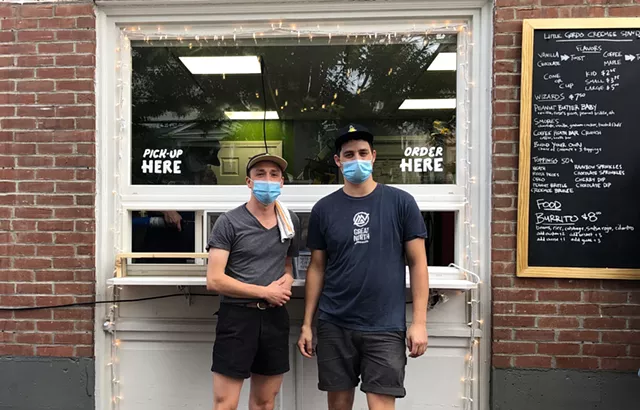 Jordan Barry
Henry Mizrahi (left) and Isaiah Palmeri in front of Little Gordo Creemee Stand
What's better than a creemee stand? A creemee stand that also serves burritos.
Taco Gordo
will take its takeout business to the next level this Tuesday, with the opening of
Little Gordo Creemee Stand
in the former Union Scoops window at 71 South Union Street in Burlington.
Customers at the walk-up window can expect housemade creemees; blended, candy-filled "wizards"; and bulging burritos. Picnic tables are available out front, but the tiny spot has no indoor seating.
At the stand's soft opening on Saturday, manager Henry Mizrahi described the to-go operation as a "natural expansion" of the popular Old North End taqueria's pandemic-era takeout model, plus "a whole new world of ice cream and soft-serve."
Taco Gordo pivoted
to takeout- and delivery-only days before the state's dining rooms were forced to close in March. Back then, owner Charlie Sizemore told
Seven Days
that adapting from a "full-service bar that happened to have a dope taco shop inside of it" to the to-go model was "like starting a whole new business."
"We're just trying to adapt and create a little life raft for ourselves to be able to sail into a safe harbor once life returns back to normal," Sizemore said.
While the Taco Gordo dining room is still closed, this new venture half a mile down the street is sizing up that life raft and doubling down on the to-go model.
Mizrahi had pitched the idea of a creemee stand to Sizemore before the pandemic — he lives nearby and had noticed that the tiny space next to
Willow's Bagels
was available after Union Scoops closed.
"My friends and I would always walk by and think,
How cool would it be if we all worked at this ice cream stand?
" Mizrahi said. "I sent the ad [for the space] to Charlie kind of as a joke."
The more they thought about it, he said, the better the idea seemed. The pandemic shutdown put things on the back burner, but when the landlords mentioned recently that other businesses were interested in the space, they jumped on it.
"It seemed like if any business was going to flourish in a takeout-only environment, it would be a hole-in-the-wall with no indoor seating," Mizrahi said.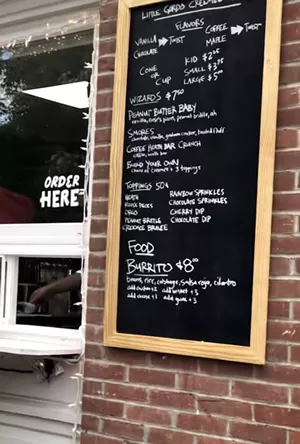 Jordan Barry
The menu at Little Gordo Creemee Stand
The ingredients for the burritos — added to Taco Gordo's menu in March and now a staple — will come to the satellite operation from the main Gordo kitchen, as Little Gordo doesn't have a full kitchen of its own. They hope to add nachos to the menu soon.
Mizrahi's focus, though, is on the ice cream. "I aspire to be a Dairy Queen, because that's just so nostalgic and wonderful," he said on Saturday.
"But we're also trying to make really good ice cream with high-quality ingredients that we're sourcing locally as much as we can," Mizrahi continued. "We've done a whole lot of research into the science of making ice cream, and it's a really, really big world."
Classic flavors such as chocolate and vanilla — and twist, of course — will be standard. On Little Gordo's second creemee machine, rotating flavors will get more creative.
"Generally you just see maple and black raspberry," Mizrahi explained. "But there are so many seasonal ingredients we want to use, and there's a lot of stuff we want to play with."
Mizrahi said he's looking forward to coming up with a recipe for horchata creemees, and translating the Mexican restaurant's ingredients and flavors into ice cream. Vegan options are in the works, too.
"We have a few things already floating around in our heads, and something like horchata maybe came up a bit sooner for us than it would for another soft-serve place."
The Little Gordo Creemee Stand will be open Tuesday through Saturday from 2 to 9 p.m. to start, with late-night hours planned for the future.