Courtesy of Caroline Corrente
Haymaker Bun cookies
Pastry chefs and bakers around Vermont are joining what might be the biggest and most impactful bake sale ever: Bakers Against Racism.
Organized by high-profile Washington, D.C., pastry chefs
Paola Velez
,
Willa Pelini
and
Rob Rubba
,
Bakers Against Racism
is raising money for organizations working to end systemic and structural racism — via an international, old-fashioned (albeit virtual) bake sale on Saturday, June 20.
Caroline Corrente, who owns
Haymaker Bun Co.
in Middlebury, noticed the movement as it started popping up on her social media newsfeed.
"I follow a lot of bakeries nationally, and when I saw the Bakers Against Racism sale, it had absolutely taken off worldwide," Corrente said. "It seemed like a perfect opportunity to use my baking skills and fundraise at the same time."
The organizers' call to action — for bakers to use their talents and tools to fight racism — hit home with Corrente, who said her baking career has felt "insignificant these past few weeks, in light of what is happening around the country and the world right now."
"I've had a hard time going to work every day and baking and making pastries," she continued. "My husband and I own a bakery and a restaurant [the Arcadian], so we've been working tirelessly on trying to reopen. But it hasn't felt right, right now."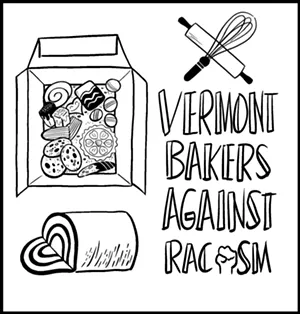 Illustration by Molly Hadwin
The Vermont Bakers Against Racism collaborative "Bakers' Box"
Meg Dawson, the pastry chef at
Philo Ridge Farm
in Charlotte, echoed Corrente's sentiment.
"People are really craving a way to get involved," Dawson said. "I think it's really hard to feel useful right now. Baking is the one thing I know how to do, so to get involved and raise money is the very least I can do."
Dawson organized a collective of eight bakers and producers in the Burlington area, who combined their efforts to sell one curated "Bakers' Box."
The $50 box, for which preorders sold out in two days, includes more than a dozen treats. Dawson,
Honey Road
pastry chef Amanda Wildermuth, King Arthur Flour baker
Laura Horner-Richardson
,
Hen of the Wood
's Laura Schantz, Sam LaCroix of
Mirabelles Bakery
,
Nomadic Kitchen
's Alexx Shuman,
Miss Weinerz
and
Shy Guy Gelato
all contributed. Coffee beans from
Vivid Coffee Roasters
were an optional add-on, and Mirabelles donated all of the boxes and paper goods for the effort.
Proceeds from the Bakers' Box will go to
Black Lives Matter of Greater Burlington
. Dawson is encouraging customers who didn't get to order a box to support the organization directly through donations.
For those looking to purchase something from the Bakers Against Racism sale, she's pointing customers to Corrente's efforts, as well as Montpelier's
Birchgrove Baking
— which is selling cookies to benefit
Justice for All Vermont.
"People know that the system is broken and that racism exists, but have just been living their lives," Dawson said. "At this point, it's not OK anymore. Everybody can see the crack in the wall, and we want to push at it until it breaks. If everybody keeps pushing, and doing what they can, we'll get there."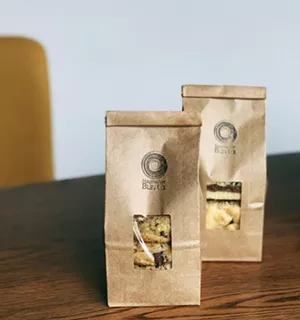 Courtesy of Caroline Corrente
Haymaker Bun cookies
Corrente is still taking
orders
for her contribution to the bake sale: Customers can choose from Haymaker's legendary chocolate chip cookies, fluffernutter cookies, or pistachio and chocolate chunk cookies. Preorders launched on Saturday, and as of Monday morning, Corrente had already raised $400, which she will split equally between
Black Lives Matter
and the
Equal Justice Initiative
.
"I think that we can hit at least $1,000," Corrente said. She is hoping to have extras available on Saturday for customers who didn't preorder; Haymaker will be open as usual for curbside pickup.
"A good, old-fashioned bake sale is such an accessible thing, at least for my customer base," she said. "It's a really easy and delicious, and hopefully effective way to raise money quickly. Maybe you were thinking about donating to an organization — it's been in the back of your mind or on your to-do list. But this is really simple. Just buy some cookies."