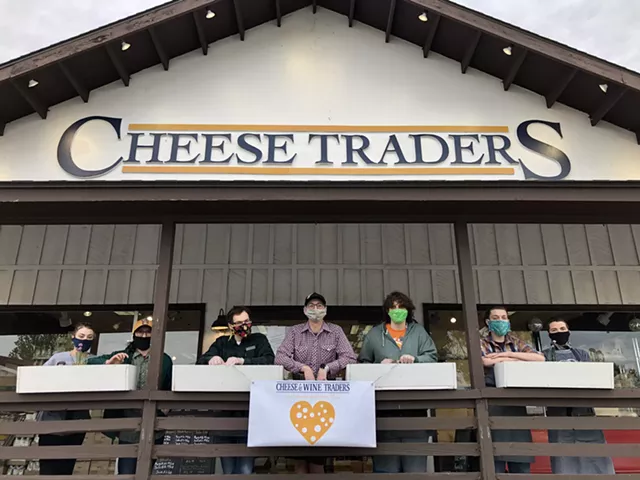 Courtesy Cheese & Wine Traders
Cheese & Wine Traders team members wearing masks
The
Vermont Retail & Grocers Associatio
n has launched a social media campaign to encourage customers to wear masks when shopping inside retail businesses.
Vermonters who post a photo of themselves on social media wearing a mask outside a local retailer with the tag #maskforthewin will be entered in a weekly prize giveaway. The organization represents about 800 retailers in Vermont, as well as another 250 suppliers to the industry.
While the state requires employees of retail establishments to wear masks, it has not announced a similar mandate for customers. As
previously reported
, Gov. Phil Scott has said he prefers to educate Vermonters about the benefits of facial coverings rather than enforce their use.
Specific municipalities can establish different requirements, which the Burlington City Council did in a
May 18 vote
requiring facial coverings in shops and public buildings.

U.S. Centers for Disease Control
and Prevention
has advised cloth face coverings in public to reduce transmission risk of COVID-19, particularly in settings where social distance is hard to maintain, and also from people who may have the virus but no symptoms.
In a press release announcing its #maskforthewin challenge, the Vermont Retail & Grocers Association said, "We know that wearing masks in public helps us keep each other safe."
Nick Savasta, co-owner of
Cheese & Wine Traders
in South Burlington, said that more than 90 percent of the store's customers wear masks. His goal is to keep his 18 employees safe, as well as customers.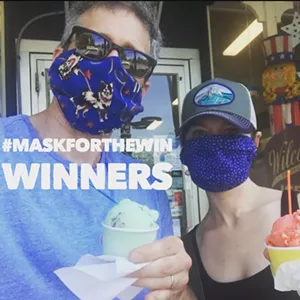 Courtesy Sarah Perrin and Vermont Retail & Grocers Association
The first winners of #maskforthewin at the Village Chocolate Shoppe in Bennington
Savasta said the social media campaign could not hurt. "I think any kind of messaging around [masks] is useful," he said. "It's easier if we're all on the same page."
Cheese & Wine Traders has posted signs on all doors stating that face coverings are required for customers to shop in the store. "If that doesn't work for them, we're happy to do curbside or delivery," Savasta said.