Courtesy of Diane St. Clair
Animal Farm butter from Orwell
On May 21, the
New York Times
published an
article
by restaurant critic Tejal Rao headlined, "As the Restaurant Industry Struggles, the President Talks About Butter."
The butter in question captured President Trump's fancy during a May 18 meeting with restaurant executives to discuss potential federal support during the pandemic. Diane St. Clair makes it at
Animal Farm
in Orwell from the milk of her tiny herd of grass-fed Jersey cows.
In the
Times
, Rao describes how this "hard-to-find, extremely expensive" butter was brought to Trump's attention by one of St. Clair's longtime customers, chef
Thomas Keller
, who was among the 10 industry representatives at the meeting. The high-profile chef owns a handful of fine-dining restaurants, including the French Laundry in the Napa Valley and Per Se in New York City.
Twenty years ago, Keller single-handedly steered St. Clair's agricultural business toward financial viability when he started buying her butter. He had paid to receive a sample shipped overnight and was so impressed, St. Clair recalled over the phone, that "He said, 'I'll buy anything you can send me.'"
File: Caleb Kenna
Farmer Diane St. Clair of Animal Farm
Today, St. Clair earns her living selling an average of 100 pounds of butter a week to a devoted roster of about 10 accounts, mostly restaurants, for roughly $20 a pound. When the pandemic abruptly closed those businesses, St. Clair said, she was thankful to be headed into her slowest production time of the year, when most of her cows were getting ready to calve.
Now that calves have started to arrive, milk quantities will gradually increase. With most restaurants still shuttered or reopening very slowly, "I have no idea what I'm going to do with all the butter," St. Clair said. "I'm losing a big part of my income."
As a sole operator, St. Clair explained, she cares for her herd, milks the cows and churns the butter. She cannot pivot to shipping individual orders, or drive around to deliver smaller quantities to regional co-ops or specialty stores. She noted that many other specialty creameries and small cheesemakers that rely on high-end restaurant markets are facing a similar challenge.
"There are not enough hours in the day," she said. "For me to send 100 pounds of butter out in one-pound [orders], I'd be tearing my hair out."
Keller mentioned St. Clair during the White House meeting to illustrate exactly that point. The impact of restaurants goes far beyond the people they directly employ, he emphasized.
"I want to talk about a small farm in Orwell, Vermont," Keller said, according to the meeting
transcript
. "This is about the supply chain and how important restaurants are in so many different aspects."
St. Clair had been apprised of the meeting mention by Keller's public relations team but was not expecting to be featured in any media coverage.
She understood that Keller was trying to give the president "a story to hold on to,"St. Clair said. "I was kind of a hook for that story … that there's a food supply chain here … that farmers, you know, are burying vegetables and dumping milk that were supposed to go to coffee shops and restaurants.
"He used the illustration of my farm to say there's a trickle down to this beyond even our employees," St. Clair continued. "It affects farms. It affects fisheries, florists, the people who clean [restaurant] linens."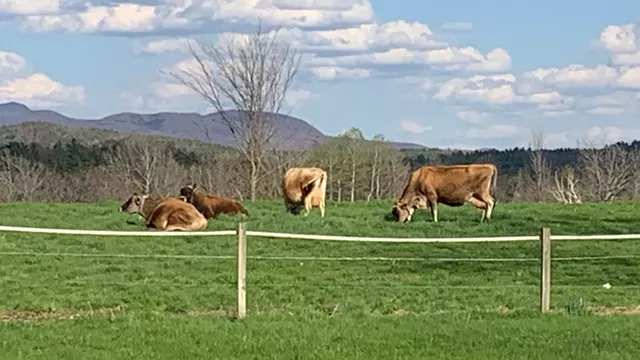 Courtesy of Diane St. Clair
Animal Farm cows out on pasture
As Rao observed in the
New York Times
, however, Trump seemed to miss that point. Instead, he sidetracked the meeting for several minutes to ask what made St. Clair's butter so exceptional. Keller responded that the butter is a seasonal product with a flavor and color that vary based on what the cows are eating. "No kidding," the president responded.
"It did not seem like a conversation happening in the workplace of the president of the United States in the middle of the global pandemic," Rao writes.
Asked if Trump's interest in her butter had resulted in an order from the White House, St. Clair responded, "No, but I guess they usually don't call saying it's the White House, as a safety precaution. Or so I've heard."
Animal Farm butter will be available in limited quantities at the Middlebury Natural Foods Co-op starting in about the third week of June. Animal Farm buttermilk is more widely stocked in co-ops and specialty markets around Vermont.