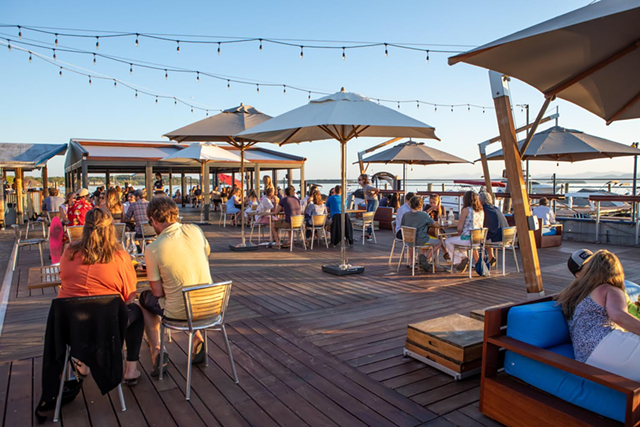 Luke Awtry
Spot on the Dock in Burlington on Friday evening
Jackie Oktay has been busy homeschooling her kids, converting two restaurants to takeout businesses, and keeping 40 people employed. So she missed the
news on Wednesday
that restaurants could open for outdoor dining on Friday. They'd been ordered to stay closed for two months as part of the state's effort to rein in the coronavirus.
Oktay, co-owner of
Istanbul Kebab House
in Burlington and
Tuckerbox
in White River Junction, found out Thursday morning that restaurants got the green light.
"I'm like, 'Oh my God,' '' Oktay said by telephone Thursday afternoon. "The wheels start turning: What the heck do I have to do now?"
A former nurse manager in the cardiac unit at Dartmouth-Hitchcock Medical Center, Oktay swung into action to open in compliance with state guidelines. She created a log to record customer information in the event contact tracing is necessary. She wrote a script for her staff to recite when they take calls for reservations. The dialogue includes asking people about symptoms and possible exposure to the virus; it encourages diners to order online to save "100 pieces of paper a day." (Disposable menus are mandated.)
Oktay also purchased outdoor tables and chairs to accommodate up to 36 al fresco diners at Tuckerbox. On Friday, she was ready to open.
"I think customers will appreciate it," Oktay said.
Navigating dining out in the age of the coronavirus is not a simple proposition. The guidelines recommended by public health officials — frequent hand-washing, maintaining a physical distance of six feet between people, and wearing a face mask in public — aren't easily achieved in accordance with the way restaurants have traditionally operated.
"How do you drink and eat with a mask on?" asked Joey Nagy, co-owner of
Mad Taco
restaurants. He paused before answering his own question: "You don't."
In these uncertain times, restaurant chefs are figuring out how to chart the course ahead. Some restaurateurs, wary of a resurgence of COVID-19, are opting for a takeout model they think will keep staff safe and withstand the vicissitudes of the virus. Others, including Oktay, say they'll make gradual changes — starting with takeout meals to eat on-site before adding table service.
"We're not in a hurry to do that because there's a lot more contact," she said.
Tim Lahey, an infectious disease physician at the University of Vermont Medical Center, suggests that "we're going to have to do this dance back and forth for a while." The "dance" or "toggle" he describes, based on local epidemiology, will move between periods of engagement and activity and periods when people need to stay at home.
"Whatever plan we come up with, if it doesn't have the ability to either loosen restrictions as things get better or tighten them as things get worse, it won't work," Lahey said.
Luke Awtry
Dining directions in the age of COVID
The
restaurant guidelines
set forth by the state are "very helpful and aligned to CDC guidance," Lahey wrote in an email to
Seven Days
. But he noted that directions about wearing a mask and precautions to safeguard workers are missing from the document.
"We'll see how this goes," he wrote. "[B]ringing groups of up to 50 together is a risk, so we'll have to be nimble and willing to pull back if local epidemiology suggests we have to."
On the first evening that Vermont restaurants could reopen, Anastasia Coen and Hunter Thomson ventured to downtown Burlington to dine. "It comes down to a mixture of Vermont's success against the virus and the lifting of restrictions," Coen said.
Many, if not most, downtown restaurants were closed or offering takeout on Friday. But the friends got a table at
Ken's Pizza & Pub
, one of four restaurants that was open on the Church Street Marketplace. They had sandwiches and cocktails and observed with concern the lax mask wearing of passersby. They sipped a cocktail — called the Painkiller — through a straw slipped under their face coverings.
"We might get screwed," Thomson said with a shrug, referring to eating out. "But it seems as safe as it could."
Sally Pollak
Anastasia Coen, left, and Hunter Thomson at Ken's Pizza
To facilitate outdoor dining and business, the City of Burlington announced on Friday that it will
expedite the permitting process and expand the space
available to restaurants and retail establishments. Chapin Spencer, director of public works, said the streamlined process will take a matter of days. The city also will designate parking spaces for grab-and-go pickup. And Burlington is initiating a street-closure program for the summer months.
"It's for businesses and organizations that want to activate the street with dining and retailing," Spencer said, emphasizing the need to practice social distancing and mask wearing at the events.
A new outdoor restaurant, Brick, is set to open on May 29 at
Hotel Vermont
, executive chef Doug Paine said. Brick will feature wood-fired pizzas, salads and lobster rolls. The restaurant will launch with takeout food to eat on the premises and move to table service in the next few weeks, Paine said.
Among the challenges of a gradual restart is rehiring staff on a partial basis, he noted. Proper distancing in the kitchen means fewer people can be in the space. The customer base, driven by hotel guests, could be smaller, he said.
"This is supposed to be the busy season; restaurants are supposed to be making enough money to hold us through January, February," Paine said. "If that doesn't happen, those winter months are going to be a death blow for a lot of people."
James Buck
Doug Paine at Brick
Chiuho Sampson, chef-owner of
A Single Pebble
restaurant and food truck in Burlington, also plans a slow return to full service. The key is to be flexible and agile, she said. Yet Sampson is confident there will be a market for restaurants.
"There are people who like to enjoy life," she said. "They want to eat the food that other people prepare for them."
In Waterbury Center, co-owner Noah Fishman said
Zenbarn
will probably open to in-house diners the weekend of May 29, with a new casual menu and tents and outdoor seating that can accommodate the maximum allowed: 50 people. The aim is to give the music club/eatery an outdoor environment similar to the vibe it established inside, Fishman said.
"I don't want to open up something that feels weird," he said. "It's got to be fun and enjoyable; otherwise you might as well just go home. We're sort of imagining it like we're doing a music festival."
Looking beyond the holiday weekend and past the summer, the
Mad Taco
's Nagy said he's in no hurry to open his doors to customers. Anticipating a possible second wave of the virus, Nagy is sticking with curbside service. The goal is to keep his staff healthy and employ a business model that's less vulnerable to virus-induced starts and stops. In addition, the staffing required for a full-service restaurant is incompatible with diminished seating capacity, he said.
"Who's really at risk here of getting it?" Nagy said. "It's not just the people who visit the restaurant; it's the restaurant workers. How do they not pass it between themselves? And then you shut down."
Two Chittenden County restaurants —
Penny Cluse
in Burlington and
Misery Loves Co.
in Winooski — plan to reopen in June with a business model retooled for takeout. Neither has a firm date, but Charles Reeves said his restaurants, Penny Cluse and
Lucky Next Door
, will start anew on June 4 or June 11.
"I think about this pretty much nonstop," Reeves said by telephone. "There's some sad truths about restaurants in general. But the part of the industry we're in, in particular, volume means profitability."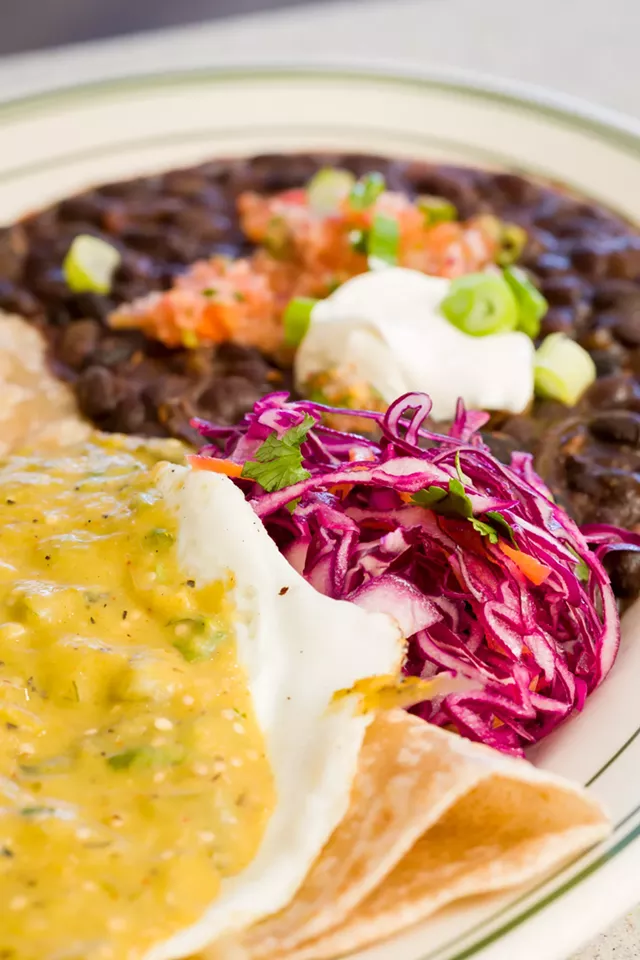 File: Oliver Parini
Huevos Verde at Penny Cluse
Known for its breakfasts, Penny Cluse could be the most popular restaurant in Burlington. It and Lucky Next Door serve 500 to 600 people on a weekend day, Reeves said. "We've been incredibly lucky for an incredibly long time," he added.
Takeout service will operate out of Lucky Next Door with a smaller menu that blends the offerings of the two restaurants, Reeves said.
"Either we change or we die, and so we change," he said. "We'll figure out a way forward that's going to work, and we'll be back moving food and having positive interactions. That's what people want."
At Misery, the chefs are devising a hybrid model that will focus on "hyper-local" ingredients and provide a combination of family meals, farm food and pantry items, co-owner Laura Wade said. The takeout package won't be eat-in-your-car food but a spread for the family table. Some meals will be fully composed, and other options could be ingredients to add to a salad, Wade said.
"People have rediscovered their kitchens," she said. "I think that's beautiful and exciting. We want to add to that. We want to support the home kitchen and build on that a little bit."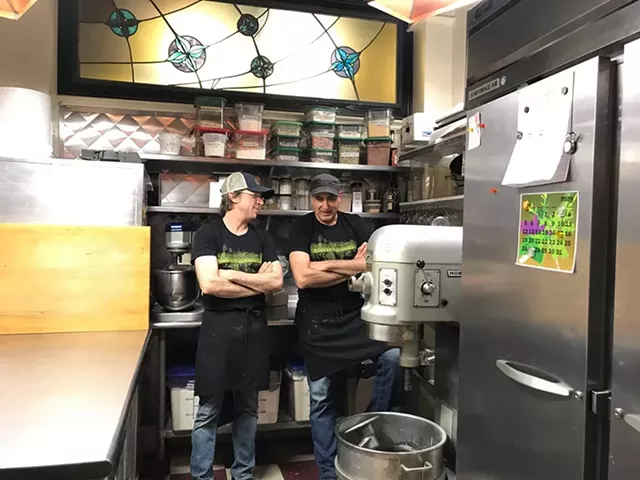 Sally Pollak
Stone Soup owners Tim Elliott, left, and Avery Rifkin
Burlington's
Stone Soup
is closed for the time being and has no plan for takeout service. To open with a few sidewalk tables doesn't make business sense, co-owner Tim Elliott said. Beyond that, he's not interested in compromising the very attributes that have drawn people to Stone Soup for more than 20 years.
"We're not McDonald's," Elliott said. "We don't have a drive-through. We're not going to wrap it in plastic and serve it to go.
"This is not a food-borne illness," he said of the coronavirus. "If people start becoming afraid of food, and afraid of real food, that's a bummer, a real bummer."