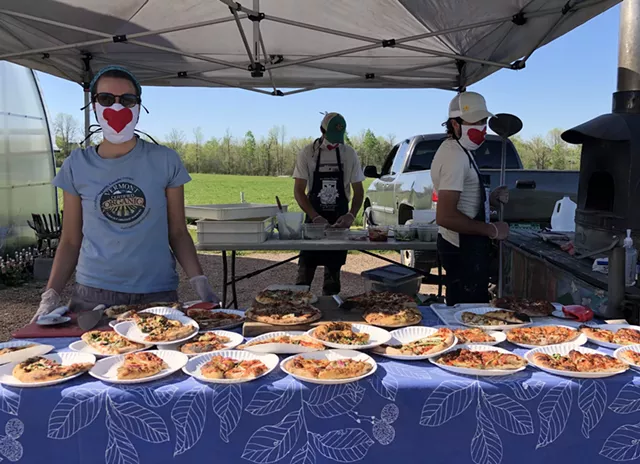 Jordan Barry
From left: Livy Bulger, Nick Kierstead and Tucker Levy prepping pizzas at Red Wagon Plants
The
Northeast Organic Farming Association of Vermont's
pizza oven has been a reliable sign of summer since 2006. Established by the late
Enid Wonnacott
, who led NOFA-VT for more than 30 years, the mobile oven could be found on farms throughout the state, bringing people together around pies topped with local, farm-fresh ingredients.
In the midst of the COVID-19 pandemic, the pizza oven is still a beacon of commensality, though the mission has a different focus this year.
The nonprofit has launched a new project called "Feeding Those Who Feed Us," which brings the mobile oven to certified organic farms around the state to cook for hardworking farm crews.
"The pizza events have always been a big hit," NOFA-VT marketing and communications manager Kim Mercer told
Seven Days
. "With limits on crowds and safety in mind, we knew it wasn't going to work in the traditional way this year."
"Our whole mission is about growing a sustainable food system in Vermont," she continued. "Farmers struggle, and this is our way of giving back and giving them a break."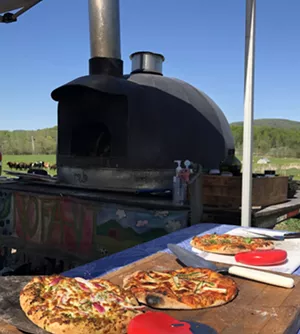 Jordan Barry
The NOFA-VT pizza oven
Education and engagement manager Livy Bulger had the idea to take the oven to farms to express appreciation for the work that farm crews are doing to keep up with the state's increased demand for local food during the pandemic.
"It feels good to be doing something that's normal for us this time of year, even if it's in a different way," Bulger said.
On Friday afternoon, she was busy prepping 50 pizzas with NOFA-VT's longtime pizza master Tucker Levy and volunteer Nick Kierstead. They were feeding the crews of Hinesburg's
Red Wagon Plants
and
Family Cow Farmstand
, as well as employees from nearby
Trillium Hill Farm
and
Full Moon Farm
who were picking up their pies curbside.
The dough, made from organic flour from
Red Hen Baking Co
., was prepared by
Richmond Community Kitchen
. "I'm really sentimental about the dough," Mercer said, remarking that Wonnacott had always insisted on making the dough herself. "The oven was Enid's baby."
Jordan Barry
Pies fresh out of the NOFA-VT pizza oven
"The project is meant to highlight farms doing exceptional things in the community, whether that's for food access, soil health or how they've pivoted and used innovative ideas to provide food to people during this crisis," Bulger said.
The oven will travel to 10 locations around the state this summer; Red Wagon and Family Cow was its first stop.
The farms were proposed by a committee of NOFA-VT employees based on how they embody the mission of the organization and the size of their crew, as well as their ability to host curbside pickup for smaller area farms.
"Red Wagon has really risen to the occasion to respond to what our community needs now, which is to grow more of our own food," Bulger explained. "Family Cow, too, is a great example of a sustainable raw-milk dairy, and they have been leaders in helping people continue to procure local food safely."
The oven will travel to
River Berry Farm
in Fairfax on May 27, and to the campus of Lamoille Union Middle and High School and the Green Mountain Technology and Career Center in Hyde Park on June 4.
Since the events are not open to the public, Mercer said, the details and timing are more flexible; the project's other stops will be announced soon. The organization is working with
Migrant Justice
to identify a dairy farm involved with its
Milk With Dignity
program for the 10th stop.
"We obviously want to give a pizza party to everyone, but we had to put parameters in place," Bulger said. "The smaller scale of these events, compared to the big public-facing events, feels like we're having pizza with friends we've known forever."
The staff are following current Department of Health guidelines for sanitation and food preparation, including wearing gloves and masks and keeping a six-foot distance.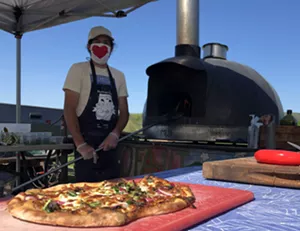 Jordan Barry
Tucker Levy manning the NOFA-VT pizza oven
"Because the oven is mobile, we're able to come to people and feed them in a safe way," Bulger said.
"Plus, the oven kills germs," Levy said with a laugh, taking a pie out of the 800-degree fire.
The project is funded through the
Enid Wonnacott Fund
— a fitting way to honor her legacy.
"It had to be full circle," Mercer said. "We're building relationships and resilience, and people are coming together on the farm to share food."