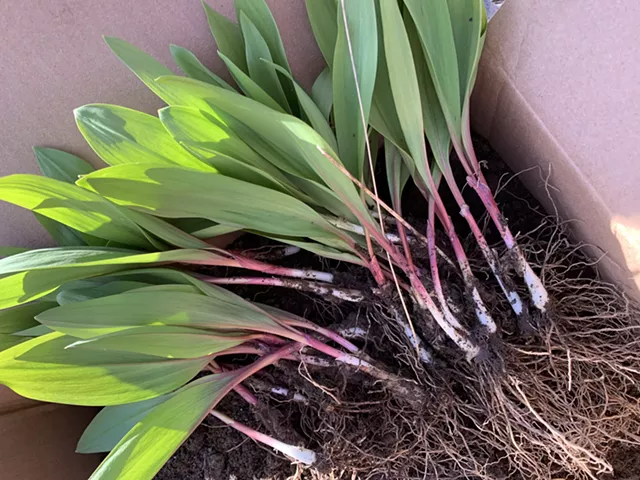 Melissa Pasanen
Ramps (Allium tricoccum) harvested in late April (not be used for ID purposes)
Reported cases of serious illness due to people mistaking highly poisonous false hellebore (
Veratrum viride
) for a prized wild edible, ramps (
Allium tricoccum
), have more than doubled in Vermont over last year's number: to 22 so far, according to Dr. Karen Simone, director of the
Northern New England Poison Center
.
"It makes you wonder: Are people just having more time on their hands, or are they going back to nature because of all the things that are happening?" Simone said. "It's hard to know, but it's definitely a big increase."
The Poison Center, based in Portland, Maine, serves Vermont, Maine and New Hampshire; it typically receives from zero to eight reports of false hellebore poisoning per year across all three states. The total number of cases to date is 25. All but three of those have been reported in Vermont, mostly in May.
Consuming false hellebore can cause severe nausea and vomiting, accompanied by a slowed heartbeat and a drop in blood pressure. Simone called it "a very serious cardiac poison."
Of the Vermont cases, Simone said that 20 have required hospital management, including 11 patients who had to be admitted. Seven of those needed critical care. All recovered.
It is not unusual for Vermont to have the most cases of the three states, Simone said. The Poison Center only tracks cases that are reported to them via health care providers, hospitals or individuals who reach out via phone, text or online chat. Simone noted that she recently spoke with a colleague in New York State who reported seeing a similar spike.
Simone noted that false hellebore and ramps can grow in similar locations and that the young leaves of false hellebore do bear some resemblance to ramp leaves. The Poison Center provides a
visual reference
and more information on its website.
Ramps should have a strong onion smell and taste, Simone cautioned. "It's surprising how many people pick them, and it doesn't look quite right, or they're not quite sure," she said, "and then it doesn't taste good, or it doesn't taste or smell like an onion, but they still put in on their pizza or serve it up for dinner."
"Please be careful," Simone urged. But to be really safe, she added, "We recommend, really, just don't do it."
For more information, go to Northern New England Poison Center, call 800-222-1222 or, in an emergency, text POISON to 85511.