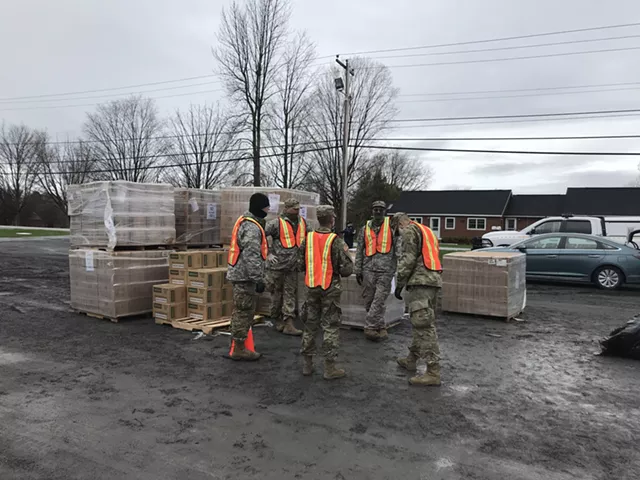 Sally Pollak
Vermont National Guard members and MREs on May 1 in South Hero
After landing a $5.4 million U.S. Department of Agriculture contract for the new
Farmers to Families Food Box Program
, the
Abbey Group
— a family-owned food service management company in Enosburg Falls — had just one week to pull together the first 1,000 food boxes.
The initial batch of boxes, filled with regional dairy, precooked chicken and fresh produce, will be distributed in Barre on May 15 by the Vermont National Guard along with MREs (meals, ready to eat),
a separate federal program
. From then through at least June 30, boxes will be distributed weekdays in different locations around the state.
The Abbey Group
Farmers to Families Food Box Program poster, detail
The new $3 billion federal program is designed to help address the pandemic-related spike in food insecurity, while also providing markets for American-grown food and generating business for regional and local distributors.
About 200 contracts were awarded nationwide. A second Vermont contract of $40,500 went to
Willing Hands Enterprises
, a Norwich-based nonprofit, which serves families in the Connecticut River Valley.
Trevor Lowell, the farm-to-institution program manager for the Vermont Agency of Agriculture, Food and Markets, said that as soon as the state learned of the opportunity, they started spreading the word to "anybody who might have the capacity to bid."
It was important to try to land contracts locally, Lowell explained, "in the hopes that would help Vermont farmers play a bigger role."
"It was a really interesting thing the USDA did," Lowell said, "very focused on making connections between farms and producers losing markets and food insecurity, which has become a national emergency."
A
recent survey
conducted by the University of Vermont and the Center for a Livable Future at Johns Hopkins University found a 33 percent increase in food insecurity in Vermont since the coronavirus outbreak. The
Vermont Foodbank
has
reported
at least a 60 percent jump in the need for food assistance.
At the same time, Vermont farmers and food distributors have been adapting to shifts in demand due to the closure of schools, institutions and restaurants. The state's dairy farmers have been particularly hard hit, and many have had to
dump milk
.
The Abbey Group specializes in supplying fresh, local meals to schools in Vermont, New Hampshire, New York and Massachusetts. The company is working with many of its regular partners on this new effort, including
Healthy Roots Collaborative
and
Green Mountain Farm to School
, as well as local dairy farms and regional processors such as
Monument Farms Dairy
,
Thomas Dairy
,
HP Hood
and
Cabot Cheese
.

"This is our home. We're from Vermont," said Abbey Underwood, the Abbey Group's vice president of marketing. "To be able to offer this to our friends and our families, the pride just wells up in us."
Nina Hansen, vice president of operations, added, "It's also an opportunity to help out our farmers, some of whom are dumping milk, some of whom are devastated because the restaurant and food service industry is in crisis right now."
Underwood and Hansen noted that they couldn't have pulled together a successful bid without the support of many Vermont organizations, from the National Guard to the Agency of Agriculture to distributors and regional food hubs such as
Black River Produce
in North Springfield and the
Center for an Agricultural Economy
in Hardwick.
The latter two are working hard to help source Vermont produce at a time of year that provides relatively slim pickings. None of the onions, potatoes, carrots, lettuce, cauliflower, celery and broccoli in the first boxes could be sourced locally at short notice in adequate quantity, "but we are working on it," promised Hansen.
It's likely the program will be extended beyond the end of June, which will provide more opportunities for local farmers to get a bigger piece of the pie. If the program lasts for six months, the food boxes will require 1.4 million pounds of produce, Hansen said: "If we can get 50 percent of that from Vermont, that would be great for farmers."

The Vermont National Guard will be at the Edward F. Knapp State Airport in Berlin on Friday, May 15, 10 a.m. to 2 p.m., distributing Farmers to Families boxes and MREs. Anyone is welcome to pick up food. For future distribution dates, follow @FoodBoxAbbeyVT on Twitter or go to the Vermont Foodbank
.