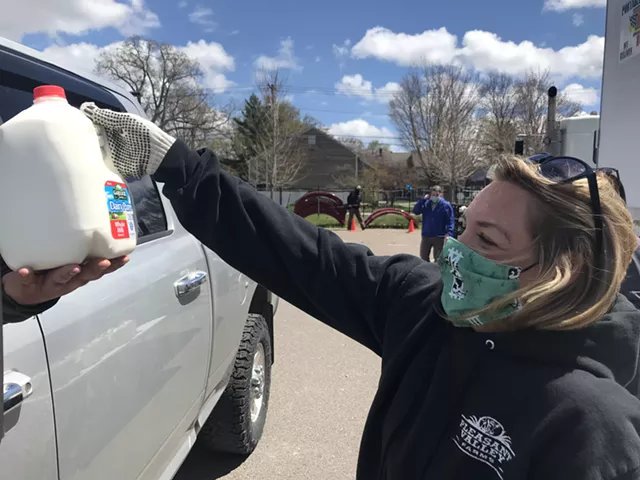 Sally Pollak
Elle Purrier handing over a gallon of milk Friday in St. Albans
Two problems in Vermont — food insecurity and dairy surplus — converged Friday afternoon in a St. Albans parking lot, where Franklin County farmers gave away 2,500 gallons of milk to a steady stream of Vermonters.
"We come from a lot of generations of dairy farmers up here in Franklin County, and we love our community so much," said Meghan St. Pierre, 26, of
Pleasant Valley Farms
.
"A lot of folks are struggling right now."
The need for food assistance has increased by at least 60 percent since the outbreak of the coronavirus, according to John Sayles, CEO of the
Vermont Foodbank
. In parallel to this hardship,
dairy farmers are dumping milk
because traditional markets, from cafés to colleges, are shut down.
The majority of the milk that was given away Friday would have been dumped, according to Anson Tebbetts, secretary of the Agency of Agriculture, Food and Markets. He helped give away milk at the drive-through event, called Vermont Dairy Cares, that was held outside the
St. Albans Cooperative Creamery
.
"Judging from what I've seen so far, the need is there," Tebbetts said. "One woman, I gave her a gallon of milk, and she broke down in tears."
Sally Pollak
Left to right: Meghan St. Pierre, Elle Purrier and Megan Terrell of Pleasant Valley Farms
St. Pierre said that at her family's farm in Berkshire, which has about 1,500 milkers, farmers are feeding as much surplus milk as possible back to the cows. But not all farms are able to do that, she noted.
"We've never been in this situation, where food security was a big conversation," St. Pierre said. "I think people are grateful for the milk, and we thank them for supporting Vermont dairy farmers."
St. Pierre handed out gallon jugs of whole milk on Friday with her two future sisters-in-law: Megan Terrell and Elle Purrier, a track star who grew up on a dairy farm in Montgomery.
In February at the
New York Road Runners Millrose Games
in New York City, Purrier, 25, set the U.S. women's record for the indoor mile with a time of 4:16.8. She's been running 70 to 80 miles a week, Purrier said. But Friday, the workout was a repetitive upper-arm routine: picking up bottles of milk and placing them in car trunks, back seats, drivers' hands and pickup beds.
"It's humbling," Purrier said. "I'm very proud to be from Vermont, and I'm happy to be able to give back to the community — and to be part of a special community."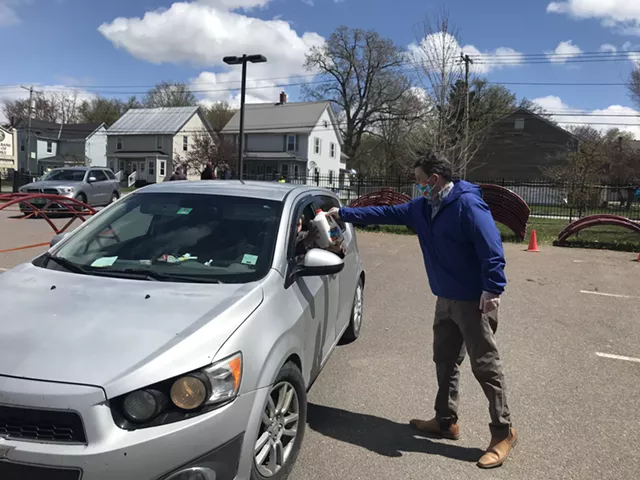 Sally Pollak
Anson Tebbetts, secretary of the Agency of Agriculture, Food and Markets, handing out milk in St. Albans
Franklin County state's attorney James Hughes was among those who attended the milk giveaway. "I think it's great," he said. "I wanted to come by and give a thumbs-up to everybody and show support for what they're doing."
Sherry Farrar, a St. Albans resident for 45 years, lives down the street from the creamery. She drove to the co-op to pick up a free gallon.
"We're here because we're raising a 13-year-old who goes through milk like crazy," Farrar said. "And we have a lot of friends who are farmers, and they're dumping milk."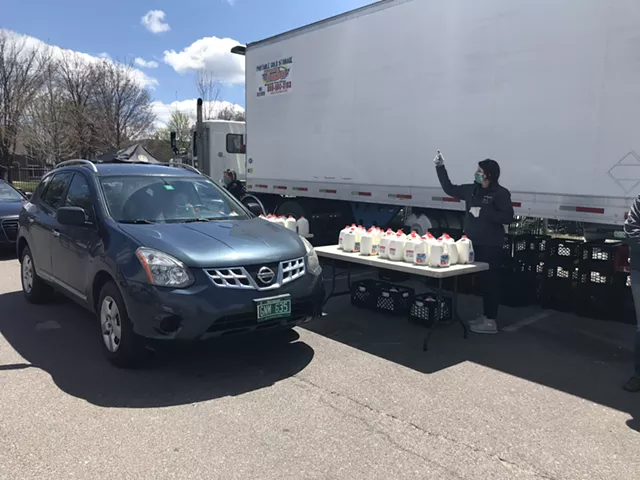 Sally Pollak
Meghan St. Pierre directing a car at the milk drive-through in St. Albans
Vermont Dairy Cares was a collaboration of Pleasant Valley Farms, the Vermont chapter of
Dairy Farmers of America
, the
Vermont Dairy Producers Alliance
, and Bourdeau Brothers in Middlebury, where 1,500 gallons of milk were distributed Friday. In total, 4,000 gallons of milk were donated to community members, according to organizers.
"I think there's a little bit of hope in the air," Tebbetts said. "DFA is rallying and supporting the community. This is a wonderful contribution by Vermont dairy farmers. They understand the pain and the hardship, but they're giving back to the community."