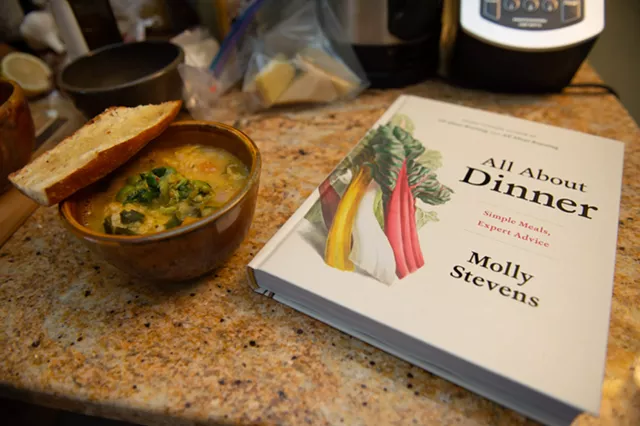 Daria Bishop
Bowl of soup and James Beard finalist cookbook by Molly Stevens
Molly Stevens, the award-winning, Williston-based cooking instructor, food writer and cookbook author, just earned a prestigious James Beard Foundation finalist nomination for her most recent book, All About Dinner: Simple Meals, Expert Advice (W.W. Norton, 2019).

Stevens is one of three finalists in the general cookbook category alongside part-time Vermonter Christopher Kimball and his book Milk Street: The New Rules: Recipes That Will Change the Way You Cook (Voracious, 2019).

Previously announced semifinalists in James Beard Foundation's annual Restaurant and Chef Awards — Cara Chigazola Tobin, chef and co-owner of Honey Road in Burlington, and winemaker Deirdre Heekin of La Garagista Farm + Winery in Barnard — did not advance to the finalist round.
Winners will be announced May 27.

Reached by phone the day after the book award finalists were announced, Stevens said she was caught by surprise "until my phone started buzzing." The awards schedule had been delayed while the James Beard Foundation focuses on
advocacy for the hard-hit restaurant industry
.
Each of Stevens' previous cookbooks,
All About Braising: The Art of Uncomplicated Cooking
(2004) and
All About Roasting: A New Approach to a Classic Art
(2011), won awards from the James Beard Foundation and the International Association of Culinary Professionals.
The nomination is gratifying, Stevens said: "It's credibility. It's validation. It's recognition from your peers and colleagues."
The former culinary school instructor has previously been recognized as cooking teacher of the year by Bon Appetit magazine and the International Association of Culinary Professionals. A series of her online cooking courses is offered through Bluprint.

Stevens said she was supposed to be teaching around the U.S. on the second part of her book promotion tour this spring. Instead, like most people, she has been holed up at home doing a lot of cooking.
Among her go-to comfort foods are dried beans, she said, noting that she was about to start cooking some for a bean gratin recipe from All About Dinner. (She later emailed a photo of the beans, a variety called Royal Corona from heirloom bean purveyor Rancho Gordo.)

Stevens said she also feels fortunate to have a freezer full of local pork. She and her husband have also been eating a lot of root vegetables but had just enjoyed the first salad out of their garden. She's been trying to vary what she cooks and make dinnertime more special, Stevens said.

"The days are so much the same, it's not good if the dinners are the same," she observed. "It's something to look forward to. We light a candle and sit down together."