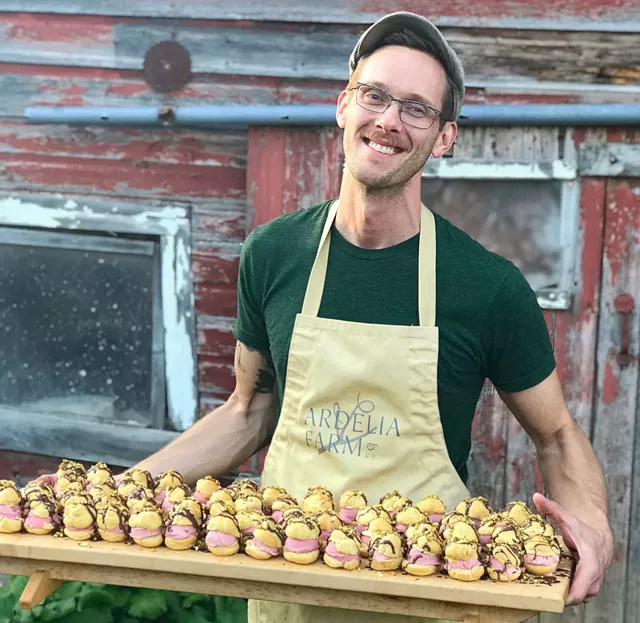 Nina Foster; courtesy of Thomas McCurdy
Thomas McCurdy with a tray of profiteroles
It's been a busy spring for Thomas McCurdy. The professional pastry chef, who owns
Ardelia Farm & Co.
in Irasburg with his husband, Bailey Hale, became a TV star and started a new online food delivery business in a matter of weeks.
McCurdy proved his pastry skills — which some Vermonters are familiar with from Ardelia's stand at the Burlington Farmers Market — by winning a recent episode of "
Chopped Sweets."

It's the first season of the Food Network culinary competition's "sweet spinoff," hosted by chef Scott Conant. McCurdy conquered the mystery boxes on an episode titled "
Breakfast for Dessert
," which aired on Monday, April 13.
"I learned right away that 'Chopped Sweets' is very real," McCurdy told
Seven Days
in a phone call the week after the show aired. "The secret ingredients are secret, the time constraints are real, and we have no recipes."
Those ingredients? In the first round, McCurdy and his three competitors had to make a cohesive dessert with cold brew, baby bananas, spicy cotton candy and a breakfast burrito. Round two's mystery box held a white-chocolate-based bacon-and-eggs candy, oats, blueberries and soy sauce.
The final round challenged competitors with a bowl of cereal, figs, Liège waffle dough and British toast spread (aka Marmite). Familiar combos of ingredients we all have for breakfast — or dessert — right?
Cheat sheets and even calculators were off limits, so McCurdy had to come up with recipes off the top of his head — and scale them down from his usual farmers-market volume with some speedy mental math.
With a cool confidence, he sailed through each round, proving his pastry skills and impressing the judges. The final round was close, but his bold, unexpected dessert in the first round and consistency throughout the competition made McCurdy the "Chopped Sweets" champion. (Spoiler alert.)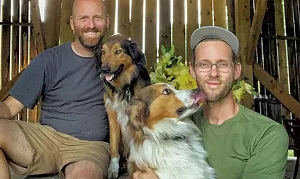 Courtesy of Ardelia Farm & Co.
Bailey Hale and Thomas McCurdy
The quick thinking that McCurdy exhibited so expertly on "Chopped Sweets"
has come in handy after the show, too. Since his win — and the onset of the COVID-19 pandemic — Ardelia Farm & Co. has launched
Kingdom Direct Food Delivery
, offering safe delivery of bakery items, dinner party dishes, prepared foods and pantry staples from area farms.
With details about this year's
Burlington Farmers Market
up in the air — and no market for event flowers in NYC, where most of the flowers from their farm are usually destined — McCurdy and Hale had to restructure their plan for this growing season.
They decided to flip the focus of the flower side of the farm to producing seeds, deemed "essential" by the state, which will allow them to keep their crew working. On the bakery side, an early morning idea to sell baked goods online for delivery sparked a six-hour brainstorming session for McCurdy and Hale — and the new business.
Kingdom Direct lets Vermonters order McCurdy's pastries; bags of flour, yeast and other hard-to-find pantry staples; items from area farms and food producers such as milk, eggs and yogurt; and prepared meals that followers of McCurdy's
52 Dinners
project from last year might recognize.
We talked with McCurdy about baking with mystery ingredients, TV magic, and how he's celebrating being a "Chopped" champion — by building a completely new business model during a global pandemic. And don't worry: If you missed the episode when it aired, "Chopped Sweets" is available on demand. McCurdy's episode will also air again on May 25 at 3 p.m on the Food Network.
SEVEN DAYS: How did you prepare to compete on "Chopped Sweets"?
THOMAS MCCURDY: I had a pretty short window from being cast on the show to filming. Bailey went to the grocery store and bought a bunch of random things, and he made me a whole lineup of brown paper bags to bake from. I knew what my time constraints would be — that was really the only thing I did know going into the show.
I would set a timer on the clock, open my bag and challenge myself to create four plated desserts within 30 to 40 minutes, featuring whatever random things Bailey threw at me. I had wasabi paste, a can of jackfruit, a bottle of liquid smoke and a little pouch of bright blue raspberry Jell-O powder.

SD: Those ingredients sound more difficult than the mystery ingredients you had on the show.
Thomas McCurdy; courtesy photo
McCurdy's baked goods are available through Kingdom Direct
TM: You know, I think they were. That was really the only way I knew to prepare, and I found it to be tremendously helpful. I would do that again, if there's ever a next time.

SD: When you opened the mystery box at the beginning of each round, how did you decide what you were going to make?
TM: There's really no time to think. You open the box and see the ingredients, and you have to roll with the first idea that comes to your head. The theme was so unique and specific — breakfast-themed desserts — and they really left it up to us as to how we wanted to interpret it.
When I've watched the show in the past, I've seen chefs make things and thought,
What are they doing? What a terrible idea.
When you're doing it, as soon as the timer goes off and you have to step away and put your hands up, the first thing you think about is the hundred better dishes you could have made with those mystery ingredients.
Also, I was limited by the recipes I had in my head. With cooking, it's a little easier to be kind of slapdash and throw things together. But with baking, it's such an exact science that one can only keep so many ratios in their head.

SD: What was your favorite dish that you made on the show?
TM: My favorite dish was also, I think, the judges' favorite dish. It was the first round, when I made a floating island. It just felt so silly and fun. I had to trust my gut and go with it, and I knew it was a big risk — it's not as if floating islands are part of my day-to-day repertoire. But coming out of the gate with that set me apart from the get-go.
As
Callista
[Mei, the baker who made it to the final round along with McCurdy] said on the show: After the first round, I was clearly the one to beat in her eyes. We had so much fun together. I think everyone knew that it would come down to the two of us. We had a similar confidence. She was a great competitor and really brought it.
SD: Besides the $10,000 prize, what did you take away from the experience?
TM: I don't remember most of what happened that day. It's such a blur, and it goes by so quickly. It's amazing how they can take a 12- to 15-hour workday and condense it into a 40-minute episode, telling that story in such a concise way.
One of my bigger takeaways is how real it all is. I thought there would be more TV magic, or fake drama, or things like
Who is going to get the last lemon?


But that wasn't the case at all. It was so refreshing to be part of a show that really is about the food and about the baking. They want to see you succeed and create amazing desserts. They're not looking for a disaster or a big failure; although that might make for good TV, that's for other shows.
SD: Do you have the TV bug now?
TM: I would love to do more TV. I enjoyed it even more than I thought I would. Eventually, I could see myself having some sort of Martha Stewart, "Pioneer Woman"-type of programming where it's just me doing my thing, making food for people and talking about it.
To do that, I think I would need to learn how to be a little more fun. [Laughs] I didn't realize until after the fact that I was really quite serious the whole time [on "Chopped Sweets"]. If I had another opportunity, I would lighten up a bit.
SD: How have you been celebrating your win?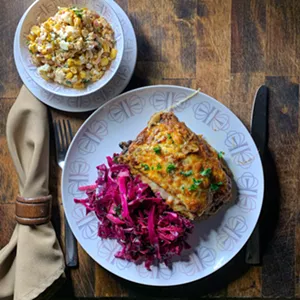 Thomas McCurdy; courtesy photo
Vegetarian Tex-Mex dinner party of elote salad, quick curtido and "Casserolé" (Mexican lasagna) available through Kingdom Direct
TM: The timing of Kingdom Direct taking off hasn't really given me much time to soak up or bask in the glow of winning, but that's OK.
With Kingdom Direct, we've been able to provide an outlet not only for our products, but for our neighbors here locally, and that is really energizing. I think we're all trying to figure out how to navigate this crazy roller-coaster ride that we're on.
SD: You must be undoing the mental math you did on the show and scaling recipes back up. What are you baking and cooking for Kingdom Direct?
TM: In the first brainstorming session Bailey and I had, we were thinking of frozen casseroles and simple take-and-bake things. There are plenty of places out there with better capacity to crank out hundreds of shepherd's pies, though, and I wanted to do something that's distinctly
me
.
Since the end of my
52 Dinners
project, I've been trying to figure out where to take it next. I have a really organized spreadsheet filled with 52 dinner menus, recipes, notes and production lists. This is an opportunity to share that with a lot more people.
SD: Which of your 52 Dinners dishes have been available through Kingdom Direct so far?
TM: The first week I did Indian, which is my favorite cuisine, with recipes I made last year for a big dinner I did down in Philly.
The next week, I did a Swedish dinner that I made last August for our friend
Marian Burros
, who was the former
New York Times
food columnist — and the restaurant critic for a brief time. As she was leaving the dinner, she said, "You would have gotten high marks for this." I told that to everyone who ordered the meal.
SD: How does the work of cooking for meal delivery compare to hosting a dinner party?
TM: I can make hundreds of cookies, muffins and scones easy-breezy — but it's very different to
cook
for a crowd. Making dinner for 10 to 12 people comes very naturally to me, but this is totally different. It's been a fun challenge to learn to scale that production.

SD: What are some of the staple items you're offering through Kingdom Direct?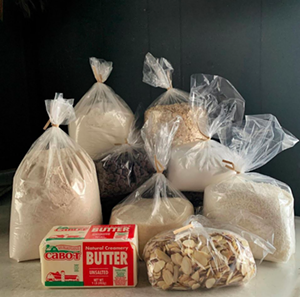 Thomas McCurdy; courtesy photo
Pantry staples available through Kingdom Direct
TM: In addition to my bakery items, prepared foods and dinner party delivery, we also have milk and cheeses from
Sweet Rowen Farmstead
; we have eggs and applesauce from
Hillside Farm
; just this week we added eggs from
Triple J Pastures
up in Irasburg; we have cream, yogurt and buttermilk from
Butterworks Farm
; and we're selling veggies from our friend Andy at
Heartwood Farm
.
We've had a good number of other producers and farmers reaching out to us, too. I love the idea of supporting as many producers as we can while also getting good food to as many people as we can. Right now we're a little limited by space; there's only so much room in our delivery vehicles and cooler space at the bakery.
SD: Will Kingdom Direct keep expanding?
TM: The other day I woke up in the middle of the night and started shopping around for refrigerated trucks. [Laughs] I think it's safe to say this is going to be our new normal, at least for a little while. I never felt particularly passionate about being an online grocery delivery company, but so far I'm finding it to be really rewarding.
This week, we added an item in the store giving customers an opportunity to donate any amount to
Northeast Kingdom Community Action
. We'll change the organization now and again, but we started with them because they've been working really hard through all of this, and long before this, to help keep vulnerable Vermonters fed and warm and taken care of. We're giving them a percentage of our sales, as well.
It's been challenging to figure out how to navigate wanting to do something good and help people in need while also running a business and being able to pay our bills. I'm selling fancy organic cookies, and it's not as though we're saving the world with saag paneer.
But I see this as what I'm able to do and how I can contribute; we're feeding people, supporting our neighbors and keeping our business afloat. It's a weird, crazy time.
This interview has been edited and condensed for clarity and length.