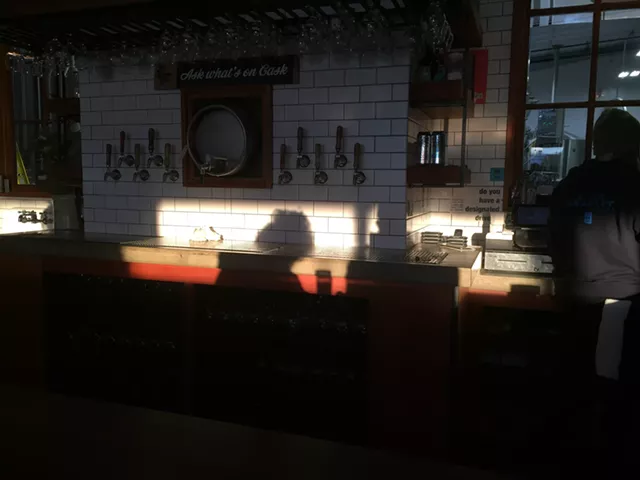 Glenn Russell
Sally Pollak drinking a beer at Zero Gravity in the winter of 2017
A week ago, I texted a relative who's a student at Middlebury College: "When all else fails, we can eat!" Lucy texted back a heart.
We made plans to meet at
the Arcadian
, an Italian restaurant alongside Otter Creek, with four of her college friends and another cousin — seven people in all. The students had been told to leave school in a matter of days because of the threat of COVID-19. We wanted one more hangout.
By text, we called the last-minute meal — where we drank Negronis on tap and shared plates of pasta — a "midd blowout."
Forty-eight hours later, on Friday, March 13, we wouldn't have made such a plan or eaten together.
Restaurants and bars are the places we go in good times and rough ones, for camaraderie and solace, celebration and contemplation. Restaurants rescued me when I was laid off from my longtime reporting job in the fall of 2016.
I remember crying into my moussaka at
Penny Cluse
a few weeks after the
Burlington Free Press
fired me. Eating an ideal meal made by Maura O'Sullivan didn't reduce me to tears. It was the kindness she and café owner Charles Reeves showed me when I sat down in their restaurant. (If I remember correctly, I ventured out of the house for a surefire cure for the blues — Maura's chicken liver toast — but I was swayed by the daily special.)
Then there was the late-afternoon oyster orgy at
Hen of the Wood
, where a friend and I started with a dozen apiece and moved on to a second round. He helped show me the way to good times, one oyster at a time. I used to think the legal limit was 12.
For many years, I was a Friday morning regular at
Stone Soup
, where I timed my coffee and loaf of challah to the late-morning break when co-owner Avery Rifkin turned the music up loud. "Cinnamon Girl" or "Wild Horses" would play on the stereo as he broke off an end piece from the challah and recited the Hebrew blessing in triple time. He knew I was an impatient eater.
Two weeks after I got laid off, I was on my way to city hall to pay property taxes when I stopped at Stone Soup for my millionth cup of coffee to go. Avery had heard I lost my job and asked me what happened.
"You want me to act it out?" I asked him.
"Quietly," he said, looking around his dining room.
I performed the skit with Avery playing me when the axe came down; I was the executioner.
When I was done, Avery said: "We're keeping a tab open for you."
Sally Pollak
A Negroni at the Arcadian in Middlebury
During my unemployment, I became a regular at
Zero Gravity Craft Brewery
, our neighborhood brewery. The concrete bar is heated, warm to the touch, and in those winter months I felt warmth from the ZG people when I walked in the door.
Bartenders refilled my popcorn bowl without me saying a word and indulged me with taste after taste when picking a beer seemed like a big decision. I talked about books and music with brewmaster Paul Sayler. I peeked into the window of the neighboring restaurant, the
Great Northern
, where construction was underway.
That spring, chef Frank Pace started to test recipes in his new kitchen. Sometimes he offered me a sample of what he was cooking, walking into the brewery with a big smile, a little plate of food and an idea for my next job.
I called Frank on Wednesday, March 18. His restaurant, like hundreds of others in Vermont, is shut down through April 6. I asked him what he was doing with the food. Making it last, he said. "Ferment. Smoke. Cure. Dry."
I told him I remembered some marinated mushrooms in a little jar that he shared with me in the Great Northern kitchen during that jobless stretch. No mushrooms could be more magical.
"That's all we're doing right now," Frank said. "Making food to cheer ourselves up."