Restaurants that have long offered takeout are stepping up their game with curbside pickup, making it easy to practice social distancing while still getting good eats.
Michael's on the Hill
in Waterbury Center has always offered their full menu for takeout, but they've added a "stock the freezer" menu, and they'll happily bring orders out to customers' cars to minimize contact. They're also offering local delivery with ample notice.
Jordan Barry
Al's French Frys
For some restaurants, figuring out how to offer takeout is new. Among them is the classic South Burlington burger joint
Al's French Frys
. In a post on social media on Monday night, the restaurant wrote, "Tomorrow will be a day of firsts at Al's. We will be offering takeout for the first time in 74 years!"
The delivery scene in Burlington has recently been dominated by apps such as Mr. Delivery, UberEats, Door Dash and Delivery.com. Plenty of restaurants are still using those methods to get food to their customers, but several restaurants in the Queen City and around the state are taking matters into their own hands.
Taco Gordo
in Burlington's Old North End has not only added burritos to the menu, they'll bring them to you, too.
Crystal Maderia, owner of Montpelier farm-to-table restaurant
Kismet
, announced that she'll be in the kitchen cooking meals over the next few weeks to create an emergency support fund for her employees. She and her wife will deliver meals to homes in the area, as well as to Bear Roots Farm Market.
Maderia emphasized the importance of supporting hospitality workers during these challenging times. She pointed out that the state's meals and rooms and alcohol taxes — of which Kismet alone collected $100,000 worth last year — go directly to Vermont infrastructure, but the "over ten thousand hospitality and service workers in Vermont who gather this essential revenue for the state ... are considered a 'non-essential' workforce," she wrote.
Maderia told Vermonters to contact legislators to encourage them to support the restaurant industry and its workers. Other owners are doing the same, asking Gov. Phil Scott to allow restaurants to keep the monthly 9 percent meals and rooms tax due next week as a form of aid for the industry and its workers.
Charlie Menard, chef-owner of Waitsfield's
Canteen Creemee Company
, created a post that was shared widely among the state's restaurants on social media.
"Restaurants are not just providing jobs to the people in the kitchen and dining room, but to the farmers and vendors, to the repair people that keep them ticking," the caption read. "The Vermont restaurant community is one of the greatest assets to Vermont, please keep us going."
Community support is a prevalent theme in how restaurants are responding:
Mark BBQ
in Essex Junction is providing free meals on Wednesdays for those with food insecurities. In a video posted on the restaurant's Facebook page, owner Darrell Langworthy said, "It's time for us to step up ... One way or another we're going to support our community." He's planning to serve between 150 and 200 meals.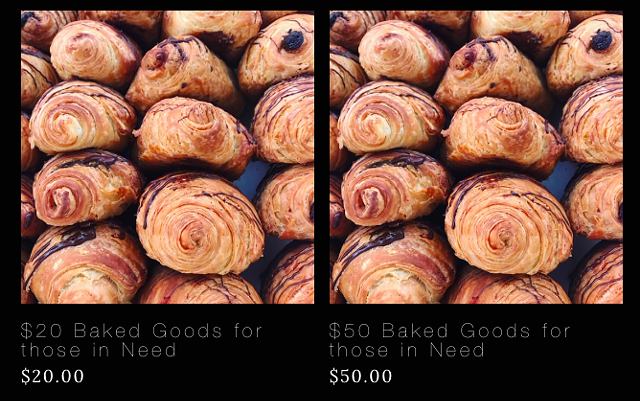 Courtesy of Barrio Bakery
Barrio Bakery's donation page
Barrio Bakery
in Burlington has started a program to facilitate donations to the Boys and Girls Club and local nursing homes. In an email to
Seven Days
, owner Ryan Bunce wrote, "It's a win-win for everyone involved. It keeps our people employed and helps people in need." Bunce has shared the idea, which involves customers calling or going online and selecting a dollar amount they wish to donate, with other area restaurants and hopes it will be widely implemented.
"I feel like there are a lot of people that want to help right now however they can," Bunce wrote. "This is a great way to do that from the comfort and safety of your home."
After Killington
closed the mountain
last week, the resort announced that it would offer free groceries for
Killington
and Pico staff — two tractor trailers' worth. The resort is also donating food to Killington Elementary School to assist with its food service program during the state's mandated school shutdown.
Hunger Mountain Co-op
in Montpelier announced that the store is reserving the first hour of business — between 8 and 9 a.m. — for high-risk shoppers, including seniors and those with underlying health issues, to stock up.
These are just a few of the ways Vermont's food establishments are trying to stay in business and feed our communities right now. While there's a general aura of uncertainty, anxiety and even fear in the air, there are
tons
of stories of creative thinking, adaptability, collaboration and caring happening around the state. We'll do our best to keep up!
Seven Days
is working on a new resource to help you find out what your favorite eateries are serving up — in containers — and how you can get the takeout, delivery or curbside drop-off of your dreams.
Check
GoodToGoVermont.com
and support your favorite restaurants!