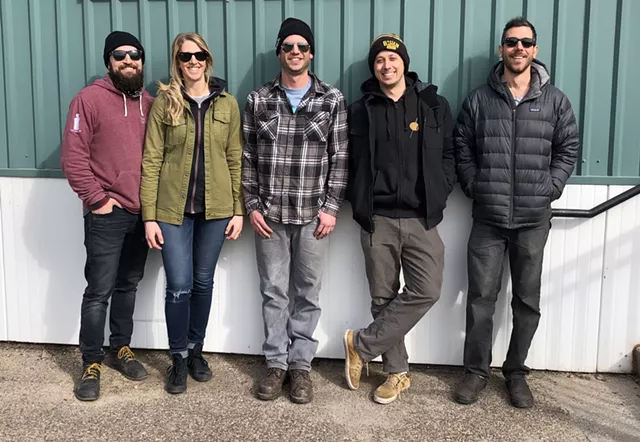 Jordan Barry
The Riot Squad, from left: Matt Farkas, Christie Farkas, Matt Small, Jacob Shane, Sam Tolstoi
After nearly two months of rumors swirling around the future of
ArtsRiot
, a sale of the business is in process. A new ownership group will take over the South End Burlington restaurant, music club and event space at 400 Pine Street, pending final permit approval.
The new ownership group, called the Riot Squad, is made up of current Vermont bar, restaurant and food business owners. It consists of equal partners Jacob Shane, owner of
Deli 126
; Sam Tolstoi and Matt Small, co-owners of
Manhattan Pizza & Pub
; and Christie and Matt Farkas, owners of
Christie's Gone Bananas
.
In late January,
Seven Days
reported
that ArtsRiot was "shifting resources and refocusing," according to chef and co-owner George Lambertson. At that time, co-owner PJ McHenry confirmed that the restaurant's' next steps were "in the works." He cited a recent expansion, as well the departures of original cofounder Felix Wai and then,
temporarily
, Lambertson from daily operations as challenges that were leading to a reevaluation of the business.
Shane told
Seven Days
that he and his partners were approached by a mutual friend and current ArtsRiot employee when rumors about the future of the South End business started to circulate.
"We were told that they were starting this process of looking to change ownership, and we jumped at the opportunity," he said.
The members of the Riot Squad hadn't been actively seeking new opportunities. But a common appreciation for the space and a desire to preserve ArtsRiot as a community hub for the South End brought them together.
"We love what ArtsRiot started as, and what it has become," Tolstoi said. "There was no hesitation. We jumped on it because we love that place and we want to see it succeed."
"That's what we tried to emphasize to [ArtsRiot's founding owners]," Shane added. "I think they recognized that we weren't in it for anything other than a love of that space and what it provides to Burlington as a cultural hub."
While they've each worked to build their separate businesses, the new owners have known each other for a long time. Shane and Tolstoi had mutual friends in college, and they all frequent each other's businesses, bouncing ideas off of one another over the years.
"The idea of being partners and working together was not intimidating," Matt Farkas said. He got to know Shane while doing popups at Deli 126 last summer — something he said ArtsRiot has done an outstanding job with, as well.
"It's about paying it forward and giving opportunities to people in the industry," Matt Farkas said. He and Christie Farkas will head up the food and beverage team. "My creative process will land in the kitchen, and then we'll work with the bar team that exists to grow as a unit," he said.
Matt Farkas plans to "take the focus off of fine dining, and have the menu be approachable and comforting," he said. "Staying with the theme of ArtsRiot — of never being put in a box — leaves a lot of room for what we can do, but the overall goal is to simplify and unite both sides of the business."
File: Melissa Pasanen
ArtsRiot
The ArtsRiot name and branding will remain the same, and the team is committed to making sure that every event that's on the books happens "as the city and coronavirus allow," Shane said. Per those conditions, the group will continue to host the popular Friday night ArtsRiot Truck Stop this summer.
Tolstoi said the venue's future music and programming will also stay "pretty much the same," but the group will add more emphasis on bringing in a broader array of arts. They'll focus on working with local artists and musicians as well as nationally touring acts.
"Being an incubator space was part of ArtsRiot's original mission, and we want to keep highlighting the artists who work in the South End but don't have their own galleries," Shane said.
"ArtsRiot stands for Burlington, and we'll make sure it continues to evolve with Burlington," Farkas added. "We're the stewards, and we're here to help tend to it and keep it on its path."
The Riot Squad's diverse set of skills and extensive experience in the local food, beverage and entertainment industries have made it easy for them to sort out their roles in the partnership.
"We have faith in each other," Small said. "We all want to do this because it seems fun. It's as simple as that."
The timeline for the transition of ownership is up in the air with the "impending doom" of COVID-19, Tolstoi said, but the Riot Squad will take over once the proper permits and licenses have been granted.
The Burlington City Council approved the group's entertainment permit application at its meeting on Monday, March 9.
Once everything is in place, the new owners plan to take a couple of days to transfer the kitchen and "get our thoughts rolling," Shane said. They do not plan to close during the transition.
"We very much appreciate what Felix, PJ and George — and their employees —have done to make ArtsRiot what it is," Tolstoi said.
"We're going to be relying on the people we have in place," he continued. "A lot of what makes Deli 126 great, and what makes Manhattan's great, and what makes ArtsRiot great is not the owners — it's the people working there who are the face of those businesses."
All current ArtsRiot staff have been offered positions.
The members of the Riot Squad said they want ArtsRiot to continue to evolve, building on the success it has had in the community since it first opened in 2013. "We just want to carry their torch," Tolstoi said. "We're going to keep it exciting and keep it weird."
McHenry described the energy and experience that this group of industry professionals brings to the table as the "best case scenario" for the bittersweet end to his ArtsRiot tenure.

"I have nothing but respect for their ability to operate businesses in this town, and we were happy to find this group to carry the torch," he said.

McHenry is planning to keep his entrepreneurial spirit alive in Burlington, noting that he has "several irons in the fire."

As for the reason behind selling ArtsRiot, he said it was a case of the original owners' lives moving on and "the arithmetic of balancing family life and being the sole proprietor of a big small business just wasn't adding up."

"We've had an immeasurable amount of support from Burlington over the past six years," McHenry said.

He expressed thanks for the enthusiasm the community has brought to ArtsRiot's goal of bringing people together around art, food and music, as well as to the ArtsRiot staff for working through all of the changes over the years.
Updated at 7:05 p.m.