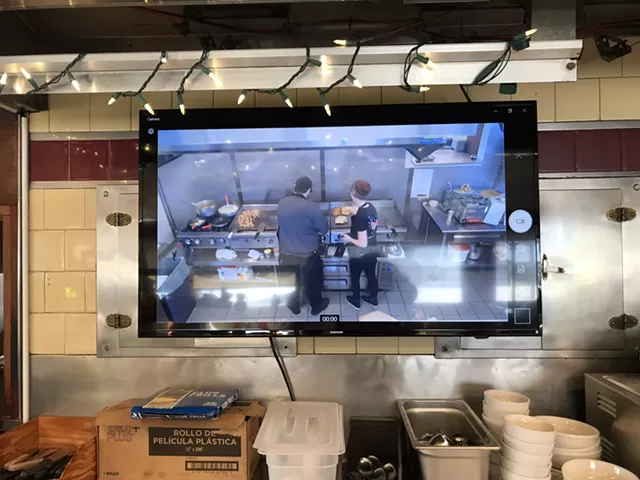 Sally Pollak
Cooks on television at Parkway Diner in South Burlington
Parkway Diner
in South Burlington has given new meaning to the term "TV dinner."
Two large-screen televisions behind the counter broadcast one show from breakfast through lunch: Parkway cooks frying eggs, grilling burgers, plating roast turkey sandwiches and serving fries.
Watching cooks on TV replaces live-action viewing of the same scene — a Parkway pastime that diners have indulged in since 1953. But in the diner's new kitchen, which was built last spring behind the original structure, home fries sizzle and gravy simmers beyond customers' view. Patrons were disappointed to be shut out of the kitchen action, owner Corey Gottfried said. The televisions, installed three weeks ago, are the solution.
"I've been watching them cook my food since the '80s," Scott Chapman, of Monkton, said on Thursday. He was eating fried eggs, home fries and toast at the counter — a meal he watched cook Bridgette Godin make on television.
"You get to see the bustle," he said.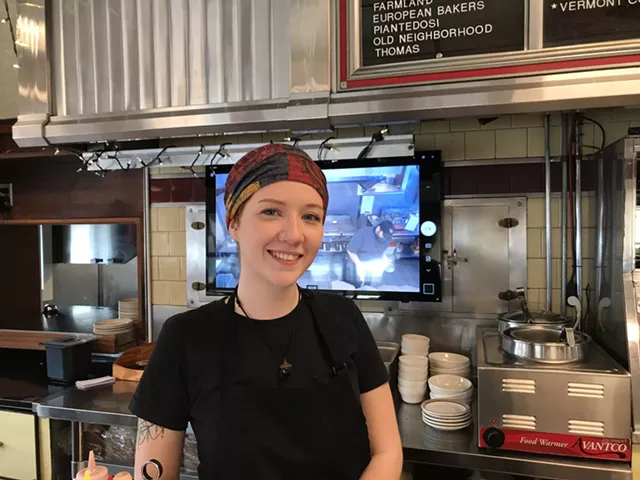 Sally Pollak
Bridgette Godin at Parkway Diner
Gottfried, 40, purchased Parkway Diner six years ago. He added the new kitchen to update equipment, create more space behind the counter and improve temperature control. The old exhaust system and grills made it difficult to moderate the temperature in the diner, he explained.
But customers missed the connection and camaraderie with cooks. Gottfried also missed the back-and-forth with patrons. So he installed a camera and screen in the kitchen, too. Cooks and customers can wave to each other. The system cost about $3,000, he said.
"I'm a chatty guy. I like chatting with customers," Gottfried said. "We're not really shy people at all. We're used to having people's attention — good and bad."
From the kitchen screen, he can see if servers need his assistance out front. Sometimes, when he steps off-screen and into real life at the diner, kids who've been watching him on TV are briefly puzzled.
"I'll walk out front and they're like, 'What? Wait a minute! You were just on TV,'" Gottfried said.
Mark Roberts is a Parkway regular who lives in Essex and works at the Department of Motor Vehicles. The appeal of a diner is the relation between customers and staff, he said.
"For me, coming to a diner is 'We're all in this together,'" Roberts said. "We're all playing the same game.
And
I get a really good meal on a plate."
Eating a hot roast beef sandwich with mashed potatoes and cole slaw, Roberts called the TVs "a good compromise." He joked that he wants to teach the cooks a few dance steps to keep the entertainment lively when the orders slow down.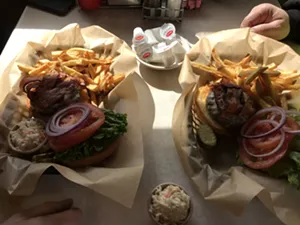 Sally Pollak
Bacon cheeseburgers with fries at Parkway Diner
In a corner booth, two men who delivered roofing material by crane for the renovation ate bacon cheeseburgers and fries. They praised the kitchen, pronouncing their lunch "tasty" and "really good." One of the contractors, Shawn Belville of Jericho, said the TV system is "pretty cool."
"You can see your food being cooked," he said. "You know what's going on."
The cook on Thursday was Godin, 24, who grew up in Milton and is also the head server at the diner. She learned to cook to familiarize herself with other jobs at the restaurant. Godin works in the kitchen one day a week.
"I kind of get in a zone when I'm in there," she said. With her focus on cooking, Godin doesn't pay much attention to the camera. But she thinks the kitchen broadcast builds trust with patrons while providing entertainment.
"As people watch, they get a new respect for people in the kitchen," Godin said. "They see how much work is going into their food."
Chapman, the customer from Monkton, said he'd "pick a diner over a four-star restaurant any day."
"I love diners," he said. "It's Americana."
Americana: Live on a TV near you.