Sally Pollak
Customers filling water jugs at City Market, Onion River Co-Op's South End location on Monday
On Saturday, February 15, the City of Burlington issued a precautionary boil-water advisory due to a water main break. Starting in the South End and eventually including most of Burlington and a small part of South Burlington, the advisory disrupted one of the busiest weekends of the winter for the city's restaurants, with Valentine's Day coinciding with the President's Day long weekend.

Residents were advised to boil water for one minute before using it for drinking, cooking or washing dishes. Food establishments had to make the tough decision whether to close and lose business or to navigate the challenges of safely feeding a packed house without their usual water supply.


At
the Great Northern
on Pine Street, the first sign of trouble came at the end of Saturday brunch. "The pressure got funky around 3 o'clock," chef and co-owner Frank Pace said. Thirty minutes later, Pace received the alert from the city's emergency system. The restaurant's next door partner,
Zero Gravity Craft Brewery
, closed right away. Pace and his wife and co-owner, Marnie Long, went fact finding with the brewery's general manager, Margaret Leddy.
Courtesy of the Great Northern
The Great Northern's Instagram post on Sunday
"We didn't have a plan," Pace said. "How do you wash your hands? How are we going to execute all of this safely?"
With those questions still unanswered at 4:30 p.m., when evening staff would normally have come in, they made the decision to close for the night. "We tried to call [Burlington's Department of] Public Works, but they were inundated," Pace said.

With tips from the police, Pace and Long worked all night developing a plan. By 8 a.m. Sunday they were ready to open, complete with 20 gallons of bottled water from Williston, cooking water set to boil and plenty of hand sanitizer, which Pace said made his day in the kitchen feel more like an off-site catering event.
"The restaurants that had a plan in action opened safely," Pace said. "It took us longer to be ready, but I think it all worked out very well."
Access to information was an industry-wide problem, with restaurants relying on the city's automated alerts and notices. At Nunyuns Bakery & Café in the Old North End, owners Paul Bonelli and Kristine Harbour got the advisory alert around closing time on Saturday, Bonelli told Seven Days in an email. "Beyond that, we received no information on how best to deal with the situation as a restaurant from either the city or the state," he wrote.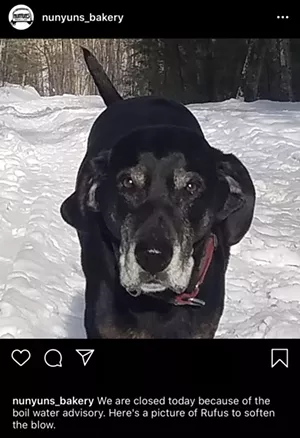 Courtesy of Nunyuns
Nunyuns' Instagram post on Sunday
Bonelli woke up at 3:30 a.m., walked into work and mixed up a large batch of dough. "I figured that it must be OK, because typically these advisories [have] never lasted more than a few hours," he wrote. When he realized that the advisory was still in effect, he threw out the 20 pounds of dough. The couple decided to "play it safe and not put our customers at risk" by closing all day Sunday.

"President's Day weekend, especially when coinciding with Valentine's Day, meant it was going to be a busy, prosperous day, but we didn't want to just cross our fingers and hope everything was OK," Bonelli wrote.
Downtown at Honey Road, chef and co-owner Cara Chigazola Tobin also pointed to the significance of a holiday weekend disruption, especially after a gas leak forced Church Street businesses to close over Labor Day weekend 2019. Honey Road doesn't normally offer Sunday brunch; Valentine's Day weekend is one of only two planned exceptions this year.
"Restaurants bank on these busy weekends, and infrastructure problems need to be solved so things like this stop happening," she said. "When the infrastructure is all messed up, it puts such a hardship on local businesses."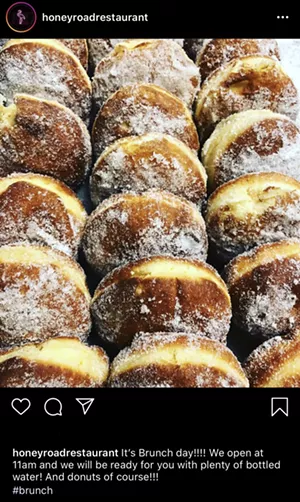 Courtesy of Honey Road
Honey Road's Instagram post on Sunday
Chigazola Tobin said that her team got through to the Department of Public Works at about 5 p.m. Saturday to clarify the steps they needed to take in order to stay open. Those included buying ice, extra sanitizer and nearly 100 gallons of bottled water; keeping a close eye on the temperature of the dishwasher; using pots of boiling water for cooking; and, like other restaurants that managed to stay open around town, reassuring customers that they were able to serve safely. Honey Road remained open all weekend.
Social media posts about bottled and boiled water populated feeds all weekend. Among them,
Folino's
shared that they were "taking all precautions" with bottled water and paper plates.
Sweetwaters
and the
Farmhouse Tap & Grill
both posted that they were open as usual with bottled water.
ArtsRiot
, writing, "Good thing you don't need water to grill a cheeseburger," had boiled water for washing and compostable serving ware.
Willow's Bagels
brought in water from Milton.
Butch + Babe's
gave a shout-out to Shaw's Supermarket, where they bought water and ice.
Simple Roots Brewing
switched to serving beer in recyclable plastic cups, and
Queen City Brewery
had a limited food menu — quetzels but no hotdogs — and reminded customers to thoroughly dry their hands after washing and offered sanitizer as an "additional step to keep things clean."
"When you're running a busy restaurant and you're in go mode, all of a sudden this is a wrench thrown in the system and you have to question everything you're doing," Chigazola Tobin said. "It was such a busy weekend for us that we just had to spend the money to bring in what we needed. This weekend is a huge boost that gets us through the winter, and I think that's true for a lot of places in Burlington."
Any decision to close the member-owned City Market food co-ops is taken "very seriously," said John Tashiro, general manager of City Market, Onion River Co-Op. On Saturday afternoon, after the City of Burlington issued its water-boil advisory, 11 senior managers got busy talking by phone, texting, and tracking alerts from the Department of Public Works, he said.
Within roughly half an hour of the advisory, the co-op closed its Flynn Avenue store. Later that afternoon, after the city extended its advisory to most of Burlington, City Market closed its downtown store, too.
The closure was a precautionary measure for the safety and health of staff and customers, Tashiro explained. The management team considered the many roles that water plays in the business: In addition to offering potable water to customers, City Market staff use it to make prepared foods, place seafood on ice, wash produce and hand-wash in the bathroom.
"Ultimately, because our staff has to wash our hands — that is a requirement for all of us — we felt that it was too much [risk] to take on," he said.
Both City Market stores have a water filtration system that uses reverse osmosis. According to a description on the store's website, "This process improves taste and odor of water by removing contaminants and it also removes impurities that include limescale, chlorine, silt, and much more."
In July 2019, when South End water was at risk for contamination due to a pressurization problem, City Market investigated whether its filtration system could provide safe water to residents, Tashiro said. Experts in the field, including the manufacturer of the reverse-osmosis system, advised the store that it could not guarantee the removal of all contaminants.
Sally Pollak
The RO system at City Market's South End location
"From our mission standpoint, we are absolutely [committed] to best support the community," Tashiro said. "And in times when clean, potable water is a necessity, we would like nothing more than to provide that service."
Based on the expert advice it had received in July, City Market determined that its current system could not serve that purpose. "As much as we wanted to offer it," Tashiro said, "we could not."
Early Monday morning, the City of Burlington notified residents that water was safe to drink, calling off the advisory that had been in effect since about 2:50 p.m. Saturday.
The advisory was occasioned by a water-main break on Pine Street that "led to a rather large loss of pressure in the system," according to Robert Goulding, public information manager of the Department of Public Works. With the pressure loss comes an elevated risk of contamination, he explained, calling that the risk "minor."
"It could increase the likelihood of bacterial contamination," Goulding told Seven Days on Monday morning. "But it's really important to underscore there was no known contamination during the event."