Melissa Pasanen
Smoked paprika and honey-brushed cauliflower steaks headed into the oven
Last August, my husband and I were hiking and talking about lots of stuff including the recently released
United Nations report
on land use and climate change. Among other things, the report analyzed agriculture's contributions to the climate crisis and the lesser impact of a mostly plant-based diet.
"Why don't we try going vegan for a month?" he proposed. (Unrelated to climate change, he also suggested going alcohol-free for a month, but we agreed these two experiments should not be simultaneous.)
It took us a while, between travel and the holidays, work commitments and way too much cheese in our fridge, but we finally carved out three weeks and started our experiment about a week ago.
I should state up front that we are not doing this with the goal of going vegan full time; we normally eat a varied omnivorous diet with a couple vegetarian meals a week. Almost all of our meat and dairy comes from local farmers whom I know personally because of my work. I believe that small-scale, humanely raised, pasture-based livestock operations contribute to a diverse Vermont agricultural landscape and can also help remediate some of the damage caused by conventional farming.
That said, I understand that an increasing number of people choose not to eat animal products for a variety of reasons, and I'm generally up for trying something myself to get fresh perspective on an issue. A week in, here's how it's going.
MVP ingredients
Tahini and cauliflower, plus chickpeas, pickled vegetables and nuts. My husband is allergic to soy, which rules out tofu or tempeh for us, but jackfruit, lentils and beans have been key.
Fake dairy has been pretty much a bust, with the notable exceptions of oat milk in my coffee and Miyoko's Creamery cultured plant-based butter. (I don't miss meat, but I miss cheese. A lot.)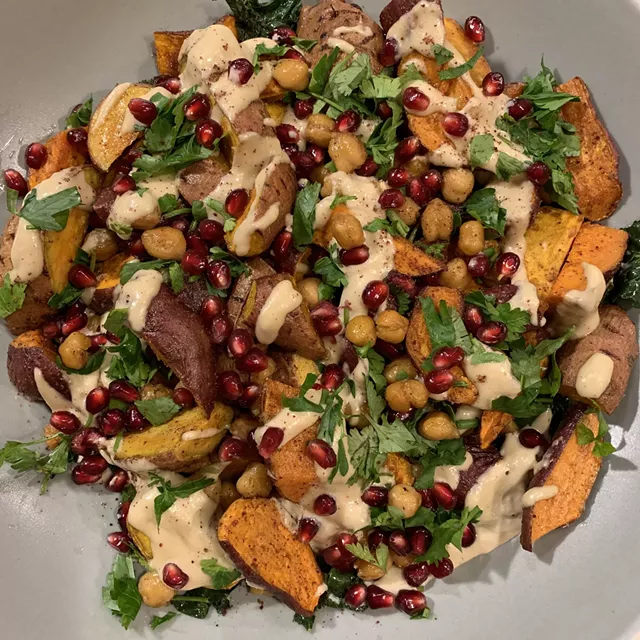 Melissa Pasanen
Loaded sweet potatoes with tahini dressing
Keeper recipes
I love to cook and try new things; I know that's not everyone's jam. There are more plant-focused cookbooks than ever and a plethora of recipes online. A bunch of people sent me much-appreciated ideas and tips after seeing my vegan posts on social media.
Recipes I will happily make again (vegan diet or not) include a riff on
Revolution Kitchen
's
Buffalo cauliflower tacos
from a recent
Seven Days
article;
loaded sweet potatoes
with tahini dressing; and a recipe I adapted several years ago from Donnell Collins, chef-owner of
Leunig's Bistro & Café
, for
roasted cauliflower steaks with tomato, olive and chickpea relish
. (I did forget how much chopping it requires.)
Restaurant highlights
Breakfast sandwiches at
Knead Bakery
, bounteous buffet choices at
Stone Soup
, and Major Tso's cauliflower at
Butch + Babe's
.
Indulgences
I don't have much of a sweet tooth, but I am grateful for
Farmhouse Chocolates'
85 percent dark chocolate bar,
Miss Weinerz
doughnuts (vegan except for the cream-filled kind), and crisp, local apples. (Did I mention that I miss cheese?)
Melissa Pasanen
Miss Weinerz doughnuts, coconut milk chia pudding and oat milk latte at Scout & Co.
Trade-offs
We are definitely eating more vegetables, which nutrition professionals seem to agree is a good thing. We are also eating more from-far-away foods than usual, though I've been pleasantly surprised by the range of local vegetables I can buy even in the middle of winter, mostly from farm stores like
Bread & Butter Farm
and
Philo Ridge Farm
.
I like to eat local because, even though it's often pricier, I know how that food was raised, and it feels like every purchase is an investment, if a small one, in Vermont.
Melissa Pasanen
Vegan barbecue tots made with jackfruit and dairy-free "mozzarella"
Up next
Yes, there are nights when even
I
don't want to cook. Usually, omelets are my go-to, but I'm not interested in fake eggs. On Monday night, I threw a bag of tater tots on a small sheet pan and topped them with shredded barbecue jackfruit and dairy-free "mozzarella." It was pretty good, but I don't need to make it again. Please send ideas for quick, no-prep, one pot/sheet pan vegan meals.