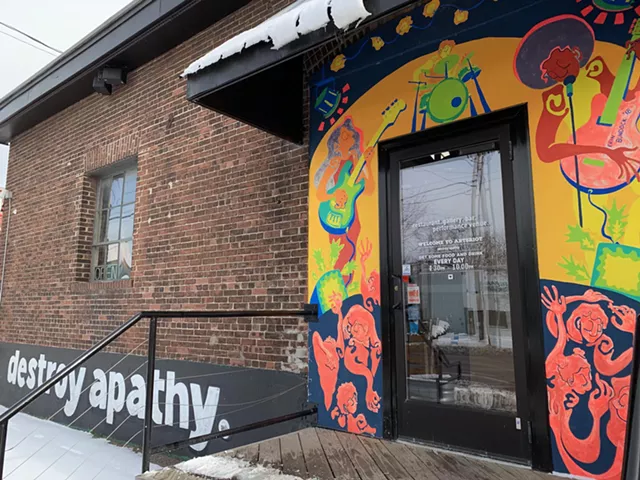 Melissa Pasanen
ArtsRiot
Updated on February 4, 2020.

ArtsRiot
, the Burlington restaurant, music club and event space at 400 Pine Street, is "shifting resources and refocusing," according to George Lambertson, the restaurant's former chef and co-owner of the business.
The restaurant-bar was closed for four days, January 19 through 22, without notice. It reopened on January 23 with reduced hours, an abbreviated menu, fewer staff and counter service only.
Lambertson is also back in the kitchen. "I'm cooking," he confirmed. Chefs Mojo Hancy-Davis and Chris Donnelly — who started the
Carte Blanche food cart
in 2018 — had replaced Lambertson in October when left to travel around the U.S. Lambertson could not verify the status of their employment.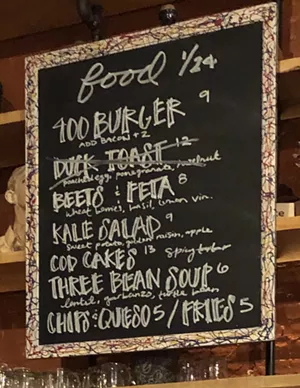 Jordan Barry
The abbreviated menu at ArtsRiot as it appeared on January 25
Lambertson and ArtsRiot co-owner PJ McHenry had previously declined to comment on widespread rumors that the business is for sale or closing. But following the original publication of this story, in which Lambertson acknowledged, "We are going through a reorganization," McHenry shared more details.
He confirmed that ArtsRiot has laid off seven employees and that the status of the new chef team, Hancy-Davis and Donnelly, remains to be determined.
Attempts to reach Hancy-Davis have not been successful, and Donnelly declined to comment.
"It was painful," McHenry acknowledged of the layoffs, adding that it was also necessary to continue operating. "[We are] temporarily tightening our belt," he said.
The recent expansion and the departures of first cofounder Felix Wai and then Lambertson from daily operations have been challenges that were compounded by the slow winter season, McHenry said. "We are taking this moment to reevaluate. The next steps are in the works."
Lambertson said last week, "We are committed to our events calendar and the restaurant hours as posted. That is our path forward."
Since the unexpected closure, ArtsRiot has shared via social media that the restaurant will operate on reduced winter hours, explaining that "mid-winter weather slows all restaurants/venues down." The website states that in February the restaurant will resume "regular" hours, Tuesday through Saturday. Previously, however, it had been open every night.
File: Sally Pollak
George Lambertson
The ArtsRiot food truck is for sale for $21,995, posted on Facebook Marketplace with a statement by Lambertson: "After operating the food truck successfully for 4 years we have decided to focus our energy on our brick & mortar operation. So with sadness we are putting our beloved truck on the market." The truck has been for sale since October, Lambertson said.
James Unsworth of
Unsworth Properties
, landlord of the building that houses ArtsRiot, acknowledged that he has heard rumors about the business. But, he said, "ArtsRiot is still very much open, and they have been a great tenant."
Since McHenry and Wai launched ArtsRiot in 2012, the business has played a key role in Pine Street's transformation into a dining and nightlife destination.
It hosts a wide range of arts and community events as well as the seasonal Friday night ArtsRiot Truck Stop. In 2019, ArtsRiot renovated and expanded its restaurant and music/events venue into the adjoining 404 Pine Street.
McHenry added that, although the ArtsRiot food truck is for sale, the eighth season of the truck stop is in the planning process; he is currently finalizing the lease agreement for the parking lot. "Our summer installment of Friday night fun is slated for its same May-to-September season," he said.
Jordan Adams contributed additional reporting.