Jordan Barry
Fable Farm Fermentory and Iapetus wines at the Vermont Wine & Food Pairing Workshop at Hotel Vermont
How do you convince a thirsty diner to choose marquette over malbec, or la crescent instead of Chardonnay?
At an industry-only workshop on Wednesday exploring how to pair Vermont wine with food, servers, chefs and business owners were given a great piece of advice: "The first step is getting it into the glass."
That advice came from Matt Canning, the food and beverage manager at
Hotel Vermont
. Canning led the workshop together with Doug Paine, executive chef of
Juniper Bar & Restaurant
and
Bleu Northeast Seafood
. The workshop was a partnership between the hotel and the
Vermont Fresh Network
. It was held as part of the
Vermont Wine Project
, a grant-funded initiative managed by the Vermont Fresh Network with support from the
Vermont Grape and Wine Council
.
"We're working against a traditional connotation of Vermont wine not being interesting, high quality or worth the time," Canning said.
"There's been a sea change over the last few years, and we do have high-quality, interesting wines," Paine said. "It happened when Vermont winemakers decided to make Vermont wines, not replicate wines from elsewhere."
Jordan Barry
Matt Canning pouring wine for workshop participants
The identity of those Vermont wines is built around working with hybrid grapes. The state's short, cold growing season requires grape varieties that can withstand its challenges. Hybrid grapes, unlike the wine grapes that most consumers are familiar with, are deliberate crossings between grape species: the vitis vinifera
species that gets all the credit in the wine world (your pinot noirs, cabernet sauvignons and Rieslings, for example) and hardy, disease-resistant native grape species.
These hybrid grapes — marquette, Louise Swenson, frontenac, la crescent, brianna and more — are being put to good use by winemakers across the state, often with a hands-off, or "natural" approach.
"The industry hasn't defined strict guidelines for what natural wine is, but the common characteristics between the best wines being made in Vermont right now are how they're fermented," Canning said. "Hands-off winemaking means fermenting the grape juice with native yeast, adding little or no sulphur, and having the finished wine be un-fined or unfiltered."
When pairing these wines, it's important to let the character of the wine dictate what food it's paired with, Paine stressed. That doesn't mean the pairing has to be predictable, though. Pairings can be congruent — highlighting the similar flavors and textures of the wine and food — or contrasting, which can be used to create balance between opposing flavors.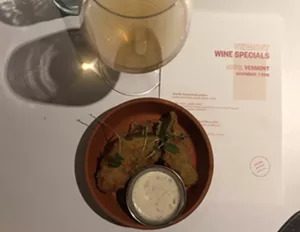 Jordan Barry
Fable Farm's Amida paired with Nordic Farm fried pickles
The evening's first pairing was a congruent one:
Fable Farm Fermentory's
Amida served with
Nordic Farms
fried pickles. This 2016 Amida is among the first of Fable Farm's wines
made entirely from grapes
. The wine is made from la crescent purchased from Lincoln Peak Vineyard, which was macerated with skins intact for over a month and fermented in open top containers. The result is an aromatic, high acid, amber-colored wine.
The pickles, which were lacto-fermented, echoed the acidity of the wine. The dipping sauce — a bacon ranch seasoned with Old Bay — brought out the wine's savory notes. One attendee noticed that the temperature of the dish had an impact, too, saying that the hot, salty appetizer helped open up the tightness of the wine. The room agreed that it was a successful pairing and drained their glasses.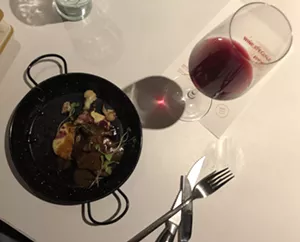 Jordan Barry
Iapetus Subduction paired with elderberry glazed beef short ribs
The second pairing was the Vermont version of beef and red wine: elderberry glazed beef short rib paired with the 2017
Iapetus Subduction
, a single varietal marquette wine from Shelburne Vineyards winegrower Ethan Joseph's Iapetus project.
Marquette is a deep, inky red inside and out. The grape, which is a relative of pinot noir, is one of the more prevalent hybrids in the United States. Still, it hardly has the name recognition of its famous family member.
"We bring people on board by talking about pinot noir," Canning said. "It's not a perfect analogy, but it's a jumping-off point." Marquette is not as fragile as pinot noir, and Joseph's wine is a prime example of what it can be: A 72-day maceration yielded a wine that's medium-bodied with medium to medium-low tannins, cranberry-like tartness and a whopping 15% ABV.
That alcohol level isn't uncommon among Vermont's hybrid grapes. They're known for having higher-than-average acidity levels, and winegrowers typically harvest them late to capture higher sugar levels for a more balanced finished wine. Higher sugar, in turn, means higher expected alcohol levels.
Alcohol level aside, Subduction isn't a "big steak wine," Paine said. The fatty, sweet short rib was an ideal pairing because it plays well with the texture of the wine. Beyond texture, Paine said, "Char always goes with oak."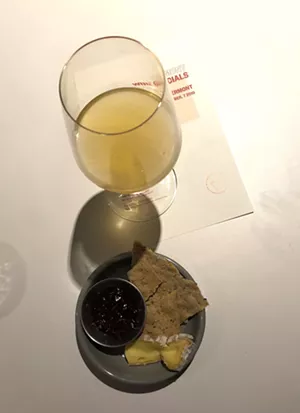 Jordan Barry
Fable Farm Lil' Dandy paired with Orb Weaver Frolic
The third pairing took even the Vermont wine fanatics out of their comfort zone. Paine and Canning paired
Orb Weaver Creamery's
newest addition, Frolic, with Fable Farm's Lil' Dandy, a blend of unfermented apple juice, cider and mead, all infused with dandelion.
"Lil' Dandy is very much a product of agriculture in Vermont and the time of year when it feels like all you do is pull up dandelions," Canning said.
"Dandelion wine" usually conjures up memories of home-brewed hooch, but this fermentation, which spent 18 months in barrel, is out to smash that perception. It's a delicate balance of acid, sweetness and carbonation with a dandelion nose and is something every adventurous drinker should try.
It's not necessarily an easy sell, though, Canning said. At Hotel Vermont, he usually points it out to beer nerds, especially those that are drinking sour, wild beers.
The light carbonation was a delight with the fatty Frolic — a new recipe, washed-rind cheese — and the pairing was both contrasting and complementary, thanks to a bright fruit compote and earthy lavash crackers.
Lil' Dandy was a last-minute substitution for Paine and Canning, and Paine stressed the importance of flexibility when putting together seamless combinations of food and wine.
"We get an initial idea of what the pairings will be, but then we test it and play around with it," Paine said. "You can't be dead set on making a pairing work; sometimes you have to be flexible."
That flexibility meant that attendees had an extra glass of wine at the end of the workshop.
La Garagista's
Loup d'Or, made from the grape brianna, had been their initial plan, but it was replaced by the higher-acid Lil' Dandy. As Canning poured the final glass, he talked of the difference between a food wine and a drinking wine, saying, "This wine stands alone."