Jordan Barry
Volunteers and farm staff harvesting carrots at the Intervale Community Farm
It was a day of pleas and carrots for farms at the Burlington
Intervale
on Friday. The torrential rain that made for a soggy Halloween on Thursday evening also triggered a flood warning. Some of the farms that sit in the fertile floodplain put out calls for volunteers on social media as they rushed to bring in crops before fields go under water.
"We had three and a half inches of rain in the rain gauge this morning, just from overnight," said Andy Jones, farm manager of
Intervale Community Farm
. "That's more than we've ever had on the farm in that short a period of time," he continued, "except for Tropical Storm Irene and one other hurricane in the '90s."
Intervale Community Farm, and the other farms working the 135-acre Intervale Center, are farming directly within the lower Winooski floodplain.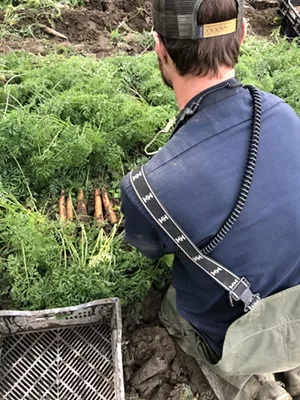 Jordan Barry
Silas Branson instructs volunteers on how to harvest and sort carrots at Intervale Community Farm
"It's great soil, and it's right near Burlington," Jones said. "The only reason it's not full of housing and businesses at this point is because it's a floodplain. The good part of being here is also why it can be a challenge."
Farmers in the Intervale rely on
hydrograph readings
from the Winooski River's nearest stream gauge in Essex Junction to prepare for forecasted floods. As of 3:30 p.m. on Friday, that gauge was observed at 15.47 feet. The hydrograph's forecast, issued at 11:20 a.m. on November 1, expects waters to rise to 17.4 feet. Both of these measures fall within the "moderate" flood stage — a flood is considered to be "major" once the hydrograph reaches 18 feet.
"The flood levels that we're seeing, based on that information from the Essex stream gauge, seemed like it would put a lot of our remaining land under water," Jones said.
Intervale Community Farm
A Facebook post seeking volunteers at the Intervale Community Farm
Fear of fields under water, stranding crops and rendering them unsaleable due to contamination with floodwater prompted Intervale Community Farm to harvest the last of the farm's carrots as quickly as it could. With six or seven staff members working, the five beds that needed to be picked would have been a mighty task. So the farm took to social media to crowdsource volunteers.
"FLOOD!" an Intervale Community Farm Cooperative Facebook post began. It went on to say that the farm sought volunteers who were "available and prepared for mud and chill," before offering directions for where to go.
When a reporter showed up to help harvest, there were at least 15 volunteers kneeling in the dirt of the carrot rows, pulling up bunches at a time and sorting them for quality. The volunteers were a mix of the farm's CSA members and concerned citizens. The group worked quickly, chatting across the rows.
"Where's Bugs Bunny when you need him?" one volunteer joked. Another mentioned he'd decided to come help when the internet had gone out at his office due to the morning's wind.
Jordan Barry
Andy Jones teaching volunteers to harvest chard at Intervale Community Farm
"We're really excited to have this volunteer support," Jones said. "We've had volunteers showing up throughout the morning, and we've picked somewhere in the neighborhood of 12,000 pounds of carrots."
Jones added that the emergency harvest was a great opportunity to catch up with people he hadn't talked to in years. "It's not a great reason, but it's fun with a big group," he said.
The emergency harvest comes a few weeks earlier than the farm was planning for the roughly third-of-an-acre of "storage carrots," which are destined for winter CSA shares as well as wholesale accounts and donations throughout the winter.
The Intervale most commonly floods in the spring, Jones said. With a late-spring flood, farms may have to replant early crops.
The floods that cause the most damage in the Intervale are the mid- to late-summer floods, Jones explained, citing the damage caused by Tropical Storm Irene, which struck Vermont on August 29, 2011. "Crops aren't mature then so you can't pick yet, but it's too late to replant," he said.
Seven Days
previously
reported
that losses from Irene totaled about $750,000 for farms in the Intervale.
Jones explained that contending with a flood on November 1 is far easier than in the middle of the summer.
"We have a lot of things that are already out of the field," he said. "There are things that we could keep picking that will go under water that aren't as important — turnips, some rutabaga. We already have some of those in the cooler, and they're not as popular."
When the field of carrots was cleared, Jones gathered the volunteers into a circle to express his appreciation. At the end of a quick thank-you speech, Jones asked, "Who wants to stick around?" The entire group moved with him, heading towards beds of chard and spinach.
For the Intervale Community Farm, which is wrapping up the 30th year of its CSA, losses from this flood will be minimal. Jones is disappointed, however, that the rising water will affect the farm's partnership with the
Vermont Foodbank
and the Intervale Center's gleaning program.
With the fields expected to flood imminently, Jones and his volunteers were only sorting and harvesting salable crops. Typically, crops that can't be sold — most often for aesthetic reasons — are left in the fields, which the food bank and gleaning program come pick up weekly. But if the fields flood, those crops will become unusable.
"It's been tens of thousands of pounds of food each year that they're harvesting out of the fields," Jones said of the Vermont Foodbank and Intervale Center gleaning program. "If [the fields] flood, they won't be able to use that food."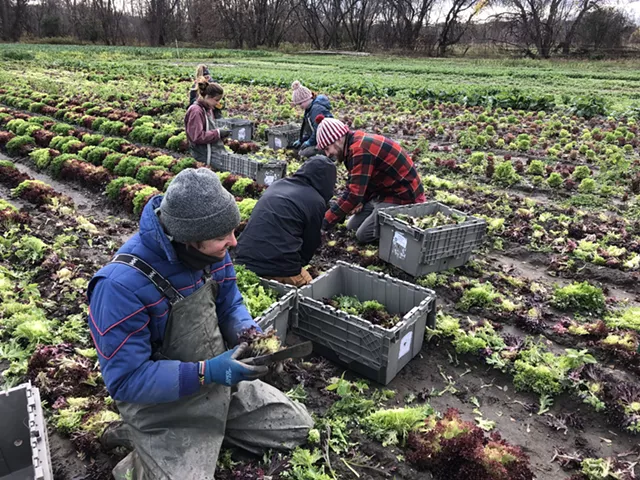 Jordan Barry
Hilary Martin and volunteers harvesting at Diggers' Mirth Collective Farm
The flood was also looming cross the street at
Diggers' Mirth Collective Farm
. Co-owner Hilary Martin said predictions had fluctuated, but in the farm's low-lying land, flooding would start with a hydrograph reading around 12 feet.
"The floodwaters tend to come in through the wetlands around the Intervale," Martin said. "Even though we're across the road from the river, the water finds its way in because our fields are lower."
Jordan Barry
Greens harvested at Diggers' Mirth Collective Farm
Martin expected that everything remaining in the Diggers' Mirth fields would be compromised.
"We've had a fabulous season to date, and we've been really lucky with weather," Martin said.
Diggers' Mirth is a market farm, wholesaling to
City Market
,
Healthy Living
,
American Flatbread
and a handful of other accounts. Without the flood, the farm would have had at least two or three more weeks of sales of fresh greens, salad greens, cilantro and carrots. Frost-hardy crops that would have been picked in the next couple of weeks are now unlikely to get picked.
A team of the farm's co-owners and volunteers harvested greens, which Martin said will hold for a week or two in coolers and totes. When a family of volunteers arrived, there weren't enough knives to go around so they grabbed scissors and headed to the rosemary bed.
"It seems as though flooding is no longer unusual," Martin said. "We would always expect it in spring, when the snow melts. Now it's a possibility all the time."
Martin was unaware that there were posts on social media asking for volunteers at Diggers' Mirth, but several were making the rounds Friday morning. "I'm not surprised," she said, "the news tends to find its way there."
The farm collaborates with UVM, and had put the word out through the university's agroecology program. Martin mentioned that City Market has helped rally volunteers in the past.
"At this point, flooding has become common enough where people just seem to know to come and help. People understand the nature of farming and know that help is useful," Martin said. "There's only so much that five or six of us can get done in a day, and we have so much gratitude for the support of the community."