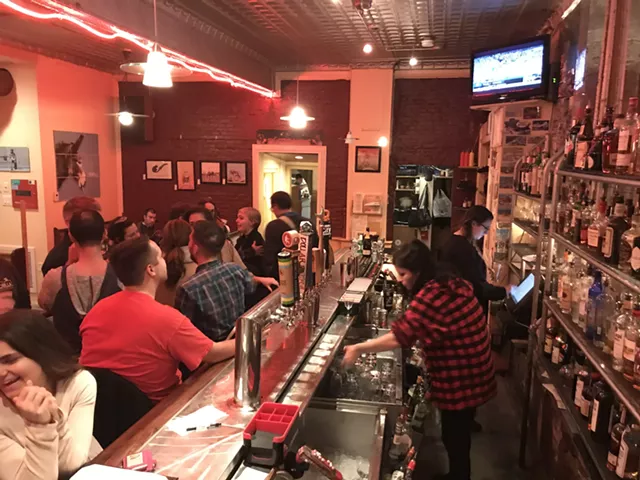 sally pollak
The Daily Planet on October 29, 2019
Editor's note, 3:15 p.m. October 30, 2019: Wednesday afternoon,
Seven Days
published a story that said the Daily Planet was closing. Owner Copey Houghton's daughter, Samantha Houghton, subsequently insisted it was not closed. Copey Houghton himself later called the paper and acknowledged the staff had "walked," but added he had no intention to close. This story has been updated as more information became available.
A pending sale of the Daily Planet, which opened on Center Street in 1982, fell through earlier this month, and the future of the restaurant appears to be in question.
For many years, the restaurant has been the go-to hangout in Burlington, drawing a lively crowd that included restaurant workers, journalists, downtown merchants and more. But Tuesday night, staff and customers in attendance said it was the last night of service.
David Warshow, a prospective buyer of the restaurant, told
Seven Days
there were issues he and the seller, Planet owner Copey Houghton, could not resolve. Warshow, 28, declined to specify what the issues are, but said the failed deal was unrelated to financing. Efforts to reach Houghton on Tuesday were not successful.
"This turnout shows how important this place is to the community," Warshow said late Tuesday night at the bar. "And how sad what's happening is."
After
Seven Days
reported the place was closing, Samantha Houghton insisted it was not — prompting the paper to correct the story. Around 2:15 p.m., Copey Houghton called an editor and asked for the story to be "taken down."
Copey said he was out of town, and insisted a staff member had been telling people he was closing when he had no intention to do so. As a result, he said, the staff "walked." Asked if there would be food service Wednesday night, he answered, "No, there can't be any service there tonight, because of the fact that [the staff member] told everyone it's closing. The kitchen staff walked. And I can't get there right now."
He hopes to get a chef and reopen soon, he said.
Tuesday night, a crowd filled the barroom. Tequila shots were $2, tacos were on special and Game Six of the World Series played on the TV. Customers said they came to pay their respects to the Daily Planet.
"I just wanted to come here and make sure I got my last hurrah in," said Drew Johnson, 23, a cook at Leunig's.
Ian Cyr, general manager of the Daily Planet, told
Seven Days
on Tuesday afternoon that summer had been busy at the Planet. He called the collapse of the sale "disappointing."
"I think the space needs some renovating," Cyr said. "It needs some upkeep. I'm not sure of the exact future."
The Daily Planet is on the market for $285,000. The listing with VT Commercial describes it as an "iconic" Burlington restaurant. A second restaurant owned by Houghton, the Old Dock in Essex, N.Y., is also for sale. The asking price is $750,000.
Tony Blake of VT Commercial said a couple of parties are interested in the Planet. "The time frame is contingent, as all business transactions are, on a laundry list of conditions," Blake said. "Even if you come to terms of agreement, a very short closing would be 60 days after that."
He noted that a liquor license is not assumed with the change of ownership of a Vermont business. In order to get a new license, certain requirements must be met, including licensing by the Department of Health, Blake said.
A
Seven Days
reporter returned to the restaurant Wednesday. Cyr declined to comment, and others ordered the reporter to leave the premises.