Courtesy of Kerrie Mathes
Cheese spread at Talent Skatepark fundraiser
On Sunday evening at the
Great Northern
, cooking talent from around Vermont gathered in one Burlington restaurant kitchen to make a finger-food feast for the city's
skateboarding
talent. Dubbed "Talent for Talent: Grazing Dinner," the event was a fundraiser for the new
Talent Skatepark
. Skateboarders, it's been confirmed, are fans of finger food.
Earlier that day, skaters at
Andy A-Dog Williams Skatepark
on the Burlington waterfront said they like to eat pizza and chicken wings. And Pringles.
"Skaters will appreciate any food," University of Vermont student Tyler Varacchi said, before bicycling away in the rain.
The spread at the Great Northern was a cut above chips and wings — and mostly eatable by hand.
Hosting the event with his wife and restaurant co-owner Marnie Long, chef Frank Pace set out platters of beef bones, served face-up. The treasure within, marrow, tantalized from its cavity. It took only a little imagination to observe that each section of bone resembled the very object the crowd had come to celebrate: a skateboard.
Sally Pollak
Bone marrow at the Great Northern
The event raised $14,000 for the nonprofit indoor skate park, organizer Kerrie Mathes said. Talent's resurrection, a grassroots effort, came together after Talent closed its South Burlington location in the summer of 2018.
"I'm out to support the skateboard community," said Curtis Ritchie, 45, of Montpelier. "And the food. The food was definitely a draw."
Ritchie, who grew up skating on the streets of his native Barre, gave a shout-out to the rabbit chorizo tacos. "I knew I was going to get something good to eat," Ritchie said. "I just didn't know what it was." The tacos were made by chef Eric Warnstedt of
Hen of the Wood
and
Doc Ponds
.
An indoor skate park, which is "definitely key in the winter," offers community and a safe place to practice the sport, said Ritchie, who off-loads propane from freight trains in the Montpelier railyard. "I'm sure my son will be pestering me to go," he added.
Food was served buffet-style at the $100-per-person event. It was offered in several places in the restaurant, including a lavish cheese board by the front door and a major spread on the kitchen-facing bar at the back of the restaurant.
The menu included oysters on the half shell, butternut squash moussaka (Cara Chigazola Tobin of
Honey Road
); crispy soft-shell shrimp (Doug Paine,
Juniper
and
Bleu Northeast Seafood
); acorn squash cappelletti with wild mushrooms (Jordan Ware, Hen of the Wood), and the stuff the kids would want — pizza, courtesy of chef Caleb Pierson of the
Hindquarter
.
Sally Pollak
Butternut squash moussaka
"This is community," Mathes said at the party, noting that chefs donated their time and food producers contributed ingredients. "None of this would be possible without Frank and Marnie," she added, referring to the Great Northern's Pace and Long.
Hannah Deene Wood, who
founded the original Talent in 2001
with her husband, David Wood, addressed the gathering on Sunday. She said she expects the skate park will open in December on Queen City Park Road in Burlington.
"Kids need a place to gather," she said. "They need to be able to make eye contact. They need to be able to fall down and get up and skate some more."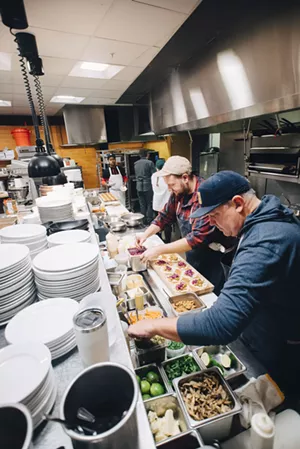 Courtesy of Katie Palatucci
Eric Warnstedt, foreground, and Nick Frank at Talent Skatepark fundraiser
Skaters, of course, will always find a way and a place to do their thing. Mathes' son, Arthur Lea, is an avid skateboarder and was a Talent regular.
In the spring of 2018, when Arthur was 7, he skated down Charlotte Street in Burlington, glided onto a ramp, and jumped over his father, who was lying on the sidewalk.
"I didn't have any concerns about Arthur jumping over me," Creston Lea wrote in an email to
Seven Days
. "He's routinely launched his skateboard over much, much bigger things since the age of six."
Lea, a guitar-maker and musician who is a member of the Talent board, skated as a teenager in the Upper Valley.
"I cared about it a lot but never got very good at it," he wrote. "Living on a dirt road couldn't have helped. Thanks to Talent, Arthur eclipsed any abilities I ever had within months."