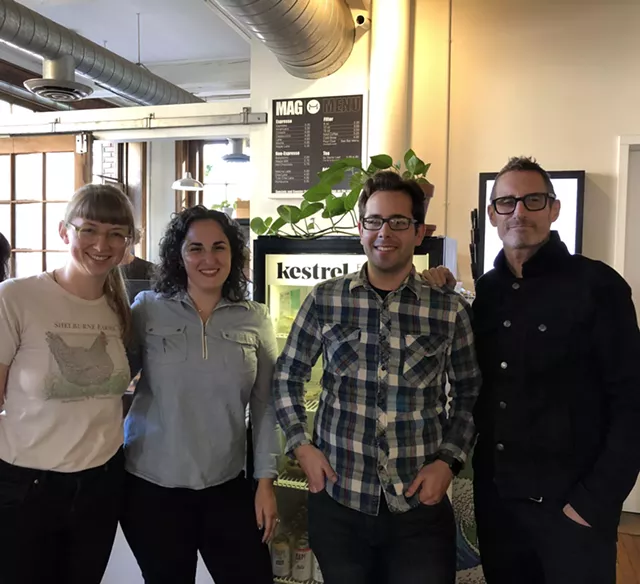 Jordan Barry
L to R: Abby Holden, Charlotte Steverson, Johnny Steverson, Michael Jager
Maglianero Café
, the coffee shop in the Karma Bird House at 47 Maple Street in Burlington, will transform into
Kestrel Coffee Roasters
' second café location at the end of the month.
Kestrel might sound familiar to anyone who has grabbed a sandwich at Maglianero recently — the roaster has been providing the food at the coffee shop since July. Charlotte and Johnny Steverson opened Kestrel's first sit-down café with sandwiches, soups and other house-made treats in South Burlington's Technology Park in 2018. That location will continue to operate as usual, in addition to roasting the coffee and preparing the food to be sold on Maple Street.
The Steversons met Maglianero owner and co-founder Michael Jager in a moment of coffee-fueled serendipity at the café in 2017. Later, they worked with Jager at
Solidarity of Unbridled Labour
(formerly JDK Design) to establish Kestrel's branding and design.
"It's an example of a café doing what it's designed to do," said Jager of meeting the Steversons. "Cafés are crazy, beautiful supercolliders that can absolutely change the world."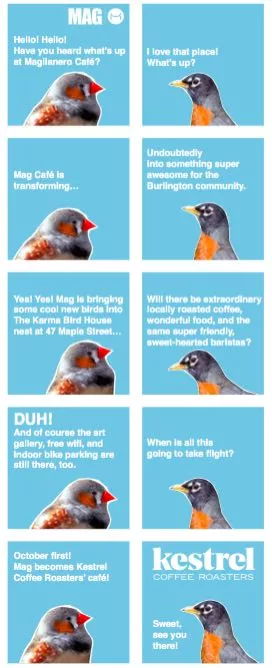 Courtesy of Michael Jager
Announcement of Maglianero transition to Kestrel Coffee Roasters
An expansion in year two wasn't in Kestrel's original business plan, but the established relationship with Jager and the deep understanding that came from working together to develop the company's branding created an ideal situation on all sides.
"We thought we were just getting great branding," said Johnny. "If anyone else had asked we wouldn't have entertained the idea [of opening a second café]."
"We're grateful to have the opportunity for a little bit of disruption to the plan so early on in our business," said Charlotte.
The Steversons are thrilled to establish a presence downtown, and to share their coffee and high standards for customer service with the community. The couple has more than 20 years combined experience in hospitality; they met in 2011 working at Blue Hill at Stone Barns, a farm-to-table restaurant in Pocantico Hills, NY. Before moving to Vermont and starting Kestrel, Charlotte worked at an event planning company and Johnny started a specialty coffee roasting company in New York.
The café will serve Kestrel's own specialty coffee, sourced from all over the world and focusing on single-origin coffees from small farms. The drink menu will be "very similar," while the new space will allow them to experiment with food offerings, Charlotte said. Catering will be available for businesses in the Karma Bird House and nearby.
The relationship with the Karma Bird House gallery will remain the same, and Charlotte's background in event planning is "another reason it's a beautiful fit," Jager said.
The café will be closed Saturday to Monday, September 28 to 30, for training and minor renovations. It will reopen under the Kestrel banner with the Steversons at the helm on Tuesday, October 1.
The renovations will include a fresh coat of paint, but Charlotte said they "won't be going crazy with the colors. Maybe some orange."
"We're very proud of those colors," Johnny added.
Current Maglianero manager Abby Holden will move on from the café to expand her espresso machine repair business, Little Beans Coffee Service, and to explore her interest in regenerative agriculture through her part-time work at Philo Ridge Farm.
"We couldn't have done it without Abby's guidance and insight," said Charlotte. In terms of the rest of the staff, "Our hope is that everyone will stay," she said.
For Jager and his wife Giovanna, Maglianero co-founder and director of the
Karma Bird House
, the transformation is an opportunity to simplify and spend time with their elderly parents, while giving young entrepreneurs the chance to create a culture of new ideas — something Jager said the state really needs.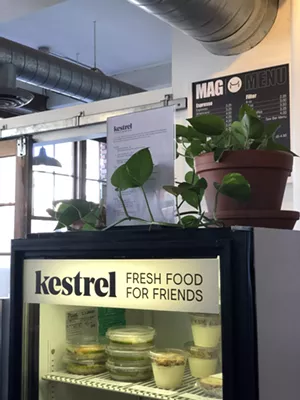 Jordan Barry
Kestrel food cooler at Maglianero
Transformation is nothing new for Maglianero. The café opened in the basement of 47 Maple Street in 2011, originally inspired by underground spaces that shape culture as a sort of "anti-Starbucks," according to Jager. "It was an experiment, designed to be discovered," he said.
The café moved upstairs to the front gallery space in December 2013. Jager thinks of Maglianero as a living idea, and shuns the idea that a brand should be boxed-in and unwilling to adapt.
"Charlotte and Johnny are bringing youthful, passionate, community-based and quality-based energy for another blossoming of this living idea," he said. "The river of culture rages 24 hours a day and never stops," said Jager. "If you don't keep up, you'll be under water."