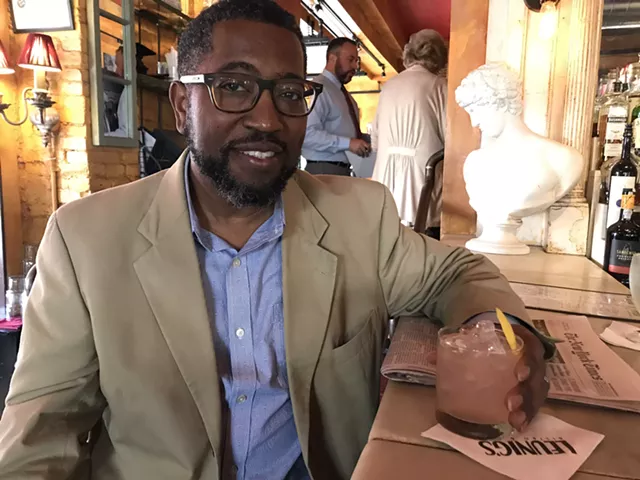 Sally Pollak
Major Jackson
A cocktail, like a poem, has to have the right ingredients, the poet Major Jackson said. With each, "you want to curate an experience: one that speaks to the past but is also firmly rooted in the present." Both a drink and a poem, Jackson continued, should be "disorienting and yet steadying at the same time."
He pointed out, too, that each endeavor gains something when practiced in fellowship. "Poetry is created in a solitary space, but it's ultimately art that is meant to be shared," Jackson said. He elaborated on that idea before adding: "Just like no one wants to drink alone."
Jackson is an English professor at the
University of Vermont
whose fifth volume of poetry,
The Absurd Man
, will be published in early 2020. He laid out the common characteristics between a drink and a poem at the bar at
Leunig's Bistro & Cafe
in Burlington, where he and I drank a cocktail called the Major Jackson.
The drink, whose origins can be traced to a hotel bar in Boston (where it has a different name), mixes Bombay Sapphire gin with maraschino cherry liqueur, grapefruit juice and simple syrup. Jackson transported the ingredient list north to Leunig's, where it was added to the cocktail offerings and named for him — a tribute he calls "flattering, the source of a joke among friends, and a conversation piece."
"I'm not a cocktailophile," he said. "But I'm a traditional cocktail drinker. This seems exotic for my tastes. I'm normally a dry martini and gimlet kind of guy."
The Major Jackson, said Jackson, "is a happy drink."
This was a happy week to drink a Major Jackson with its namesake. Jackson turned 51 on September 9. The next day, the poetry anthology he edited,
The Best American Poetry 2019
, was published by Scribner.
Sally Pollak
A Major Jackson at Leunig's
Editing the anthology meant selecting 75 poems from about 900 that Jackson read over the course of a year. "The poems that stick out, stick out because there's something extraordinarily authentic about the work," Jackson said. He cited in particular the poem "Who Knows One" by Jane Shore, who lives in East Calais and Washington, D.C., and he talked about the experience of reading her "enormously powerful" poem.
"I had to look for that experience 75 times," Jackson said. "That experience of reading a poem in which you felt like you haven't traveled down that road before." (Though there's a certain familiarity of being on a journey, he added.)
More challenging than selecting a poem for inclusion in the volume, he said, was writing its introduction. The 2019 edition of the "Best American Poetry" is the 34th book in the series, which launched in 1988 and is edited by poet David Lehman. (Each edition has a guest editor.)
Jackson said he read every introduction written by guest editors who preceded him, a literary lineup that includes John Ashbery, Donald Hall (to whom the 2019 volume is dedicated), Jorie Graham, Mark Strand, Rita Dove and Yusef Komunyakaa. He called it a privilege and humbling to work "in the wake of writers I have admired and who have influenced me over the years."
I've read one introduction in the anthology series: Jackson's. Still, I'm willing to bet a drink at the bar that his essay is the only one that includes the story of a public high school English teacher— this one at
Central High School
in Philadelphia — who ate Lorna Doones, drank tea and, once a month, asked "each student if he or she were ignorant." The required answer was: "Yes, Mr. Plummer, I am ignorant."
Then one day Jackson gave a different answer. (Read the book to find out what happened.)
Mr. Plummer was employing "an imaginative way to get us to occupy that space of curiosity," Jackson said at the bar. Acknowledging the advantages of "not knowing is when learning happens," he said.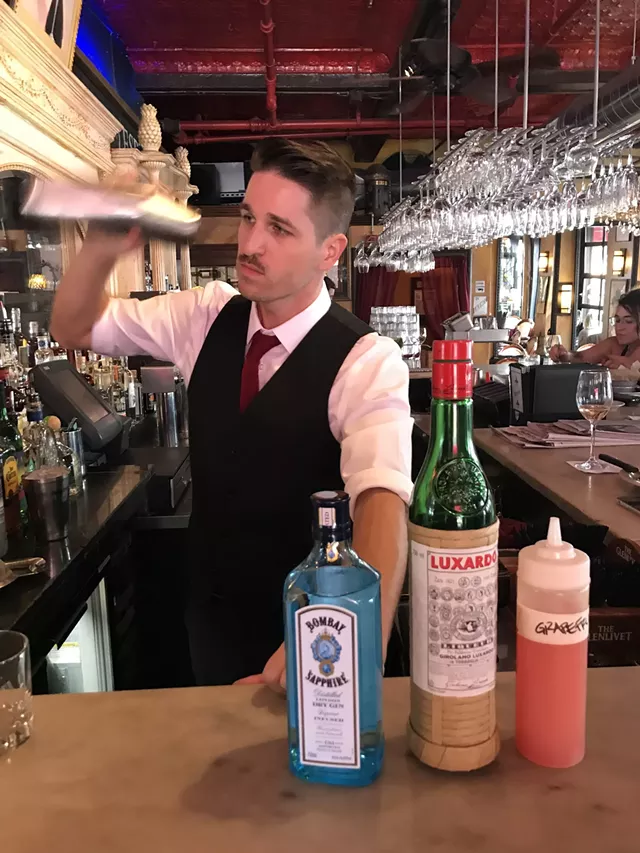 Sally Pollak
Stew Dunoskovic mixing a Major Jackson
At Leunig's on Thursday, drinking my Major Jackson, I learned from the poet that a poem he wrote called "In Memory of Derek Alton Walcott," a work that appears in the anthology, "echoes and is inspired by Walcott's elegy to Auden and Auden's elegy to Yeats."
If Jackson's poem makes a connection with literary figures who came before him, so does his drink. It turns out his eponymous cocktail is similar to the Hemingway Daiquiri, said Leunig's bartender Stew Dunoskovic. He read Jackson like a book.
"I knew it right away," Dunoskovic said. "This guy wants a Major Jackson."