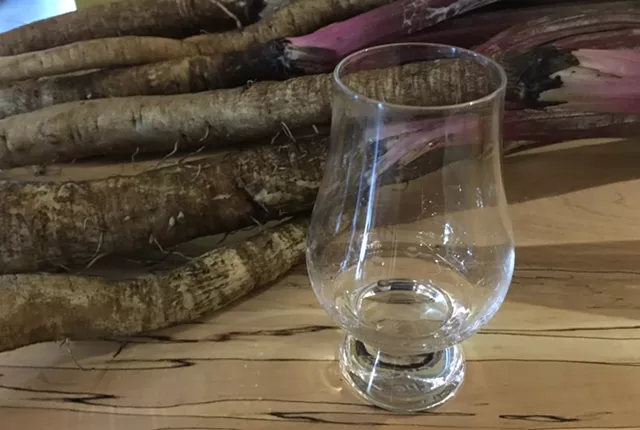 Melissa Pasanen
Burdock grown at Cate Farm in East Montpelier is the basis for Caledonia Spirits' new GOBO.
There is probably not a gardener, outdoors enthusiast or dog-owner in Vermont who is unfamiliar with burdock. The deep-rooted plant seems to thrive everywhere; its burrs enmesh themselves with Velcro-like tenacity in your pet's coat, your kid's hair, your shoelaces.
At the new Montpelier headquarters of
Caledonia Spirits
on September 9, employees wore tongue-in-cheek boutonnières of the dreaded burrs, but the private event was actually a burdock lovefest.
The distillery team and 75 ticket-holders had gathered to celebrate their latest spirit, GOBO, named after the Japanese word for burdock.
Burdock is a common vegetable in Japanese cuisine. It is also valued for its nutritional attributes and some believe it has medicinal properties.
The Vermont distillery had invited three guest bartenders to the launch from the influential Japanese-style speakeasy,
Angel's Share
, in New York City. Speaking to the crowd during a break from shaking and stirring GOBO-based cocktails, Angel's Share bar manager Takuma Watanabe said, "My mom cooked gobo for us almost every single day … It is very Japanese."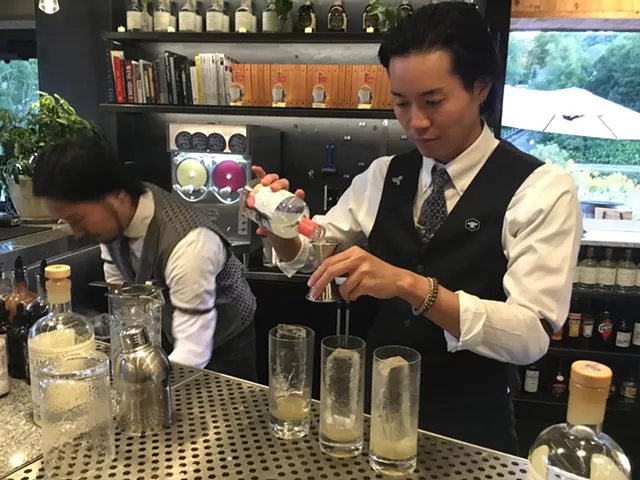 Melissa Pasanen
Guest bartenders from Angel's Share in NYC at the GOBO launch at Caledonia Spirits in Montpelier.
As far as Caledonia Spirits is aware, however, its new spirit is the first commercially available alcohol ever distilled from burdock root.
But before you start digging up your weeds, note that GOBO is not made with any old backyard burdock. The star ingredient was grown at
Cate Farm
in East Montpelier. Farmer Richard Wiswall and his family have been cultivating burdock from seed since 1985 and selling it through the Deep Root Organic Co-Op, mostly to accounts in Boston and New York.
"You can't really sell it in Vermont," Wiswall commented at the event.
Wiswall's grown daughter, Kuenzi Wiswall, breathed in one whiff from the tray of tasting glasses and said, "I can smell the burdock." She and her siblings, Flint Wiswall and Pete Colman, grew up helping to dig and wash the farm's burdock harvest.
All four family members sipped the spirit thoughtfully. After the warm burn from the 95-proof liquor subsided, a nutty, earthy, vegetal sweetness followed. To me, it tasted a little like roasted sunchokes.
Burdock is not known for a distinctive flavor. Wiswall broke off a piece of root from a pile on a table and offered it up. "I used to say it tastes like wood, but I don't really eat wood," he chuckled. "Maybe it's more like broccoli heart."
Wiswall noted that the burdock grown on Cate Farm never produces burrs because plants are harvested after their first year of growth before the biennial flowers and develops burrs. "We have two dogs," the farmer said. "They'd never survive."
The idea to distill burdock came from Wiswall's wife, Sally Colman. "She was trying to find a market for our seconds," he said, explaining that the ideal root is long and straight, but there are always plenty that grow forked, or break during harvesting.
The family knew Ryan Christiansen, Caledonia's president and head distiller, who grew up in Plainfield.
The distillery was founded about a decade ago in the Northeast Kingdom and invested $10 million in the 27,000-square-foot Montpelier facility, which
opened at the end of June
. Its flagship, honey-based Barr Hill gin has helped propel sales in 32 states and other cocktail-culture hotspots to between $5 to $6 million in annual revenue.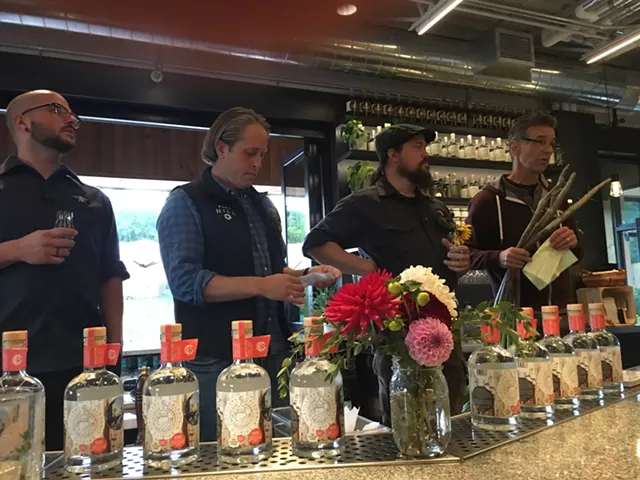 Melissa Pasanen
From left: Sam Nelis, Ryan Christiansen and Josh Pitts of Caledonia Spirits and Richard Wiswall of Cate Farm.
"These guys are sharp and want to do something different," Wiswall said. "Ryan's a big thinker."
That said, when Sally Colman first called about two years ago, Christiansen admitted with a laugh, "We thought it was a terrible idea."
But the new distillery now has space dedicated to expanding its mission of working with local ingredients. "No experiment's too small. No farmer's too crazy," Christiansen said. They figured they might as well try it. "It's just an amazing accidental spirit," he said.
Caledonia is positioning GOBO in the same segment as tequila and mezcal, both distilled from varieties of the agave plant. The first release is only 300 bottles, which will sell for $75 each.
Given how crowded the New England fruit and vegetable market has become, Richard Wiswall hopes that the spirit can provide an opportunity for other farmers, too. "If it does take off, we can only grow so much," he said. "I hope it helps the rural economy, helps everybody."
Flint Wiswall, 32, came back to work full-time at Cate Farm three years ago. The burdock opportunity, he said, "gives me passion. I do love growing a specific vegetable that's different and niche and kinda weird."
GOBO, he concluded, "brings a whole new light to burdock."