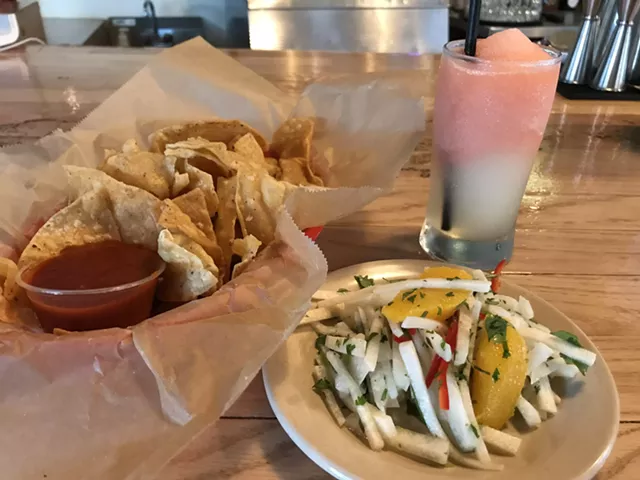 Sally Pollak
Ariana Grande, chips and salsa, jicama salad
There are a few ways to tell when a restaurant or bar has become a hangout. Signs of that status have emerged at
Taco Gordo
:
A woman who grew up in Chittenden County and left long-ago — for college in Montreal, traveling in India, living in NYC, raising kids in the country — comes back to town for a visit. My friend and I meet at Taco Gordo in the Old North End and the first words out of her mouth are something like, "This place has more hipsters than Brooklyn."
The number of dogs lazing around the street corner that's home to Taco Gordo — that ONE beacon where North Union St. dumps into North Winooski Ave. — is on par with the number of picnic tables outside the restaurant.
You pop into Taco Gordo at dusk and run into your hairdresser. (Yes, I have a hairdresser; we connect in the salon every year or so.) Bruce proves to be as good with barroom laughs as he is with a scissors. I tell him I like Taco Gordo because you can eat good food there on the cheap. "Not when you eat and drink as much as we do," he says.
But it isn't only the scene — at once lively and laid-back — and $3 chips and salsa that turned me into an August regular at Taco Gordo. It's the Ariana Grande, a drink special named (who knows why?) for the pony-tailed pop star with 163 million Instagram followers. (Who knows why?) If the drink had an IG feed, I'd follow.
The Ariana Grande ($9) is a two-tone frozen drink that stacks a frozen strawberry daiquiri on top of a frozen margarita. A measure of its pleasure is visual: the pastel pairing of lime and pink makes an evocative late-summer hue. The drink is so thick and luscious, it clogs the straw. You can wait for the cocktail to melt a bit and suck it from the straw — or throw back a hearty glug of spiked popsicle. Drinking an Ariana Grande is a buzzed-up version of eating a black raspberry-vanilla creemee at
Burlington Bay
: a cool and colorful delight made for summer in BTV.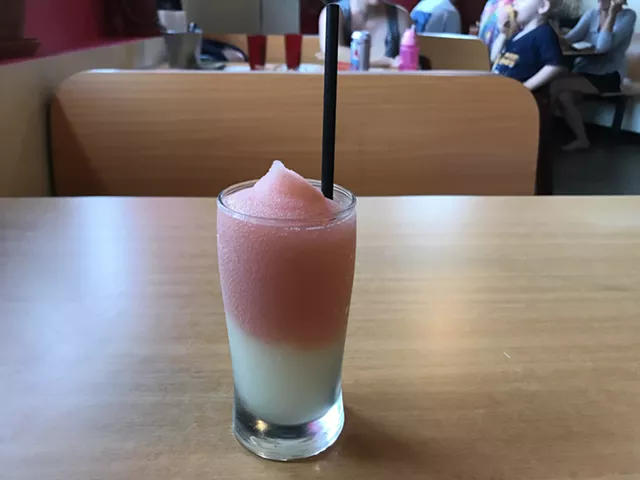 Sally Pollak
Ariana Grande
After a few trips to Taco Gordo for an Ariana Grande, I decided it pairs best with chips and salsa and a side of jicama salad. We scooped up the lime-dressed root with our chips for a crunchy and fresh counterpoint to the sweet drink.
The dual drink is dispensed from a frozen beverage machine behind the bar. Last time I was at Taco Gordo, the dispenser held frozen margarita in one container and hibiscus pina colada in the other. The bartenders determined these two aren't made for merging and they're serving them separately.
Still, there's plenty to be said for hanging at Taco Gordo with a frozen margarita and a basket of chips. Or a house margarita and a brisket taco dressed with pickled onions, a bean taco topped with shredded cabbage.
Keep one eye on the hipster and his dog, another on the drink canister behind the bar: I hear the Ariana Grande could be making a comeback.