Sabine Poux
Black bean and corn tamale from Gracie's
The
Burlington Farmers Market
is a haven for vegan grocery shoppers. Among the myriad butchers and creameries that post up each Saturday morning are vendors selling farm-fresh produce, from leafy greens to mushrooms to aromatic fruits, all suitable for chefs who want to cook sans animal.
But there are fewer options for plant-based foodies hankering for snacks to have and to hold as they browse the market's many stalls. Most of the ready-to-eat offerings contain some kind of meat, dairy or egg, from the carnivorous sandwiches at
Pigasus
to all the tantalizing baked goods. Even some of the spirit samples are off limits to those who don't eat or drink honey.
Last month,
Seven Days
sent a reporter to the market to get the 411 on
all things ready to eat
. But one commenter wasn't completely satisfied. "Aside from Green Mountain's Wing Chun potstickers," the comment read, "did any of the Ready-to-Eat vendors offer vegan options?"
So I embarked on a market run to scope out the vegan scene. Here were some of the highlights.
Seven Days
visited the busy booth last time, but it's worth another mention because GMP abounds with vegan options. Among the pickings are the wildly popular scallion pancakes ($6) and an exciting array of vegan potstickers (when else do vegans get to lose themselves in a sea of choices when eating out?) at $7 for four pieces, or $14 for 10. The potstickers are filled with veggies and protein-y meat substitutes such as seitan. And they're picture-perfect, dyed in a rainbow of veggie juices.
The South Burlington-based supplier sells yummy vegan momos, or Nepalese dumplings, filled with flavorful cabbage, potatoes and onions in a blend reminiscent of a spicy pierogi filling. At six pieces for $7, the dumplings are delightfully filling; an order could be an entire lunch . And the accompanying tomato-based sauce, available in mild, spicy or sesame, is packed with satisfying umami flavors. (Bonus: A non-veg friend with me said the vegan momos were even better than the company's beef version. Booyah.)
Sabine Poux
Vegan momos from Sherpa Foods
Gracie's Tamales and Burritos
Gracie's offers an equally filling vegan option in the form of a black bean and corn tamale ($4). I got mine with a generous side scoop of vegan spiced rice for an extra buck. Tamales are packed with black beans, corn and jalapeños, but the corn flour they're baked in is my favorite part; the starchiness makes it a full meal. Extra points for the great affordability-to-fillingness ratio.
The Healthy Kingdom booth boasts that its smoothies can cure a hangover — which seems fitting for a Saturday morning. All the juices have fun names, such as Halle Berries and Nutty Professor. I got the Green Latifah, which contained bananas, pea shoots and fresh coconut juice, which the Kingdom was using as a substitute for oat milk that day. At $10, it was a bit more than what I'd like to pay for a juice, but it was also really tasty and fresh; the coconut water came from a coconut that was cracked open in front of my eyes. The same coconut was then repurposed as the juice's vessel. Tropical as heck.
I had never thought of kettle corn as a substantial vegan dessert, and now I'm kicking myself for it. Karen's got it figured out, offering flavors such as Lemon Confection, Vanilla Cardamom and Smokin' Chipotle, and in all prices and sizes. We got a batch of Maple Kettle Bliss for $7. It was deliciously sweet, packed with Vermont maple sugar and sea salt, and messy, too. If you're not one to lick crumbs off your fingers, I recommend grabbing a napkin.
Sabine Poux
Karen's Artisan Popcorn
These guys sell popsicles and sorbet made from their own berries. Sorbet, as in the vegan-friendly stuff. Founder Adam Hausmann told me people often can't tell sherbet and sorbet apart (sherbet contains dairy, whereas sorbet is dairy-free). Strawberry and raspberry are their most popular sorbet flavors ($3 a serving), while popsicles come in more "adventurous" flavors, such as strawberry-pineapple-papaya, mango-raspberry and cantaloupe-raspberry-mint ($3.50 each). On farmers market days when the air feels like a sauna, these cold treats might be the key to maintaining shopping stamina.
This place doesn't sell ready-to-eat foods, but it is an all-vegan stand, and has delicious samples for on-site munching. This particular Saturday it was featuring sample-able Wild Nettle and Local Chive Cashew Cheeze ($11/eight ounce jar), a really tasty and spreadable non-dairy alternative. But I SWOONED for the Cardamom Cashew Almond Coconut Butter ($10/eight ounce jar or $18/16 ounce), which was laid out on apple slices. From now on, if nut butter doesn't have cardamom in it, I don't want it.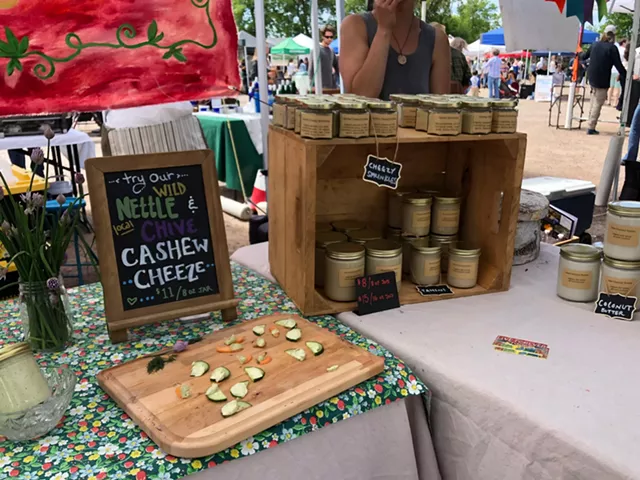 Sabine Poux
Cheeze samples from Live Forever Foods