Sally Pollak
Site of food market scheduled to open in the fall
Construction will begin in the next month to transform a former auto parts shop into a grocery store in Burlington's Old North End. The business at 242 North Winooski Avenue will be called Jake's ONE Market, according to its owner.
"We hope to open in the fall of 2019," said James Kerrigan, owner-operator of the market. He and his family own a related business in Quechee,
Jake's Quechee Market.
The 6,000-square foot Burlington store will be stocked with a range of food-store items, including groceries, dairy, local produce, beer and wine, and household goods, Kerrigan said. An on-site kitchen will make hot and cold prepared foods.
The building is owned by the commercial real estate agency
Redstone
, which is overseeing the renovation. The construction project will include a new façade, improvements to the parking lot and interior work to repurpose the space from an auto parts store to a grocery market, said Erik Hoekstra, a Redstone managing partner.
A longtime Old North End resident, Hoekstra said when the auto parts store closed in 2016, he started to think about a suitable use for the space. "A grocery store is what I kept coming back to," he said.
The space that will be Jake's ONE Market was rented for about two years by
City Market, Onion River Co-op
, which had plans to open a branch at that site. In early 2018, the co-op announced that it had decided not to pursue a third location for its business.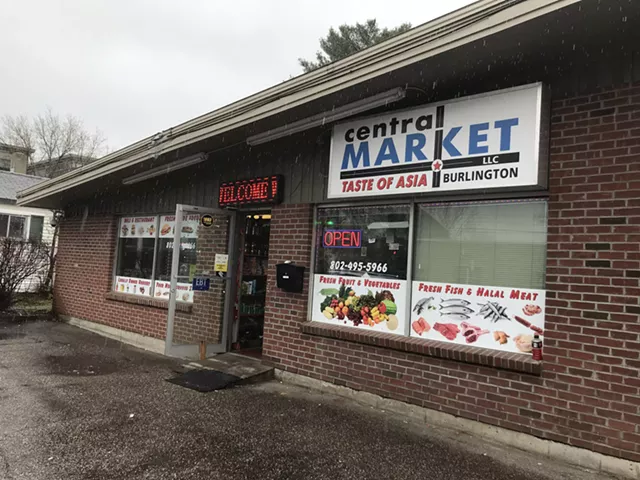 Sally Pollak
Central Market: Taste of Asia in Burlington
The new grocery store will be next door to
Central Market: Taste of Asia
, a food store that opened five years ago and specializes in Asian groceries and produce.
"My hope is to complement what they do as best we can," Kerrigan said. "They have a really unique set of products, and Jake's will focus on regular grocery items that won't directly compete with Central Market."
The Kerrigan family has 20-plus years experience in the grocery business, having owned several convenience stores in the Upper Valley. The family sold its stores, including two
Jake's Market and Deli
shops in Vermont — one in Hartford and one in Springfield — last year, Kerrigan said.
"I'm really psyched to be part of the Old North End," he said. "I think there's a really awesome food scene that continues to get more interesting over time. It'll be great to be part of that." Then he added, "I'm also looking forward to serving the community and providing access to affordable groceries and healthy foods."