Melissa Pasanen
Loaves from Backdoor Bread
After 18 years of building their Providence, R.I., bakery up to three locations plus a commissary kitchen, Lynn and Jim Williams sold
Seven Stars Bakery
and decided to move to the country.
"Now was the time to realize Jim Williams' dream of being a whole-grain baker in a country barn," wrote the
Providence Journal
, announcing the sale in November 2018 of the "iconic artisan maker of olive bread, durum sticks and pastries."
Vermonters can thank motorcycles, mills and good schools for leading the Williams family to Charlotte, where they're launching
Backdoor Bread
with an afternoon pop-up sale on Monday, May 6, at
Philo Ridge Farm
.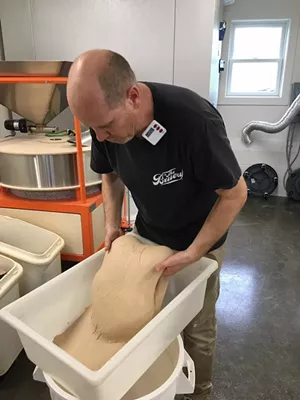 Melissa Pasanen
Jim Williams of Backdoor Bread
"We always knew if we sold [Seven Stars], we'd have to leave Rhode Island. It's a small town," Jim explained, referring to the scale of the state. "I don't know how to do anything other than bake bread."
When the couple started looking for places to move with their two daughters, ages 10 and 15, "we googled best school districts," he continued. The family was familiar with Vermont. "We'd been riding motorcycles up here for years," Jim said.
Also on the list were low taxes and a region with "a fledgling grain economy and a community that would understand this," Jim said, gesturing around the bakery. In one corner stood a
New American Stone Mills
bakery-scaled mill, crafted by Andrew Heyn, co-owner of
Elmore Mountain Bread
in Elmore. The Williamses had previously bought other mills from him to grind whole grain into fresh flour.
The low-tax criterion fell off the list as the family sorted through options. Weather was never on the list, Jim added with a chuckle. "I've been bitching about New England weather for 18 years," said the California native.
Last weekend, in their recently renovated country barn on Hinesburg Road, Jim ran an inaugural test bake. He had made three different loaves of naturally leavened, rugged-crusted, whole-grain loaves from grain that he had milled himself.
Jim was especially pleased that one of the doughs featured Redeemer, a variety of wheat grown nearby in Charlotte by Tom Kenyon of
Nitty Gritty Grain Co
. At Backdoor, the goal is to use as much locally grown grain as possible in single-variety loaves.
Jim is also grateful to get back into what he loves to do. "I wanted to bake, not manage people," he said.
The rest of the family will move to Vermont this summer, after the school year is over. In the meantime, Jim is traveling back and forth, baking and considering the best way to sell bread. It's too late to get into farmers markets for this year, he reasoned, and his high cost of ingredients make it hard to sell wholesale and keep retail prices reasonable.
Meantime, though, he's already making friends with the neighbors, one of whom conveniently happens to have a farm market.
Backdoor Bread will be available this Monday, May 6, at Philo Ridge Farm's retail store, just around the corner from the bakery, at 2766 Mt. Philo Road. For exact hours and information on the future availability of Backdoor Bread, check
@backdoorbread
on Instagram or email backdoorbread@gmail.com.