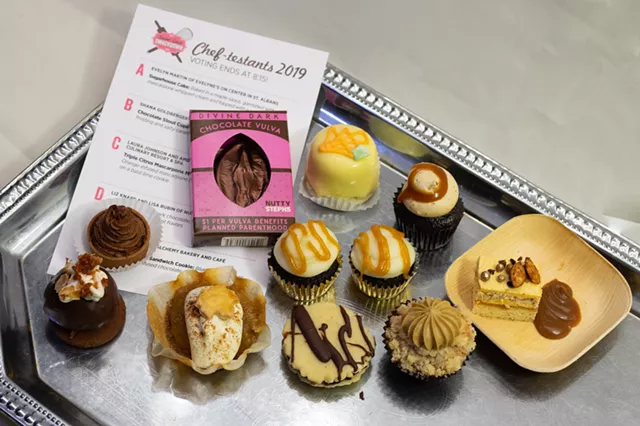 Stephen Mease
All the desserts entered in the 2019 Sweet Start Smackdown competition
Vermont Restaurant Week
kicked off in super-sweet, sticky-sweet style on Thursday night at
Higher Ground,
site of a friendly dessert competition.
The Sweet Start Smackdown pitted mocha cupcakes against lavender cookies, blueberry buzz buckle against chocolate vulvas. In all, 10 sweet concoctions competed in the edible showdown with winners picked by the taste-testing, finger-licking crowd and a panel of three judges.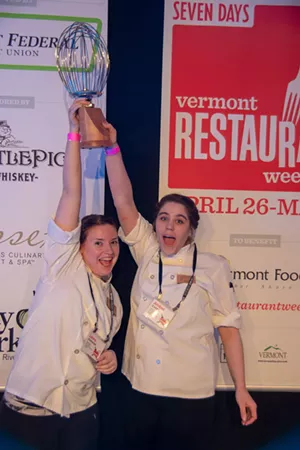 Stephen Mease
The Winners: Laura Johnson & Amber Corey from The Essex, Culinary Resort & Spa
Triple citrus mascarpone mousse from the
Essex
won first place. This treat stood out for its bright flavors and masterful technique. The orange mousse with lemon curd filling set on a basil-lime cookie was also notable for ingredients it didn't contain: chocolate, caramel and gluten.
Laura Johnson, the 23-year-old pastry chef at the Essex Resort & Spa, said she was thinking of "spring flavors" when she conceived of the dessert. "I'm not a big chocolate person," Johnson said. "And I like the idea of triple citrus."
Johnson won her first cooking competition at age 9, when her tropical sorbet was the victor at her elementary school showdown in Santa Cruz, Calif.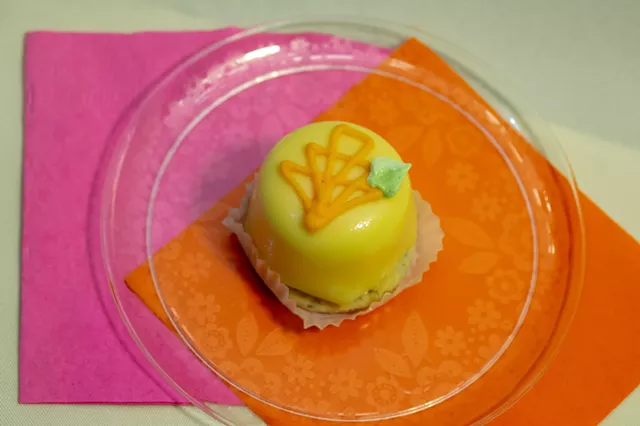 Stephen Mease
Triple Citrus Mascarpone Mousse Bite (GF): Orange-infused mascarpone mousse, with a lemon curd core, on a basil lime cookie. The winning dish from Laura Johnson & Amber Corey of The Essex, Culinary Resort & Spa.
Thursday night, Johnson and her co-worker triumphed over second-place finisher
Birchgrove Baking
of Montpelier. Birchgrove's salted caramel almond cake packed a two-bite wallop of flavors and textures that crunched, popped, smushed, oozed and delighted. In third place was the seasonal offering of
Eveleyne's on Center
in St. Albans: a sugarhouse cake dripping with maple and topped with whipped cream.
Despite the sugar highs that accompanied the event, the dessert crowd was a mellow one. Bartender Kris Hardy, who said he pours shots of whiskey and tequila nonstop at Higher Ground concerts, didn't serve one shot Thursday night. It was a wine and seltzer kind of night, he said, with some vodka and sodas thrown in.
"It's more relaxed and laid-back compared to the chaos of a rock and roll concert," Hardy noted.
38 slides
One attendee, Hannah Mills, stayed up past her bedtime to attend the Sweet Start Smackdown with her mother. A South Burlington second-grader, Hannah ate and rated every offering. Scoring the sweet eats on a scale of 1 to 10, she bestowed her highest mark — 8 — on the chocolate stout cupcake from
Sweet Babu
in Winooski.
Eating 10 desserts in one night is a lifetime record for Hannah, who described the activity this way: "It might be a bit much, but it was fun to try them all."