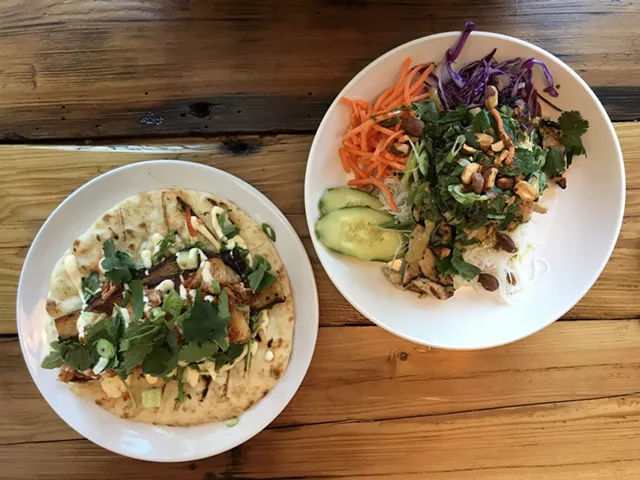 Sally Pollak
Pork belly on pita (left) and Thai grilled chicken
Fans of
Dolce VT
's truffle fries and fried chicken sandwich no longer have to eat outside the Maltex Building on Pine Street in Burlington, where the popular food truck has often been parked in warmer months. The business has a new name,
Poco
, and a permanent location: 55 Main Street in Burlington.
Chef/co-owner Stefano Cicirello opened his restaurant on April 11 in the space that most recently housed Doughnut Dilemma. He owns Poco with his sister, Susie Ely.
In addition to its chicken sandwich with pickled veggies, sriracha, herb aioli and chipotle honey, Poco serves pork belly tucked into a warm pita and dressed with house-made kimchi, cucumber, scallions, mint and more. The menu, which will rotate on a weekly basis, on opening week features Thai grilled chicken with rice noodles, red cabbage and carrots, herbs and sesame dressing, sprinkled with fried almonds. Dessert is butterscotch pudding with smoked whipped cream.
Cicirello worked with his brother-in-law, Matt Ely, to renovate the space. They built an open kitchen and an L-shaped dining bar — with a jag for ordering food — that is topped with Vermont marble. The base of the bar and a set of wooden tables were constructed from repurposed material.
"It's new-old," Ely said, describing the aesthetic.
Poco is open for lunch Tuesday through Saturday starting at 11 a.m. It will add dinner service, specializing in tapas plates and offering beer and wine, later this spring.