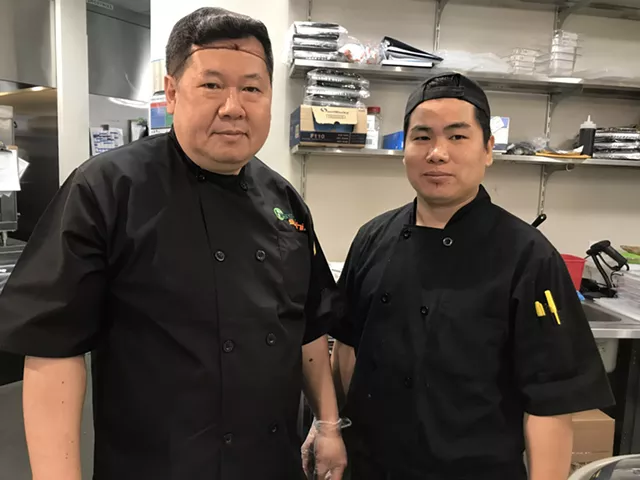 Sally Pollak
Ryan Kang (left) and Phong Shin of Hissho Sushi
A new sushi concession will open at
City Market, Onion River Co-op
on Saturday, when
Hissho Sushi
launches its business at both locations of the Burlington food co-op.
Hissho Sushi, based in Charlotte, N.C., operates 1,400 locations nationwide,
according to Ryan Kang, the regional manager. The City Market locations are
the company's first sites in Vermont, he said.
The menu includes about 20 types of sushi combos and rolls, with varieties such as tempura shrimp, lettuce and avocado; salmon, tuna and avocado; eel, carrot and cucumber with Japanese barbecue sauce; and a veggie roll of avocado, carrot and cucumber. In addition, Hissho (
hee
-sho) will offer starters including spring rolls, seaweed salad and edamame.
At the Flynn Avenue store, Hissho Sushi will fill the space adjacent to the deli that was vacated last summer when Juice for the People moved out. Downtown, the business will be near the seafood department. At both sites, the sushi, prepared daily, will be stocked in refrigerated cases and at the sushi counters. Custom orders will be available when the chefs are in-house. Prices range from $6.49 to $13.99, with $5 specials on Wednesdays.
Kang, 52, is relocating from Albany, N.Y., to run the Burlington branch of Hissho
Sushi. He was an investment banker in Seoul, Korea, before moving to this country nine years ago.