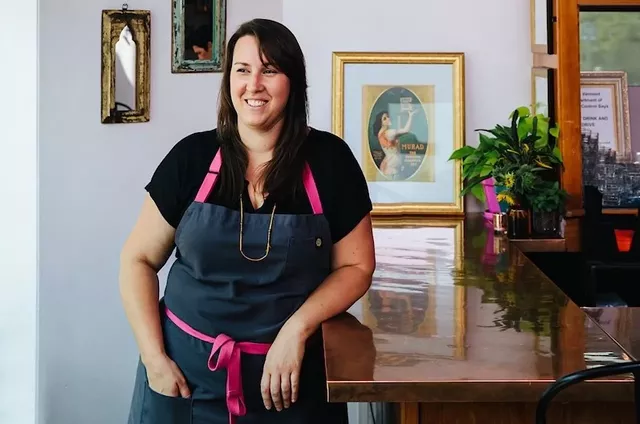 Courtesy of Honey Road
Cara Chigazola Tobin
Cara Chigazola Tobin, chef-owner of
Honey Road
restaurant in Burlington, is a
James Beard Award
semifinalist for best chef in the Northeast. It's the second year in a row that Chigazola Tobin has received that nomination.
Nominations for the award, which is given in a number of categories and is considered the most prominent culinary, beverage and restaurant honor, were announced Wednesday by the
James Beard Foundation
.
"It's super exciting," Chigazola Tobin told
Seven Days
on Wednesday afternoon in the bar of her restaurant. "Opening a restaurant was such a dream, and it was hard — and there were times when I was like, 'What am I doing?' ''
The James Beard nomination is a form of validation, she said: "Oh, cool, people notice." But Chigazola Tobin added there are other forms, too.
"When I walk through the restaurant and I see happy people, that's the most important thing," she said. "But it does make you feel good when you see your name on that list. That's the truth."
Chigazola Tobin, 36, opened Honey Road in the summer of 2017 with co-
owner/general manager Allison Gibson, who formerly worked at the
Inn at Shelburne Farms
and
Hen of the Wood
. The chef moved to Vermont from Massachusetts, where she was chef de cuisine at
Oleanna
, a James Beard Award-winning restaurant in Cambridge.
The business partners were introduced by a mutual acquaintance. "We went for two walks together, and I said, 'Do you want to open a restaurant with me?'" Chigazola Tobin said. "And it happened to work out."
Last year, in addition to the best chef nod, Honey Road was a semifinalist for best new restaurant. "We still sparkle," bar manager Megan Mcginn said Wednesday.
Another Vermonter, winemaker Deirdre Heekin of
La garagista farm & winery
in Barnard, also is a 2019 James Beard Award semifinalist. She's nominated for outstanding wine, spirits or beer producer — a nomination she received last year, as well.