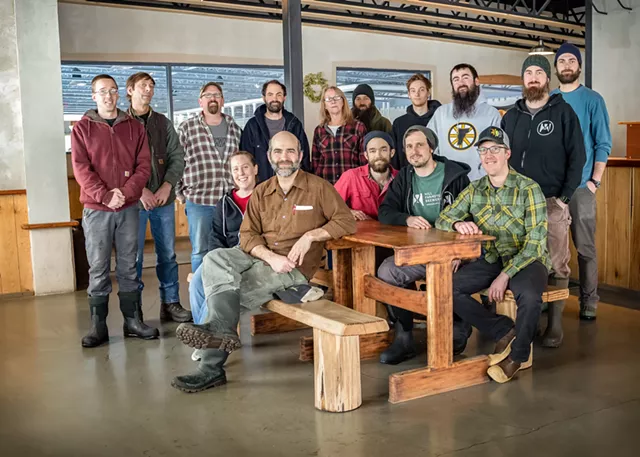 Hill Farmstead Brewery
The team at Hill Farmstead, founder Shaun Hill standing fourth from left
Hill Farmstead Brewery
in Greensboro was named the best brewery in the world for the fifth straight year by
RateBeer
, which announced its annual ratings on Tuesday. The brewery on a dirt road in the Northeast Kingdom beat out more than 34,000 breweries to win the 2018 title, according to RateBeer.
"At this point, it's kind of like we really hope we get No. 1," said Phil Young, who works in production and retail at Hill Farmstead. "If you're at the top, there's nowhere to go but down, so you want to stay there."
Hill Farmstead was founded by Shaun Hill at his family's farm in May 2010, and proceeded to win RateBeer's best new brewery title its first year. In 2012, Hill Farmstead was awarded its first world-best rating. The brewery slipped to No. 2 the next year, regained the top spot in 2014 and has held the ranking ever since.
"I think it's all definitely driven by Shaun to continue to make the best beer that we can," said Young, who was has worked at Hill Farmstead since 2011. "If we get called the best brewery in the world, that's fine. But if it didn't exist, I don't think that would change Shaun's drive at all."
Young recalled Hill's mother telling a story in which she said that before her son opened the brewery, he wanted to make the best beer in the world.
"The seed was there," Young said.
The 18 people who work at Hill Farmstead "tend to be really busy people," Young said, so there wasn't really time "to sit down and reflect" on the top rating. But they did gather for a photo on Tuesday afternoon.
Lawson's Finest Liquids
in Waitsfield is the only other Vermont brewery in the
world's top 100
.